You sit down at a restaurant and you open the menu. Turkey burger … fish tacos … chopped salad. All appealing choices. But what if any or all of them were topped with pickled onions? That's the tipping point — or the topping point — or at least what I'd pick.
Pickled onions are amazing. It's like the accessory that makes any outfit feel more pulled together, polished and special. They add such vibrancy and life to so many dishes. Restaurants of all stripes feature them on their dishes, because they know how much sparkle this simple extra can add to a meal. They appear everywhere from places like Cava (a Mediterranean fast-casual chain) as an add-in option to all of their customizable dishes, to the super seasonal Zuni Café in San Francisco in many guises on their ever evolving menu, and at Rick Bayless' Mexican Frontera Grill in Chicago with a slow roasted suckling pig with black beans.
So you might think that pickled onions are best left to the restaurants. But you'd be missing out. They take all of about 5 minutes to make! And they last for months in the fridge; and once you have them on hand you will reach for them over and over, as they can elevate all sorts of dishes from morning to night.
Here are the basics: slice the onions, then blanch them (which is a fancy way of saying cook super fast) in boiling water, drain them, then bring them to a quick boil again in a combo of vinegar, sugar, water and a bit of salt. Then they just cool in their brine.
Pickled onions can be stored in a glass container (avoid metal which can react with the vinegar) in the fridge for months. They can be enjoyed right away, but probably have their best flavor and texture after a week and up to a month after making. I love using red onions which turn the prettiest pink, but you can use white as well. You can add different seasoning to the boiling/bringing mixture such as peppercorns, bay leaves, allspice berries and garlic. Also try playing around with different types of vinegar.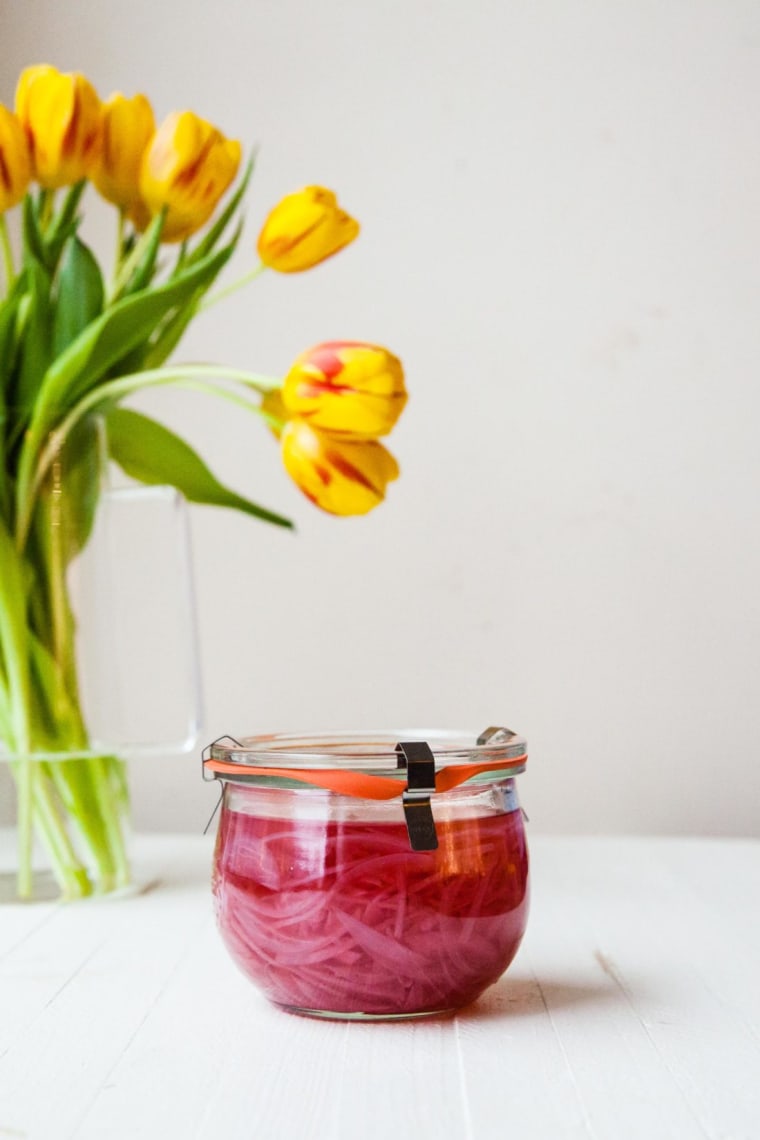 Click here for a Quick Pickled Red Onions recipe!
Once you have a container of them in the fridge you will be searching out all kinds of ways to add them to different dishes. You will definitely want to add them to salads and tacos. Place a little mound on top of a bowl of soup. Serve them with charcuterie and cheeses on a graze board. Offer them as a side with any kind of rich meat, like brisket or pot roast. Pile them on sandwiches (on pulled pork is amazing). Layer them into grilled cheese.
For starters, here are some recipes that can benefit from a sprinkling of pickled onions:
Mushroom Spelt Soup Grilled Cheese
Mediterranean Couscous with Vegetables
Pulled Pork Sandwiches
5 family dinner ideas
Want more tips like these? NBC News BETTER is obsessed with finding easier, healthier and smarter ways to live. Sign up for our newsletter and follow us on Facebook, Twitter and Instagram.