Freelance writer and single mom Jun Wu slashed her grocery spending to just a $100 a month — about $300 less than what she used to spend — by changing her mindset around money.
After working at various Wall Street firms throughout her 20s and 30s, Wu quit her job at an investment bank and moved to upstate New York, where she gave birth to her son, now 3 years old. She began a new career as a freelance writer, a job that allows her to work from home and be with her toddler. But her new life came with a new set of challenges.
"After I became a single mom — I actually had a nest egg I amassed from my career on Wall Street — and I was living off of that for a really long time. And that, I think, spoiled my mentality around money," Wu tells NBC News BETTER.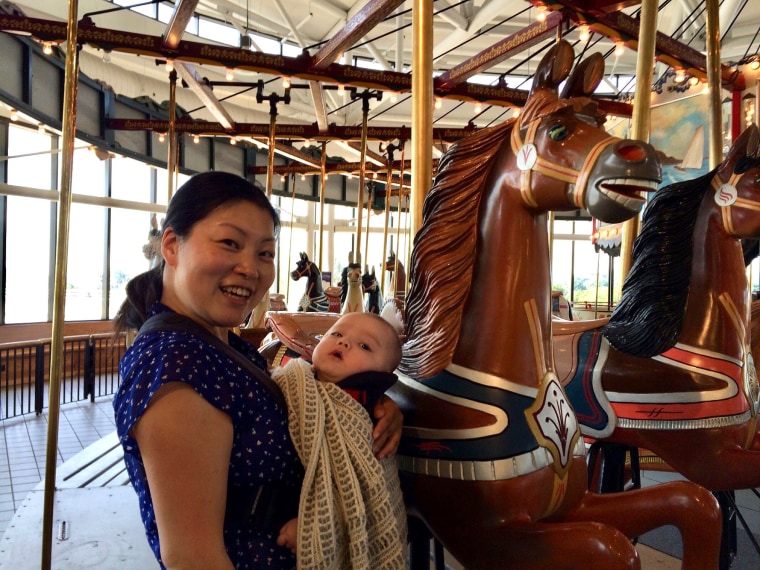 Wu took out loans to help launch her freelance business, and realized that in order to pay them off, she would need to spend less. Because she worked from home, she spent most of her money on groceries, so it made sense to cut back on her food budget, she says.
"I had to make sure that we spent as little as possible on food, and $100 was as much as I can stretch without cutting into everything that my son loved," she says.
Here's how Wu slashed her grocery spending to just $100 a month.
She switched to a less expensive grocery store
"When I was living off of my savings, my grocery bills were just ridiculous, and I didn't even think about it," Wu recalls, noting that her grocery bill at the time was at least $400 a month.
She would often buy organic products, she says, much of which would go to waste in her fridge.
To save money, she switched to a discount grocery store — an Aldi near her home. The store has less variety, she says, but carries affordable items she can purchase in bulk. She also began taking advantage of sales.
"At a local grocery store, for instance, a melon can cost $3 or $4," she says. "In Aldi, they have sales for in-season fruits, and melons sometimes cost something like $1.25, $1.49, so it's a huge difference in price."
She buys in bulk
Wu buys most of her food in bulk and does all of her own prepping and cooking, which she says saves her a significant amount.
For instance, she buys large packages of pasta and flour to make her own pizza dough. And instead of buying pre-sliced lunch meat, she'll get a ham or whole chicken, which she slices herself and freezes.
"Basically, I buy in large quantities of meat as much as I possibly can," she says. "We'll buy one chicken for a month, and I'll cut up the chicken, then I will store it — the portions in plastic bags — basically rationing it out between four weeks."
She makes hot sandwiches with a $20 panini press
Wu purchased a $20 panini press on Amazon.com, which she uses to make hot sandwiches with leftover ham or chicken.
"You can put anything with a slice of cheese to make a nice panini," she says, adding: "Ham and cheese is something we do all the time that my son really loves."
She makes a lot of soups and stir fries
If you want hearty, healthy, and filling meals that will save you money, soup and stir fries are great options, according to Wu. She makes soups using small amounts of meat and poultry, which she reinforces with "lots of beans and lentils for protein," and throws in some vegetables for nutrition. She says the soups are "hearty" and "healthy" and that "my son loves them."
"It's very high nutritional value, but for a lot less money than you would spend normally if you didn't use a lot of beans instead of meat," she says.
Dollar stores often sell inexpensive packaged dried beans, she says, which you can soak at home.
"We also do stir fries with pasta quite often, because pasta is very cheap, so we get that a lot, and I make it the Asian style with soy sauce," she says.
She bags and freezes her own vegetables
Broccoli and carrots make up the bulk of Wu's vegetable purchases. These veggies are big in nutritional value and low in cost, she says, and can be added to almost anything.
"What I do is buy a lot of broccoli and carrots — and carrots by the bulk are very cheap, you can buy five pounds of carrots for something like $3 — and it also freezes very well," she says.
She cuts up the vegetables, boils them for about a minute, douses them in cold water, gives them a few minutes to cool, puts them into individual plastic bags, and freezes them. This process, known as "blanching," preserves vegetables and keeps them crunchy, according to Wu.
"It really saves money that way because it keeps the vegetables somewhat fresh, and these vegetables are not out of cans — there's no preservatives or anything — so it actually stops me from needing to buy fresh vegetables all the time," she explains.
She makes homemade snacks and juices for her son
Wu purchases sugar-free cereal and uses it to make healthy snacks for her son — portioning the cereal into sandwich bags that she can take with them wherever they go.
"He'll basically eat anything, so I just give him these non-sugary cereals that we get from the food pantry, and it's not his favorite thing in the world, but you know what? It's nutritious," she says.
Wu also makes fresh apple juice for her son using a NutriBullet. She blends half an apple with a few carrots and water. Sometimes, she sneaks in a few pieces of broccoli (the NutriBullet removes most of the pulp, she says, so her son doesn't notice), and she occasionally adds yogurt "so it becomes a little bit more like a shake."
She prioritizes long-term financial goals
The hardest part about reducing your grocery bill, according to Wu, is changing your mindset. Rethinking the way you eat, and prepping and cooking meals, requires planning and work. Wu says that if you want to cut back on your grocery spending "you really have to prioritize."
"I think it's a mindset shift — more than switching grocery shops, more than swapping individual items — it's a total mindset change," she says.
Take a moment to think about your long-term financial goals, she says, and what's most important.
"You really have to think about what your long-term goals are as far as your financial future that you want to obtain. For instance, is establishing an emergency fund more important than being able to eat out once a week? You have to adjust your mindset into this savings mold."
Wu, who has landed several contract opportunities since starting her business, says the struggle has paid off.
"It feels great," she says. "I think we can be out of debt fairly quickly."
SHOPPING TIPS FROM YOUR FAVORITE STORES
Want more tips like these? NBC News BETTER is obsessed with finding easier, healthier and smarter ways to live. Sign up for our newsletter and follow us on Facebook, Twitter and Instagram.