Flowers. Chocolate. Wine. These are arguably some of the most romantic items a spouse can give their partner. But this past fall, my husband gave me something that would have even longer lasting positive effects on our relationship than a dozen long-stemmed red roses or a bottle of Pinot Noir by the fire. In fact, our bedroom makeover was one of the most loving, thoughtful things he's done not just for me, but for us as a couple.
"The bedroom is a place where the most vulnerable moments in a relationship happen — you get naked, both physically and emotionally. So, it's important that it remain a safe space," conscious relationship coach Danielle Robin told me. "If the bedroom feels cluttered or cold, so can all the interactions that take place inside of it."
When we moved into our house two years ago, time was short, so we had to forgo painting the walls. Our new boudoir was a sad muddy brown color that could best be described as depressing. Not exactly a word you want to associate with your bedroom, right? At first, I tried to convince myself that the color was warm and cozy, but in reality, I knew I wasn't happy with it. But we lived with the blah brown until one day when his work was slowing down for the season, hubs asked me what color I'd like to do.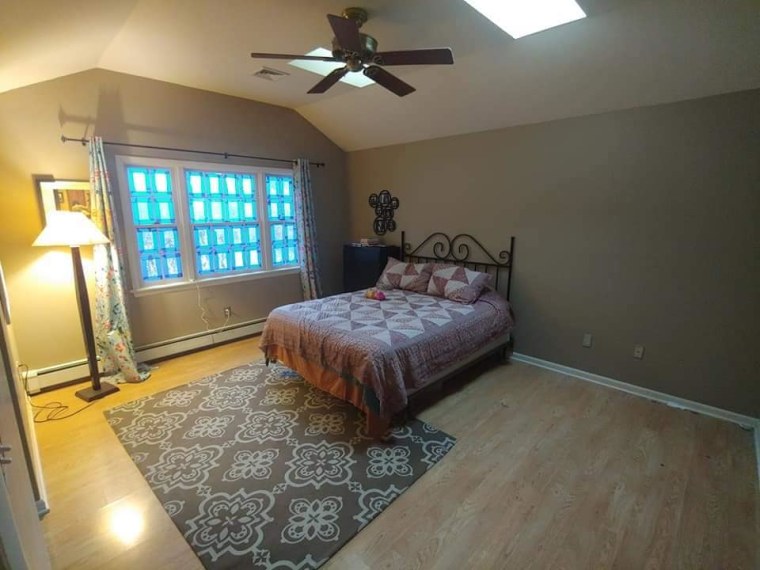 We started with a color change
We both agreed that we wanted to lighten up the room. And even though he had never heard the term "accent wall" before, hubs was game to go all-in with the royal navy blue color I had my eye on for the wall behind our bed.
I knew that painting the bedroom would make the room more cheerful. What I did not expect when I stood in the store looking at paint chips was that it could also change our relationship for the better.
I've always thought that the bedroom should be a retreat at the end of the day, and I wanted to create a sanctuary for us, free of clutter, electronics and bad vibes. Through the use of color, light and texture I hoped we could transform our space into a place where we would nurture our marriage and reveal the highest creative expressions of ourselves. I know that's a tall order for what started with a can of Benjamin Moore, but I truly believed that by creating a suitable environment, our relationship would flourish.
Next up: texture, lighting and decluttering
Changing the wall color was just the first step. I envisioned our bed as a cozy lair adorned with blankets and throw pillows.
"Texture does so much for dialing up the mood and creating a mind-blowing space," Seattle-based interior designer John Monte, who runs Elegant Simplicity with his wife, Sherri Monte, told me. "Once you decide how you want your space to feel, it's time to bring on the cozy layers and texture it up. Play up a variety of soft textiles, like wool, cashmere, shag or knit. Layering these textures through throw pillows, blankets and area rugs is a subtle way to create a relaxing retreat. Consider adding some items made from natural materials, like wicker, rattan, raffia or jute. Pulling in natural elements through small furnishings like side tables and accessories is the perfect way to pack a professional interior design punch."
Monte also encouraged me to pay close attention to the lighting in our bedroom.
"Lighting can seduce you, entice you or put you right to sleep," he said. "That's why it's so important to find lighting of all kinds — chandeliers, pendants, sconces, floor lamps, table lamps, task lighting, overhead lighting — with the best undertones for your bedroom. Look at the lighting in your space to see how it's affecting your daily activities. Are you constantly wanting to read in bed, but squinting because there's just not enough light to do it?"
I also knew that in order for the space to feel like a sanctuary, we had to eliminate clutter.
"A bedroom without clutter allows for spaciousness, allows for better conversation, more intimacy," Robin told me. For my husband, that meant getting rid of the mountain of receipts on his dresser. For me, it was eliminating the ever-growing mountain of "worn but not dirty" clothing occupying the vanity table.
Ditch the distractions
We were already one step ahead of the game in that we never allow kids' toys or any of their belongings in our bedroom, which I know can be a problem for many parents. Robin also recommended keeping our devices in another room.
"I can't recommend enough creating a technology-free bedroom," she said. "One option is to agree to no laptops or cell phones in the bedroom while you sleep. You can create a charging station right outside the bedroom and get an alarm clock that mimics the sunrise. The more advanced version of this is to make the bedroom laptop and cell phone-free at all times!"
My husband recently started charging his phone in the kitchen at night. I still keep mine by my bed for the alarm (and, er, pre-bedtime scrolling) but my laptop is in another room, making our room a work-free zone.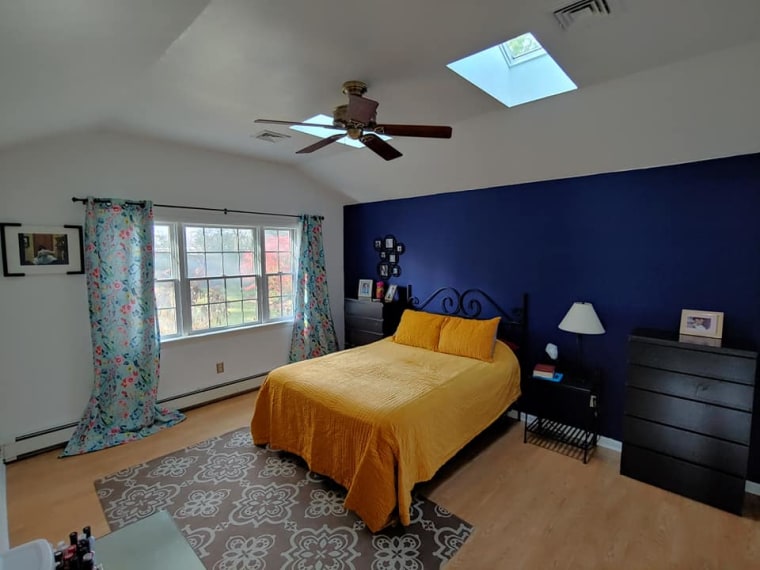 Make it a joint process — and a work in progress
I also tried to remember that compromise was an important part of the design process.
"A bedroom should be a thoughtful reflection of both partners," said Robin. "Make sure that each person's point of view is respected and reflected in how a bedroom comes together. Allow yourself to be more willing to be flexible and collaborate on colors, fabrics and layout. It's extremely important that both partners feel welcomed and comfortable in it."
For example, a textual art poster that I loved but that my husband was dispassionate about was relegated to the bathroom. But we both agreed on the whimsical "lively garden" curtains from Pier One.
When the wire sculpture from Anthropologie that spelled out the word "goodnight" in script didn't show on the accent wall, my husband suggested spray-painting it gold. Suddenly, this bedroom makeover wasn't just a gift to me, it was a project we were taking on together. We were just like Chip and Joanna Gaines! (Albeit without the shiplap.)
And although I liked the idea of having a "big reveal," Robin reminded me that just like relationships, the bedroom should remain a work-in-progress.
"Growth is important in the bedroom space," she said. "Consider making a change in your bedroom every six months. Perhaps it's a new pillow, candles, sheets, a plant, something on the wall that rotates with the seasons or a room spray with a new scent. Don't get too attached to it being any one way; it's a place that should feel fresh and exciting along with being comfortable and familiar."
And while I'm so grateful for the hard work hubs put into our room (anyone who's painted before knows it's hard work!) it's a relief to know that I don't have to have it all picture-perfect. Monte told me that I've already come a long way from the country-cozy comforter and blah brown walls.
"The saturated blue you've chosen creates an energy that was lacking when your walls were beige," he said. "Not to mention, the same can be said for the yellow comforter which exudes a ton of personality."
He also suggested bringing some greenery into the room, which amazingly, I'd overlooked.
"Plants breathe life into a space, especially a bedroom," he said.
And while our bedroom makeover got the seal of approval from the professional designer (with a few suggestions for additions) the big win was that we created a space that makes us feel calm and happy — and that we want to spend time in together.
MORE RELATIONSHIP ADVICE
Want more tips like these? NBC News BETTER is obsessed with finding easier, healthier and smarter ways to live. Sign up for our newsletter and follow us on Facebook, Twitter and Instagram.