Big goals are not so hard to accomplish if you're tracking them regularly, according to Samantha Ripley, a salesperson in Colorado Springs who is using "goal tracking" to write what she hopes will be her first published novel.
Ripley, 27, a regular contributor for Medium.com, learned about goal-tracking when she was studying marketing and advertising at Florida State University.
So far, she's used the system to write two unpublished young adult novels, and is using it again to write her third.
Here's how she does it.
Start with a SMART goals system
Before Ripley began goal tracking, she needed to know exactly what her goals were.
She says the "SMART Goal" system, a popular goal-setting technique, was a great way to do just that.
What is a SMART system?
S — Specific (What is my specific goal?)
M — Measurable (What do I need to do to achieve this goal?)
A&R — Achievable and Realistic (Is this something I can realistically do?)
T — Timely (How much time will it take me to achieve my goal?)
"The whole SMART system is to help you break down your goals in a way that makes it a lot easier," says Ripley.
Let's say you want to write a novel.
Using the SMART system, you can break down your goals into action points that outline exactly how many words you'll need to write each day.
Specific: I will write a 70,000 word novel in 6 months.
Measurable: I will need to write 11,666 words per month, or about 390 words per day.
Achievable & Realistic: It is achievable and realistic for me to write at least 390 words a day.
Timely: If I set aside 1-2 hours each day to write 390 words, I can write my novel in 6 months.
Each day, create your to-do list
Once Ripley had her SMART goal system outlined, she needed a system to track her daily goals.
Ripley tracks her daily goals in a to-do list, which includes everything she wants to achieve for a given day — including her writing.
Her daily to-do list goal categories include; Meditation, self-care, errands, exercise, and writing at least 1,000 words of her novel.
She says there are apps that can help you track to-do lists, but she prefers to hand write hers.
"The muscle memory of using your hand with your brain really does reinforce the goals that you are trying to achieve," Ripley says
Create a monthly checklist with a points system
Every day, Ripley chronicles her progress in a monthly "checklist" that includes a points system.
A checklist can easily be created in a Microsoft Excel spreadsheet, says Ripley, but hers is hand-drawn chart pinned to the wall behind her desk.
She says the checklist contains a "points system' that gives her a bird's-eye view of her monthly progress and what she needs to improve on.
A "key" section outlines the five goal categories from her daily to-do list.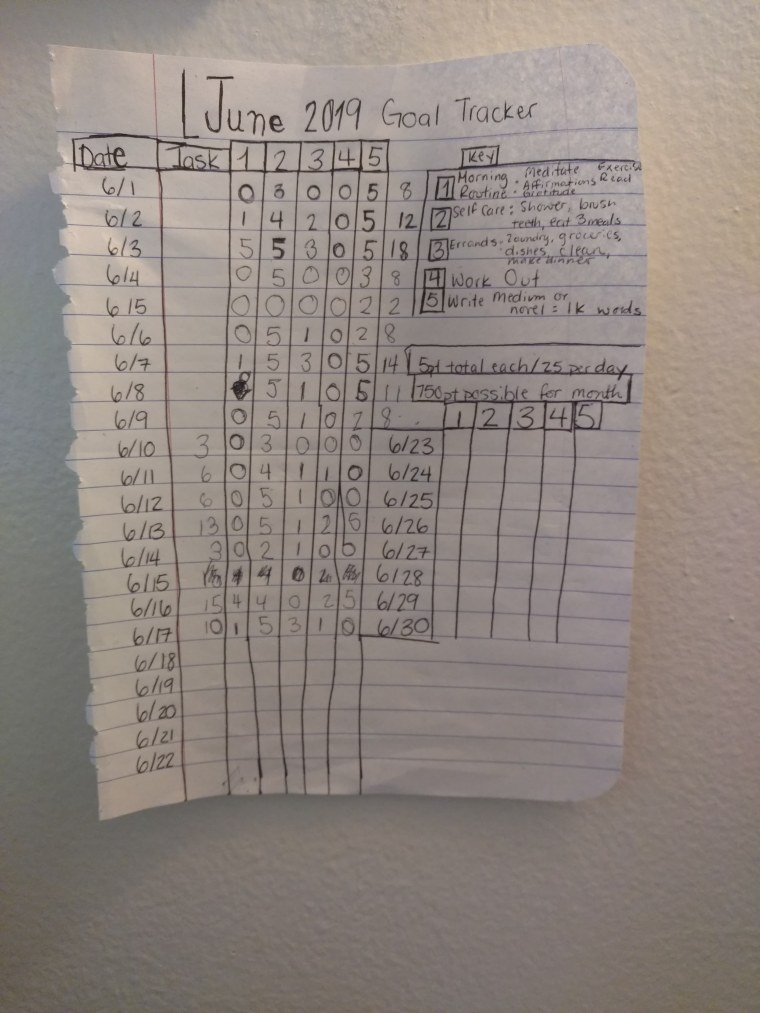 She says each daily goal category is worth a maximum of five points.
The number of points she gives herself depends on how much she completes in each category for a given day.
For example, if she has five errands she needs to tackle in a day, but only does two, then she gets two points for her "errands" category.
In the chart, she tracks the number of points she earned — up to 25 points a day and 750 points a month.
"And if I end up getting a really high score the next month, that means I actually worked really hard towards my goals," says Ripley.
End-of-the-month rewards
If Ripley reaches a certain amount of points for the month, she rewards herself with something fun, like a nice outfit, which gives her added motivation to reach her goals.
"If I've got over 500 points, that really helps me see that I've put a lot of progress into the categories and goals that I have," she says.
Ripley says the system isn't so much about achieving her goals as it is about developing the discipline she needs to attain them.
"I'm proud of myself," Ripley says, "but I also know I have a long way to go."
MORE TIPS FOR A BETTER DAY
Want more tips like these? NBC News BETTER is obsessed with finding easier, healthier and smarter ways to live. Sign up for our newsletter and follow us on Facebook, Twitter and Instagram.