I've been hearing about how great the Instant Pot is for years, but I never really saw the need to add another small appliance to my kitchen. With Black Friday sales last year, though, I saw the price effectively drop to $31 ($51 plus $20 Kohl's cash) for the Duo six-quart, 7-in-1 model and I decided it was time to give it a try.
Wow, I get it. I've been using it pretty much nonstop since I brought it home. I started with the initial test run, which involves heating up water and is what experts recommend as a first step for learning how the Instant Pot works. After that, I moved on to actual food. Here's what I tried.
Chicken wings
I had stopped making chicken wings, since my method of pan-frying then broiling took forever, and made a greasy mess in the kitchen.
I tried Best-Ever Chicken Wings from "The Big Book of Instant Pot Recipes". This version was easy—four pounds of wings in the Instant Pot for 10 minutes (not counting the time it takes to reach high pressure), plus five minutes under the broiler, then a brush of melted butter mixed with your favorite seasoning mix. I mixed up my own version of these herbs and spices, using ingredients I had on hand.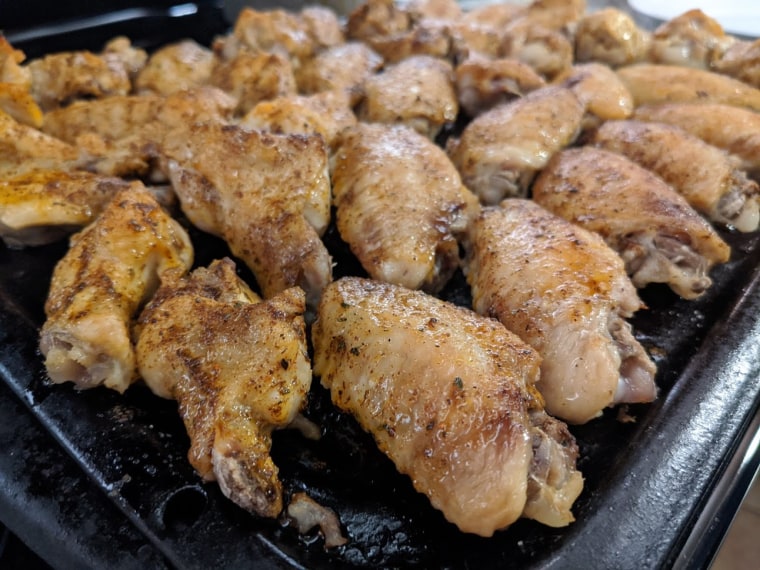 The verdict: "Rousing success," per my husband. I agree — they came out great, with minimal mess, though if you like your wings extra-crispy you could broil them for a few more minutes. If I used the Instant Pot exclusively for chicken wings I would still be happy I bought it.
Clam chowder
I'd been advised to follow pre-tested recipes at first, so I figured 15-minute New England clam chowder from the booklet that came with the pot would be a safe bet. Nope. Some of the ingredients and measurements were unusual. A cup of diced bacon — isn't it usually measured in slices? A tarty white wine — would that be dry? And some directions seemed to be for another Instant Pot model (or not at all): "When the pan reaches pressure, lower the flame to minimum heat." My model doesn't have a flame. I made my best guesses.
I also wanted to try cooking the clams in the Instant Pot. They cooked up beautifully, and I like how the pot collects the broth so I could use it in the chowder. But my clams (large cherrystones) weren't cooked in the five minutes the recipe called for, so I had to add another three minutes.
The verdict: Delicious, but factor in plenty of extra time. My dad makes fantastic homemade chowder and this is easily as good, with a creamy broth that's not thick. I would make it again, and cooking everything (except the roux) in one pot makes it easy.
But: 15 minutes? Not even close. I lined up all my ingredients on my counter like a mise-en-place master, cubed the bacon, and diced the onions and potatoes while the clams were cooking. It still took me 30 minutes to finish this chowder, and I cut short the five minutes of simmering at the end.
It seems there's a tendency in Instant Pot recipes, confirmed by cookbook author Brittany Williams, to ignore the time it takes the pot to reach pressure, which could be several minutes depending on the model you have and what's inside it.
Mushroom risotto
I turned back to "The Big Book of Instant Pot Recipes" for their creamy mushroom risotto recipe. I had never made risotto before, because I've heard how time consuming it is. In the Instant Pot, once you sauté the onion and mushrooms, the pot does almost all the work for you.
The verdict: Amazing. This risotto is the perfect meal or side dish for a gray winter day. I've already made it a second time, and would make it more often as a side dish if I had a second Instant Pot.
The sauté feature works well, though the pot's small surface area made it harder to caramelize the mushrooms as they give off liquid. I think they would have browned up more nicely in a frying pan with more surface area, but cooking everything in one pot, and foregoing the nonstop stirring, make this method a winner.
Pork tenderloin
I felt I had gained enough Instant Pot expertise to mix and match a couple of other recipes for pork tenderloin without following one to the letter. I rubbed the pork with dry herbs and spices, seared it in olive oil in the bottom of the pot, deglazed the pot with chicken stock, pressure-cooked the meat, and made a gravy from the liquid in the bottom of the pot. That might sound like a lot, but it was super easy.
The verdict: Tasty and easy. It's not that hard to cook pork tenderloin in the oven, but cooking everything in one pot made cleanup simple, and the meat was juicy and perfectly cooked. Plus, it was almost no trouble to make gravy, a step I would normally skip.
These recipes called for zero- or one-minute cook times (after the machine reaches high pressure), which I found alarmingly short. But just bringing the machine up to pressure, then letting the pork sit in the pot for 15 minutes (which I've learned is called natural release, as the pressure naturally dissipates) came out to a perfect 145 degrees — I checked.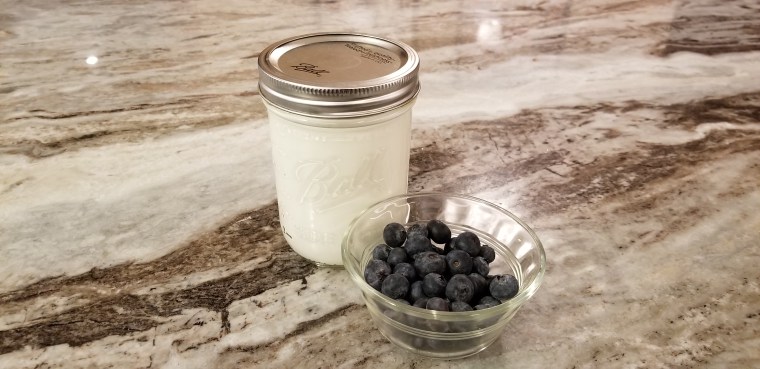 Yogurt
My one pre-Instant Pot attempt to make yogurt involved a heating pad wrapped about a pitcher overnight. It was a total failure. I expected there would be a yogurt recipe included with my Instant Pot recipe booklet but there was not, so I turned to the Internet and found a two-ingredient, no-boil yogurt recipe. I used Kirkland organic ultrapasteurized whole milk, (it's the ultrapasteurization that lets you skip the boiling) and Siggi's whole milk yogurt. It is literally this easy — add the milk and yogurt to the Instant Pot, whisk together, and set it on "yogurt" for eight hours, then cool.
The verdict: Wow! It came out thick and tangy like a good Greek yogurt. I didn't have to strain it, add milk powder, check the temperature, or do any of the other stuff you see in online recipes. I've already made a second batch, using my own first batch as the starter in place of the Siggi's.
Tip: If you make yogurt overnight and it will finish before you wake up, you can turn the sound off so the beeps don't wake you up. Push "-" for three seconds and you'll see SOFF for sound off. Push "+" for three seconds if you want to turn the sound back on. (This may not work for all models.)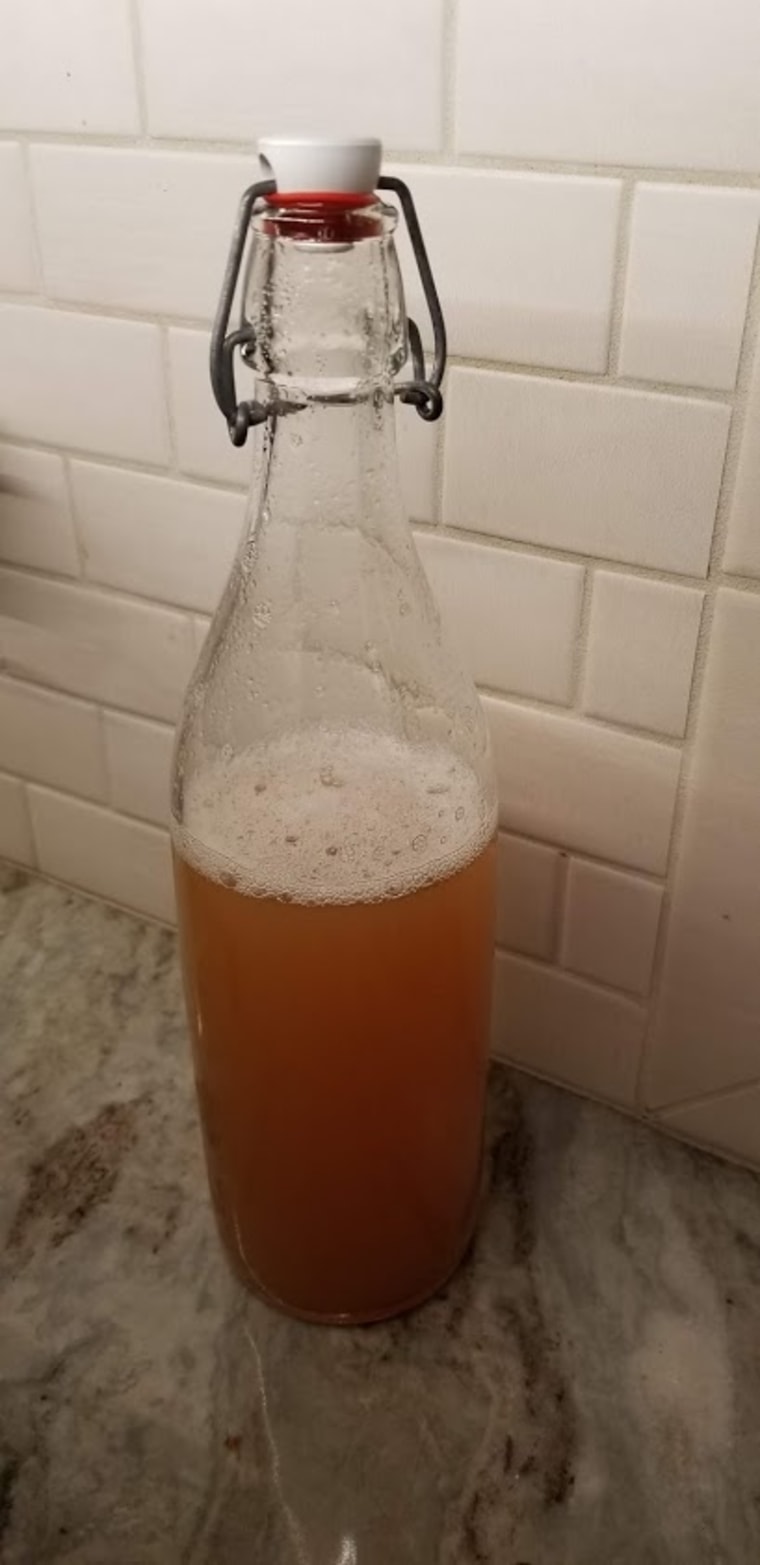 Apple cider
I had a bunch of apples that were starting to get a little past their prime, so I made my first-ever attempt at homemade apple cider. So easy, and I had everything I needed right at home (except the optional star anise). The hardest part was mashing the finished mix to get all the juice out.
The verdict: Yum! It's not quite as heavy as most store-bought cider but just as flavorful. It's a great winter warmer or cocktail mixer.
Chicken salad
I'm not a huge fan of boneless, skinless, chicken breasts, since they can be dry and bland. But after six minutes in the Instant Pot they were properly cooked and juicy. I chopped them and mixed them with onion, pepper, cilantro, mayonnaise, and lime juice, plus salt and pepper.
The verdict: Good, and a nice option for working at home — I could cook the chicken in the morning, throw it in the fridge to chill, and quickly put together the chicken salad at lunchtime.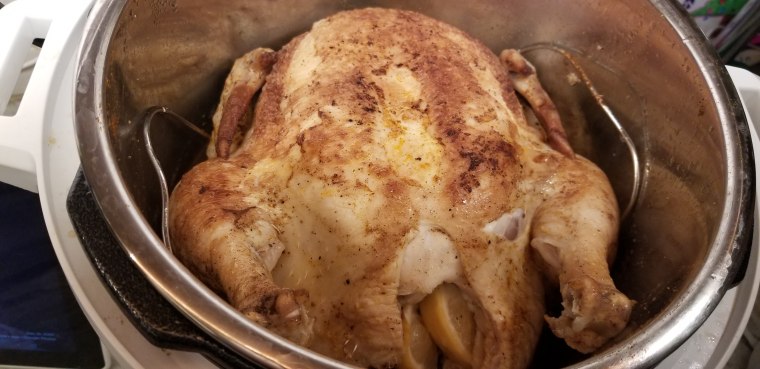 Whole roasted chicken
Like pork tenderloin, it's not that hard to cook a chicken in the oven. But I figured I'd try this Instant Pot Rotisserie Chicken. I modified the spices a bit, using what I had available, and bumped up the cooking time to 30 minutes at high pressure and 30 minutes natural release, since my chicken was five pounds (and just barely fit in the Instant Pot).
The verdict: Delicious. The tricky part here is browning the chicken. You have to leave the chicken in long enough for it to get a good sear so the skin doesn't stick to the bottom of the pot, but not so long that it burns.
It's a bit awkward to turn the chicken over and take it out of the pot with tongs, especially an oversized chicken like mine, but manageable. And worth it.
Chicken broth
Once I roasted a chicken, making broth was a no-brainer. I threw the bones in the pot with half an onion and a stalk of celery, filled it up about halfway with water, and cooked it for an hour on high pressure.
The verdict: Perfect. Great flavor. With some leftover roast chicken added in, it made a nice, easy soup for lunch the next day.
Try these Instant Pot recipes
Want more tips like these? NBC News BETTER is obsessed with finding easier, healthier and smarter ways to live. Sign up for our newsletter and follow us on Facebook, Twitter and Instagram.