When my fiancé Sam and I got engaged in October 2018, getting married was a mere formality for us. In many ways, Sam and I felt like we were already married. The different tangents of our lives are interconnected in ways that can't be untethered. Not to mention, we recently became homeowners to our very own Brooklyn apartment. We contemplated sealing the deal legally, but I was excited to plan the biggest party of our lives — a wedding — and have our dearest friends and family there to celebrate our love and life together.
On the surface, everything seemed great and it was, but with these moments of pure joy and anticipation also came immense sadness — and grief. Nine months before our wedding, my cousin passed away from metastatic breast cancer after a courageous four-year battle with the disease. Although we were 16 years apart in age, we were very close and consider each other sisters. Our fathers were the only two brothers of their sibling squad of seven who emigrated from the Philippines.
I remember the day she died very clearly because it was the same day I found my wedding dress. Earlier that week, my cousin's body began to shut down from organ failure. We were told that she had only a few weeks to live. While I was dress shopping, I tried to keep my mind distracted and focused on other things. When I tried on the dress, I immediately knew it was the one. I also took this as a sign that I needed to get to New Jersey as soon as possible to see my cousin. But by the time I arrived at her home later that evening, her soul had already parted this world. We knew we would be losing her, but we weren't expecting death to come so swiftly.
Before she passed away, I asked my cousin to be part of my wedding party. In Filipino weddings, each couple has a set of godparents to carry out the veil, cord and coin traditions. These rituals are symbolic of the unity of two families joining and the sharing of love together. She was going to be a veil sponsor.
Reeling from the death of my cousin, I consumed myself with work in an act of trying to stay busy, while also trying my best to stay positive and enjoy every moment leading up to my impending nuptials. There were moments when I allowed the grief to set in and I called on the universe to help me get through it.
People deal with grief in different ways, and there's no right or wrong way to cope — but I definitely didn't handle things perfectly. Looking back a year later, I would change a lot. So to help others who may be dealing with a similar situation, I explored what I could of done better by consulting Dan Wolfson, PsyD, a licensed psychologist specializing in grief and the clinical director of Experience Camps for Grieving Children. Here are some of the strategies I learned on how to cope with the loss of a loved one, especially during momentous occasions.
Give yourself space for grief and allow sadness to set in
While I was planning my wedding, I wanted to celebrate this incredibly happy time in my life, but I also wanted to be able to grieve the death of my cousin and be respectful of family members who are also dealing with her loss. I refrained from sharing all the details — good and bad — about wedding planning. There were times when I didn't feel like getting up in the morning to go to work, but I buried myself with projects at the office to stay motivated and distracted. However, Wolfson says it's important to make space for grief and doing this can actually feel freeing. "Grief never goes away. It is something we all learn how to adapt to. The intensity of grief changes over time," Wolfson explains. "One of the big things that helps us adapt to loss is to make space for these emotions. This allows you to re-engage with your life and have a vision that's meaningful in the absence of your loved one," he says.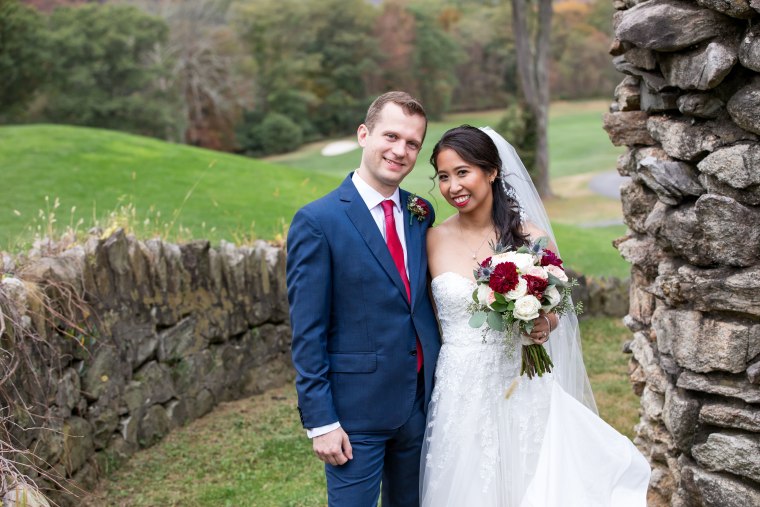 Stay connected to your loved one during big life events
Whether you're planning a wedding like I was, having a baby, or preparing for another big life event, there's a way to give structure to your grief and honor your loved ones. "It's extremely helpful to acknowledge the important people in our lives that are no longer with us during these significant life changes. We want to stay connected to our loved ones, and you can do this by embracing traditions or symbolic acts," Wolfson says. Some ways Wolfson says you can include your loved one are by playing a special song, lighting a candle, displaying a picture, or wearing a piece of their jewelry or clothing. During our wedding ceremony, we acknowledged that my cousin was a veil sponsor and had a brief moment of silence for her. "By bringing intentionality to this, you know you'll be acknowledging your person, which can also give you permission to feel connected to them while embracing the positive feelings of the moment," Wolfson says.
Don't feel guilty about feeling grief and joy simultaneously
It's common to feel guilty about grief, especially if you don't want to be overbearing on your partner or family members. While we were planning our wedding, I was worried that I wasn't showing Sam how happy I was to get married or that I was overwhelming him with my roller coaster of emotions. What helped me get through this tough period was having conversations with him about the waves of sadness I felt, while also reveling in the moments of joy and laughter we share. Planning our wedding ceremony together with our officiant actually helped me feel happier and provided balance to the pangs of sorrow that would pop up.
But experiencing grief and joy at the same time is something you should never feel guilty about, Wolfson says. "Engaging with positive experiences and emotions is central to the process of adapting to loss. However, it can certainly be challenging if you feel you are in a different place than those around you," Wolfson says. By communicating your feelings with your partner, family and friends, they can understand that people grieve at different paces and in different ways. "Through communication and openness, you can feel more understood by your support system in your grief and be empathetic towards the feelings of those around you," he adds.
Give and receive support from your partner
"People often want to be able to provide support but might struggle with doing it in the right way," Wolfson says. They may offer platitudes and tell you to be "strong," but Wolfson encourages people to lean into feelings of sadness and be direct with your partner, and others, about your needs.
An essential part of adapting to loss is being able to embrace positive emotions again, and our partners can play a large role in this by providing some pep talks and doing activities together that'll help you feel better. Going for walks together, enjoying dinners out, and watching a funny movie can give you a break from the intensity of grief. Sam and I aimed to make time for one date night a week, where we go out to our favorite neighborhood restaurant for a nice dinner and cocktails. This helped me feel good because I was spending quality time with him and nourishing my body with foods I love.
We tend to rely heavily on our partners for emotional support when we're grieving, and this is completely fine. This is what they signed up for, after all, but it's important for them to get the support they need, too. Wolfson says partners of grieving spouses should also have an outlet for the pressures and struggles they're facing. It's hard to support someone when you don't feel resourced. "Having their own therapist and friends to confide in will help them build themselves up so they are able to support you through a hard time," Wolfson says. "Any strong relationship includes emotional communication, and both giving and receiving support, and this is certainly true when grief is present," he says.
Be kind to yourself: It's okay to not be okay
A few weeks after my cousin passed away, I was struggling to stay focused with my job. But Wolfson says you don't always have to pretend to be doing okay when you're not. Being open with the fact that you're having a hard time takes pressure off of you to think you have to do more. "It's good to say, 'I want to come back and know that I'm not feeling my best right now, but I appreciate all the support,'" Wolfson says. "This is not the time to take on more responsibility at work, and your job just has to understand that," he says.
Creating time to take care of yourself can do wonders for dealing with loss. People can practice self-care in a variety of ways, like journaling, joining a bereavement support group, or participating in online networks or groups that deal with loss. The bottom line is that you should never feel alone in your grief and staying connected to others can help you process your emotions. Wolfson says, "Give yourself permission to feel this way right now. This is not the time and place to do more. We do have some choice in that."
MORE FROM BETTER
Want more tips like these? NBC News BETTER is obsessed with finding easier, healthier and smarter ways to live. Sign up for our newsletter and follow us on Facebook, Twitter and Instagram.