It was a cold December day three years ago when I sat down in my stylist's chair and said the five words I'd been thinking for the past few months:
"Get rid of the gray."
At the time, I was 42 and was just beginning to accept that my long, curly brown hair with natural red and gold highlights was aging right along with the rest of me. Twins and time had taken their toll and there they were on the top of my mane — gray strands that stood out to me like a beacon.
"I like them," said Carlos the curl guru and creator of NYC Curls. "They're like sparklers!"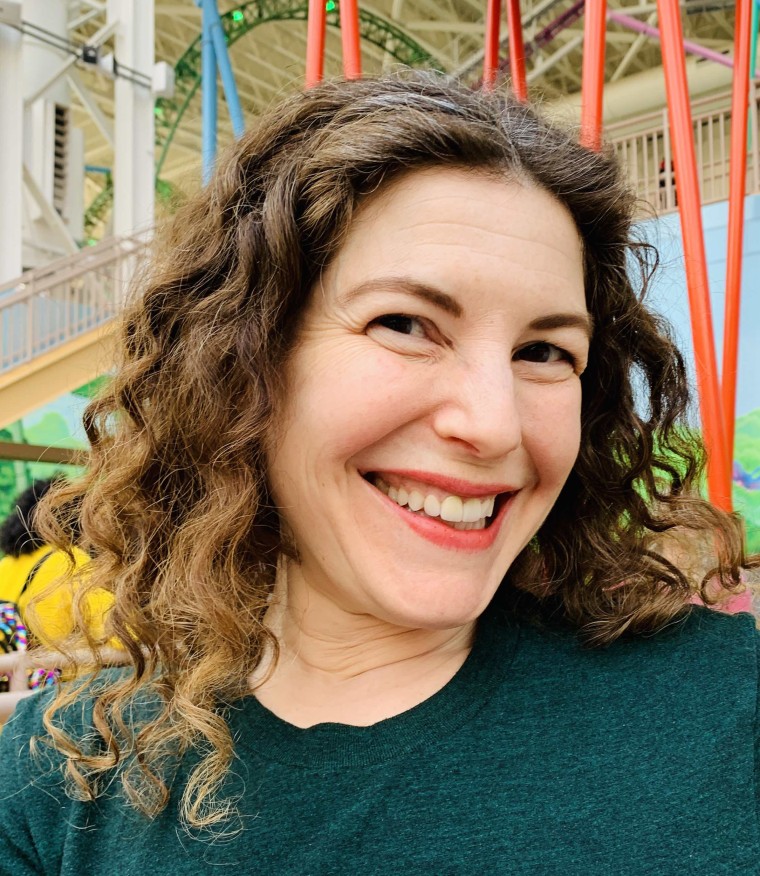 But the grays didn't make me feel sparkly — in fact they were a major downer and although I wasn't into the idea of dyeing my hair (I had done that too much as a teenager and had, as an adult, come to love my natural color) the idea of walking around with what I deemed "old lady hair" felt depressing. Even worse was the fact that everywhere I went, millennial women were dyeing their hair gray — on purpose. It made me mad that they were paying to have the thing I wanted to get rid of — and what made it doubly maddening was that, on them, it actually looked cool.
Carlos and I agreed that we would start small, with him painting on some lowlights. He told me it wouldn't obscure all of my grays, but rather give me natural-looking coverage without changing my signature color.
I left the salon feeling great and not at all regretting my decision. But as time went on, and my grays started to bother me more when my roots grew out, I realized I'd gotten into that vicious (and expensive) cycle of constantly needing to refresh my color. Realistically, the lowlights only last two months tops, and by the eighth week I was frantically spraying root cover-up on the top of my head.
In the meantime, I was seeing pictures all over Instagram of friends and strangers who were "embracing the gray," including Lynnette Marrero, a New York City-based mixologist who's been gray from a young age and Marla Paul, a journalist and photographer, who just transitioned her hair to her natural gray six months ago.
These silver-haired beauties looked strong, powerful and sexy. I loved that they were embracing the fact that they were aging instead of trying to cover it up. I wondered if I could be like that.
"Going gray can be very flattering on some and unfortunately very aging on others," Tiffanie Richards, master colorist at Nunzio Saviano Salon in Manhattan told me.
"If the majority of the gray hair is white, chances are this will be a great look. White hair tends to pop the warmth of skin tones. However, if the majority is dark gray, which is known as salt and pepper, it is a completely different situation," she said, warning me that I'd likely need to wear a lot of makeup to avoid looking too washed out.
Lorraine Massey, founder of Spiral (x,y,z) and author of Silver Hair: The Handbook, had a different take. "When you decide to go gray, you free yourself from the monthly grind — time spent aligning your schedule around your roots, your colorist and your money!"
Still, I liked the idea of becoming a silver vixen and thwarting the notion that men with gray hair are considered "distinguished" while women who let their gray show have "let themselves go."
Massey pointed out that if there were ever a time to try going gray, it's now — during the pandemic. "The weddings have been postponed, you're not working in an office setting, the parties have been cancelled. Take this time to test things out."
Lindsay Loo, a New York City-based Wella Master Color Expert, told me that if her clients are considering going gray, she advises them to stretch the amount of time between colorings to see if they like what they're working with.
When you decide to go gray, you free yourself from the monthly grind — time spent aligning your schedule around your roots, your colorist and your money!
Lorraine Massey, author of Silver Hair: The Handbook
"I ask them to pre-book an appointment for their existing color service just like we have been doing for however long our color history is, but to push it out an extra two weeks," she told me. "Then come in as usual and decide if what they're seeing is something they want to continue to grow out. If not, easy fix."
Since my color usually keeps for about two months, going four months without any color was a stark contrast to what I was used to seeing in the mirror. I'll admit that these circumstances did not yield the most attractive results. Instead of getting some short, statement haircut to ease the transition, I was determined to keep my long, curly locks. After four months without Carlos, my hair was long and curly reddish brown on the bottom, but with gray roots that created an odd sort of halo on top of my head that bothered me every time I went to the bathroom.
"Seeing the silver hair roots attached to the colored hair can be very hard to visually accept because they are both competing for your attention and you may not like either one of them," said Massey. "It does take time, but the end result is worth it."
And while Massey told me that the majority of the women she interviewed for her book wished they had skipped all of the highlighting, coloring and toning treatments to ease the process of growing out the gray and just let their hair go natural, I knew that wasn't the right choice for me (not yet).
So, in the end — thankfully, before the quarantine — I made a date with Carlos and felt a deep sense of relief as he assessed my hair and went to "mix up the magic." I left the salon that day with freshly colored hair, feeling beautiful and, most importantly, more like myself.
Want more tips like these? NBC News BETTER is obsessed with finding easier, healthier and smarter ways to live. Sign up for our newsletter and follow us on Facebook, Twitter and Instagram.