Don't be alarmed, but there's a good chance you're eating too much added sugar. The average person eats about 17 teaspoons per day, which is about 65 percent more than the American Heart Association's recommendation (no more than six teaspoons per day for women and nine for men).
Added sugar can be in obvious sources, like candies, cookies, ice cream, and pies, as well as the sugar you might add to tea and coffee. There are also sources you're likely aware of but may be surprised by the amounts: A can of soda contains about 10 teaspoons; a Starbucks' Matcha Green Tea Crème Frappuccino has over 15 teaspoons — and that's without the whip! Other sources are much sneakier. They include condiments, cereals (even whole grains varieties), flavored yogurts, dried fruits, jerky, plant-based milks, and breads. It all adds up pretty quickly. Take this example: A home-brewed latte with ½ cup vanilla almond milk plus one packet of maple oatmeal mixed with ½ cup vanilla almond milk gets you to the six-teaspoon mark at breakfast. And it all sounds reasonably healthy.
Lightening your sugar load isn't about depriving yourself of desserts and other foods you love. It would be unrealistic (and even harmful) to constantly deny yourself these pleasures. Instead, reducing your added sugar intake is about empowering you to nourish your body better, potentially offsetting weight gain, diabetes, and heart disease, which are all linked to excessive sugar intake.
The best lower-sugar goodies provide some nourishment, like naturally-occurring vitamins and minerals, fiber, or protein. When you make a practice of swapping ordinary (read: sugary) desserts for these types of healthier, lower-sugar ones, it can help you build long-lasting healthy habits, and you'll find that your taste buds adapt. Not only will summery fruit taste gloriously sweeter, but it could translate to a reduction in cravings for sweets. And when a craving does pop up, you might be satisfied with a smaller portion. To help you reduce your sugar load without depriving yourself of dessert, here are some insanely delicious and light-in-sugar dietitian-approved ideas.
Make these low-sugar desserts at home
Making a homemade, lower sugar dessert is time well spent! Not only will your dessert be fresh and full of flavor, these treats feature whole food ingredients that bring extra nutrition to dessert time.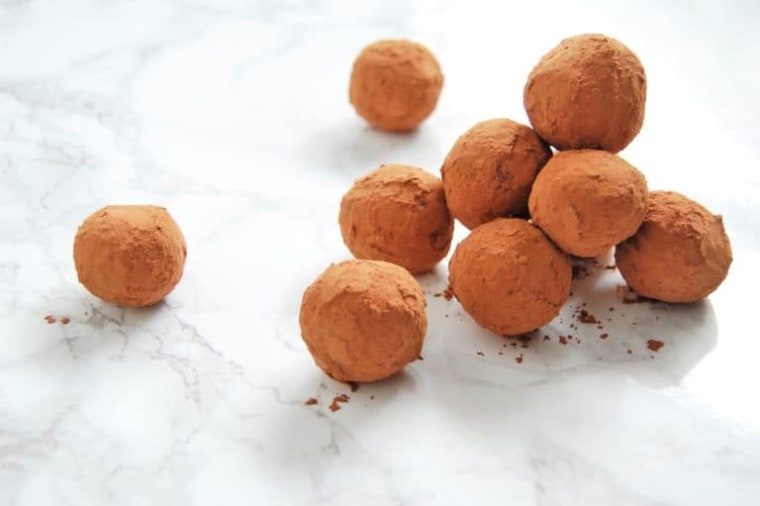 If you're looking for the ultimate chocolate experience with just a hint (instead of a boatload) of added sugar, bookmark this recipe. "They're lower in sugar and made with heart healthy avocados and magnesium-rich dark chocolate," says recipe creator and registered dietitian, Lindsey Janeiro, RDN, LDN of Nutrition to Fit. "I've also had readers share they've made these truffles even lower in sugar by using stevia to sweeten and by using stevia-sweetened dark chocolate (like Lily's)."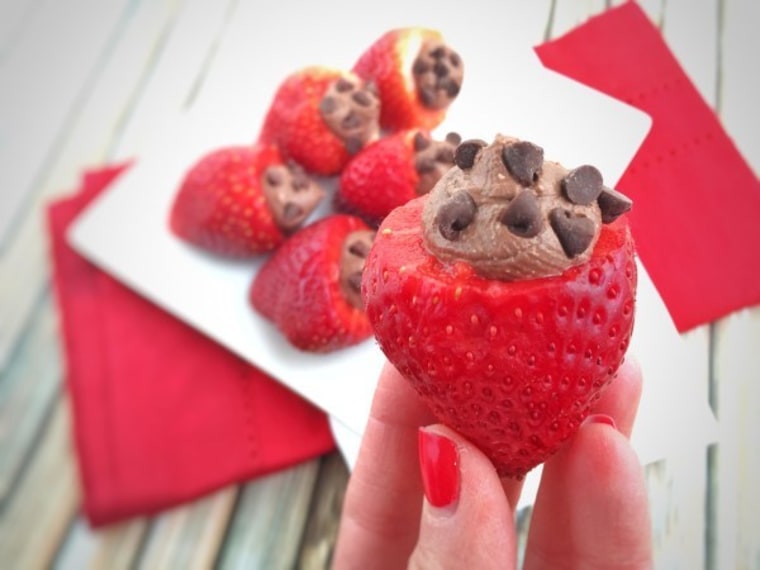 "These decadent Chocolate Mousse Filled Strawberries are gluten-free, vegan, and have only 70 calories and 7 grams of sugar per serving," says Lauren Harris-Pincus, RDN, owner of NutritionStarringYOU.com and author of The Protein-Packed Breakfast Club. And most of that sugar is from the in-season strawberries, so it doesn't count toward your added sugar allotment. Plus, these chocolate-stuffed berries feature another nutritious extra. "The secret ingredient is soft, silken tofu," says Harris-Pincus. "Tofu adds protein, heart-healthy fat and creaminess without any dairy."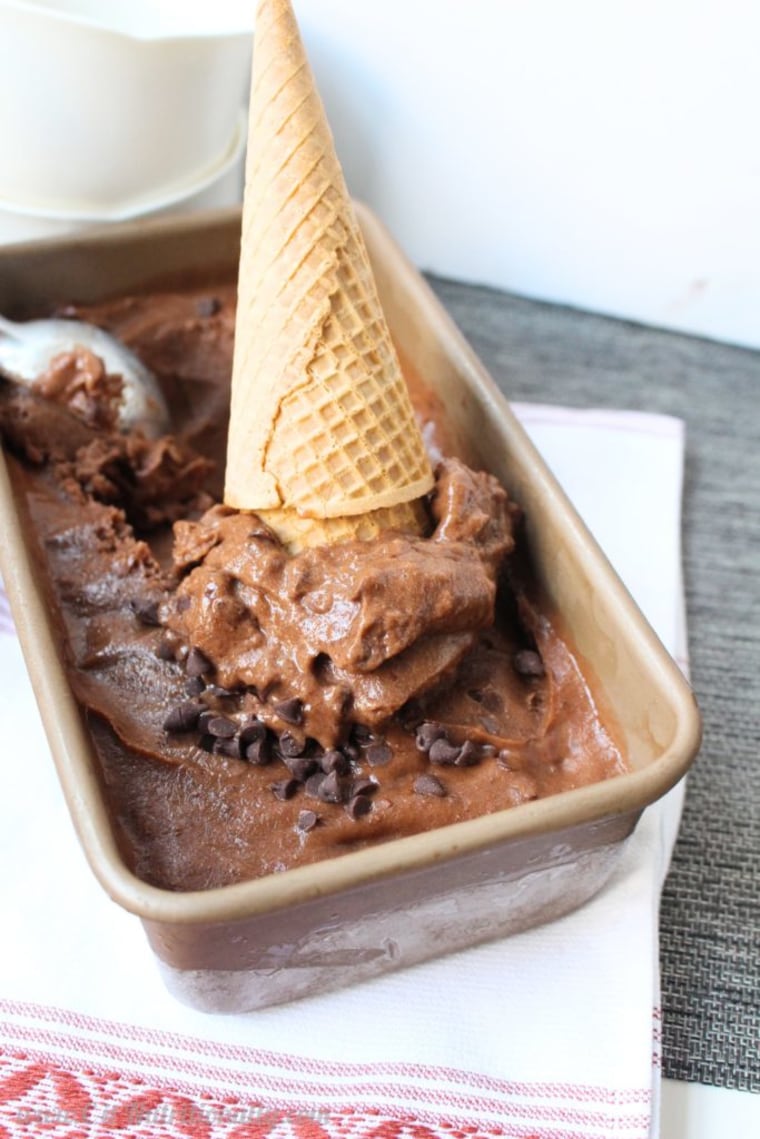 If ice cream is more your thing, you might enjoy this healthier alternative. "This chocolate chip 'nice cream' is a great lower sugar option as it's made with no added sugar and is naturally sweetened with fruit," says Chelsey Amer, RDN, owner of Chelsey Amer Nutrition. "It's a great sweet treat to keep you cool all summer with less fat and sugar than traditional ice cream."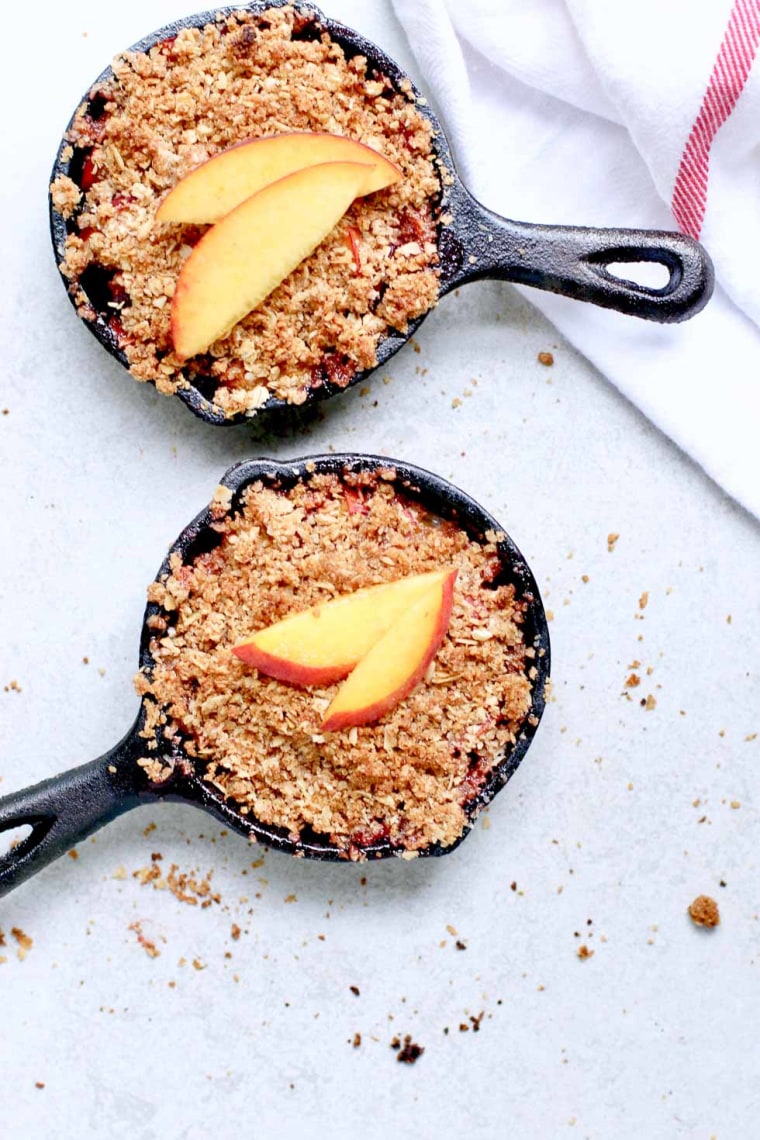 Culinary dietitian Marisa Moore, RDN, shares this hack for making a lower sugar dessert: "Use the sweetest peaches picked at the peak of ripeness." This allows you to get by with less sugar, she says. In addition to lowering the added sugar, she made this crisp healthier by cutting back on the butter. "It uses just enough to keep the crisp topping together for a delicious golden brown finish," she says. You'll also get whole grain goodness (not to mention nutty flavor) from the oat flour used in the gluten-free crisp topping. Another pro strategy: Make it a mini. "That's always a winner for me," says Moore, adding "This little recipe won't leave you with a huge pan of dessert staring at you in the fridge all week!"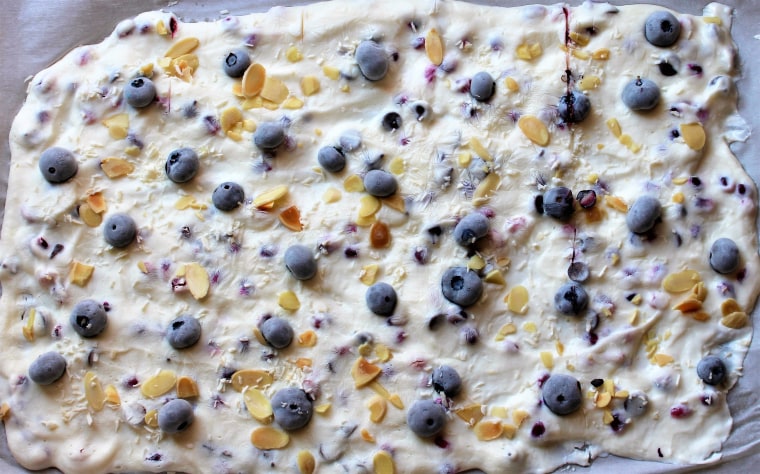 Instead of fro-yo, why not try some fro-yo bark? "This deliciously refreshing bark is packed with nutrients from the probiotic and calcium-rich yogurt as well as the antioxidant-rich blueberries and pomegranate," say Lyssie Lakatos and Tammy Lakatos Shames, the registered dietitians behind the The Nutrition Twins. "At only 18 calories per serving, this dessert satisfies cravings for rich, creamy and decadent desserts, yet keeps the sugar at just 3 grams, and that includes the sugar from the fruit!"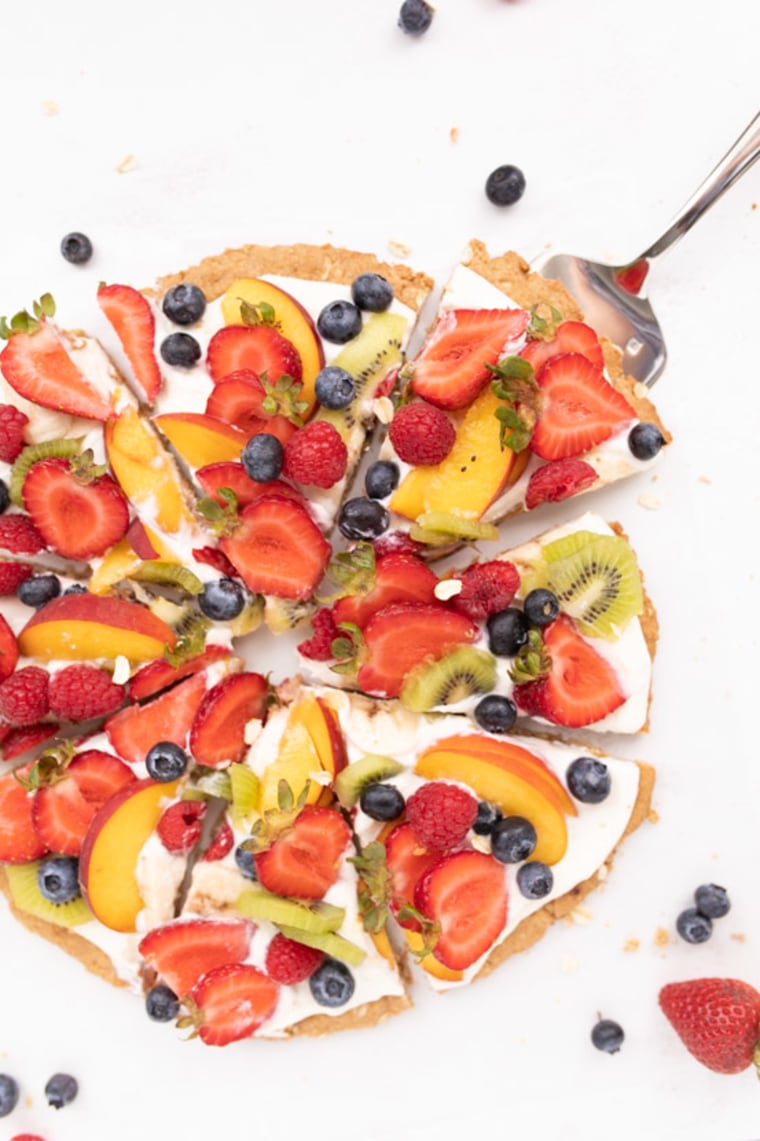 Holley Grainger, RD, creator of Cleverful Living shares this recipe that's chock full of healthy ingredients. "This simple and sweet Healthy Fruit Pizza is pretty enough to serve at a dinner party yet fun enough for the kiddos to enjoy on a summer evening," she says. "The whole wheat flour and oatmeal add whole grains, fiber and B vitamins. In place of sweetened cream cheese icing, whip up a more nutritious but equally delicious version by combining Greek yogurt and cream cheese. Top with an assortment of fresh summer fruit like berries, peaches, kiwi and mango," says Grainger.
No time to cook? Grab these low-sugar treats at the store
If you'd rather buy dessert than DIY it, these dietitian-approved picks will become your new obsession.
"Yasso Greek Yogurt Bars have been an absolute favorite dessert of my family this summer. The texture is rich and creamy, the portion is satisfying and filling, and the flavor options can't be beat," she says. "Lately, we've been loving Orange Cream, Chocolate Chip Cookie Dough and Fudge Brownie but I must say, Mint Chocolate Chip still reigns supreme as my favorite. Best of all, each bar is made with Greek yogurt, has around 5 grams of protein and has roughly 100 calories. These bars are decadent, flavor-packed and a treat for the entire family."
Harris-Pincus says her favorite lower-sugar frozen dessert is an Enlightened Ice Cream Bar. "They also make amazing pints but I personally prefer the bars which are perfectly portioned for those who can't stop at 1/2 cup of ice cream," she says. (Let's be honest; that's probably most of us!) "My favorite flavor, Frozen Hot Cocoa, packs 7 grams of protein and 5 grams of fiber for only 90 calories and 6 grams of sugar."
Though Janiero says she enjoys "real deal" dessert on occasion, these stevia-sweetened bars are her pick for a lower sugar option. "I was honestly surprised by how delicious they are!" Enough said.
Speaking of delicious, these Dark Chocolate Peanut Butter Cups rank high on my list of no added sugar desserts. A serving has four grams of protein from organic peanut flour and here's the best part—the 130-calorie serving is two full-sized cups, not one!
Moore says these nibbles are sweet enough to satisfy your sweet tooth, but they're more than just a sweet treat. "It's also nice that the nutty base offers up a bit of fiber, fat and protein for staying power and it tends to keep me from overeating. I usually take them along when I travel as the packaging is perfect for on the go."
If you're a cookie fan, these deserve a spot in your pantry. The three-cookie serving feels indulgent and satisfying but has just 6 grams (1 ½ teaspoons) of added sugar and 110 calories . The base is a blend of nut and seed flours, which means you'll get some minerals from this tasty treat.
WHAT A NUTRITIONIST WANTS YOU TO KNOW
Want more tips like these? NBC News BETTER is obsessed with finding easier, healthier and smarter ways to live. Sign up for our newsletter and follow us on Facebook, Twitter and Instagram.