Why use bottled teriyaki sauce when it's so easy to make your own with all the "chicken goodness" in the pot from the meat thawing and cooking? Teriyaki is usually grilled, of course. To make a successful version of teriyaki in the pot, it's best to cook the chicken in the aromatic sauce, then boil that sauce down to a thick glaze to use as a coating for the meat. Think of its final viscosity as about like duck sauce or Thai sweet chili sauce. Stir a lot as it cooks down because the sugars can start to burn.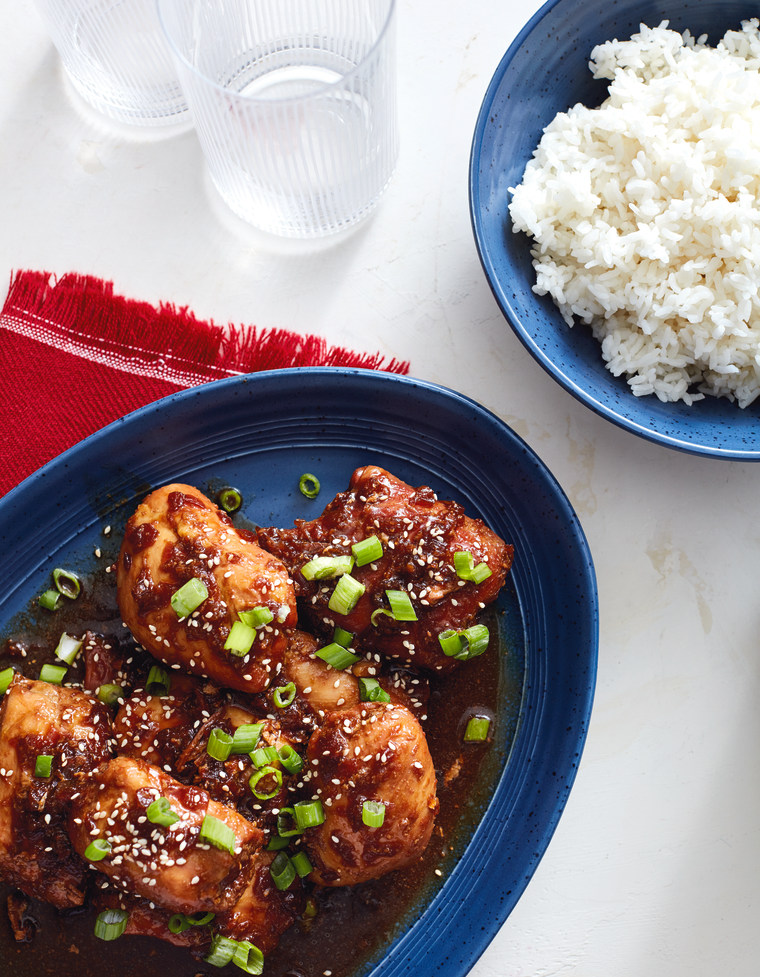 This recipe is super easy, has fewer than 10 ingredients and uses the natural release function on your Instant Pot.
Ingredients
¾ cup chicken broth
½ cup regular or reduced sodium soy sauce or tamari
½ cup frozen chopped onion; or
1 small yellow or white onion, peeled and chopped
3 tablespoons light brown sugar
2 tablespoons peeled and minced fresh ginger
1 tablespoon peeled and minced garlic
3 pounds frozen boneless skinless chicken thighs
1. Mix the broth, soy sauce or tamari, onion, brown sugar, ginger, and garlic in a 6‑quart Instant Pot. Add the block or hunks of frozen chicken, stir well, and lock the lid onto the pot.
2. If you have an Instant Pot Max, set the machine for PRESSURE COOK. Set the level to MAX, set the time for 17 minutes with the KEEP WARM setting off and press START.
If you have an older version of the Instant Pot, set the machine for POULTRY, PRESSURE COOK, or MANUAL and set the level for HIGH with the valve closed. Set the timer for 20 minutes with the KEEP WARM setting off and press START.
3. When the machine has finished cooking, turn it off and let its pressure return to normal naturally, about 25 minutes. Unlatch the lid and open the cooker. Use tongs or a slotted spoon to transfer the chicken thighs to a bowl.
4. Next, press the button for SAUTÉ and set it for HIGH, MORE, or CUSTOM 400°F for 15 minutes and press START.
5. Bring the sauce in the pot to a boil, stirring often. Continue boiling, stirring more and more frequently until almost constantly, until the sauce is a thick glaze, about 7 minutes. Turn off the SAUTÉ function. Return the chicken thighs and any juices to the cooker. Stir until the chicken is coated in the glaze. Transfer the pieces to a serving platter or plates.
More Tips
For an 8-quart Instant Pot, you must increase all the ingredients by 50 percent.
Garnish the chicken with minced scallions and/or sesame seeds.
Or drizzle with toasted sesame oil.
Serve the chicken teriyaki over sticky, cooked, short-grain white rice (such as sushi rice) or cooked and drained millet.
Excerpted from FROM FREEZER TO INSTANT POT Copyright © 2019 by Bruce Weinstein and Mark Scarbrough. Used with permission of Little, Brown and Company, New York. All rights reserved.
MORE INSTANT POT RECIPES
Want more tips like these? NBC News BETTER is obsessed with finding easier, healthier and smarter ways to live. Sign up for our newsletter and follow us on Facebook, Twitter and Instagram.