Brittany Williams got serious about her weight loss when her 4-year-old daughter, Avey, caught her and her husband Brady eating fast food at night.
Avey had been diagnosed with rheumatoid arthritis in 2016, and Brittany revamped her family's meals to help keep Avey's condition from flaring up. That meant an anti-inflammatory diet focused on whole foods, veggies, and fruit.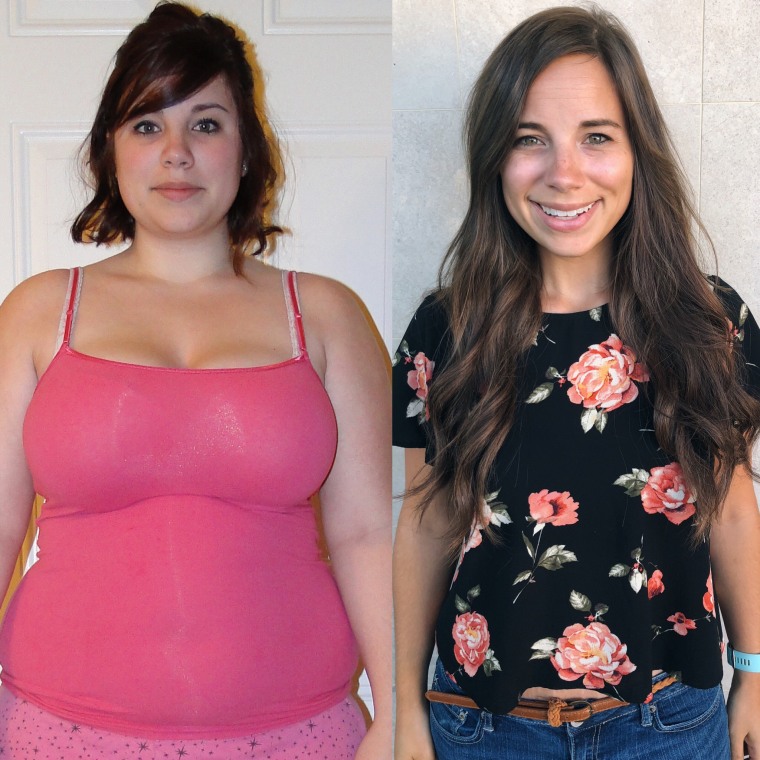 The eating plan worked fine during the days, but after Avey and her two younger siblings went to bed, Brady would run out for fast food, or the couple would dig into chips or ice cream.
One day Avey spotted the Sonic and McDonald's wrappers and pizza boxes in the trash. She asked, "Hey, Mom, why do we eat so healthy, but you and Dad eat junk after we go to bed?"
"It was a good question," Brittany says. "I realized I loved my kids so much I would do anything for them. I would bend over backwards trying to make them well. But I had a hard time giving that same love to myself."
Avey's questions gave Brittany the push she needed, and in January 2017 she decided that for one year she would cook all the family's meals at home.
I realized I loved my kids so much I would do anything for them. I would bend over backwards trying to make them well. But I had a hard time giving that same love to myself.
Brittany Williams
ENTER THE INSTANT POT
Brittany admits that she was a reluctant convert to the Instant Pot. She had asked Brady to get her a stovetop pressure cooker and he came home with an Instant Pot.
"I was so mad," she says. "I had two toddlers and I was pregnant with my third. I thought, 'I can't learn one more thing.' It sat in the box for a long time — it intimidated me."
Brady said he would return it, but she decided to give it a try. She made a batch of rice, figuring if it was terrible she would only be out a few cents. "It came out perfectly. The kids asked for seconds. I thought it was the best invention ever," she says.
For Brittany, the Instant Pot solved a common dilemma — how to prepare healthy food quickly. "It's easier to call the pizza man or get a frozen Stouffer's meal. With the Instant Pot, I can procrastinate all day long, forget to take the chicken out of the freezer, and then throw it in with vegetables. In 30 minutes I can have dinner on the table and we're all eating," she says.
She likes how she can use the Instant Pot to prepare kid-friendly meals. "We're really not missing out on anything. We still eat chicken nuggets, French fries, and pizza, we're just making those recipes in more of a healthful manner," she says.
Two of her family's favorite recipes? Chicken tortilla soup and chicken lettuce wraps.
I don't eliminate any food groups, I just eat real food in modest portions.
As Brittany started cooking with the Instant Pot, she saw her weight drop. She lost 19 pounds in January 2017, 46 pounds by April 1, and 125 pounds by the end of the year. "It was the first time something like this had been sustainable for me," she says. "I don't eliminate any food groups, I just eat real food in modest portions."
AN INSPIRATION FOR HER FAMILY
As Brittany started to lose weight, her parents, 47-year-old Rebecca and 50-year-old Dan Padilla, decided to join her in her weight-loss efforts. Their first attempt fizzled after six weeks, when they splurged on an anniversary trip and didn't get back on the healthy eating path.
But they tried again. "She really motivated us. It inspired us to see everything she had accomplished," Rebecca says.
At one point Brittany bought her parents an Instant Pot. "She made us more comfortable with it. We tried some of the recipes and they were easy and convenient and good," Rebecca says.
Rebecca began to share the details of their weight-loss journey, posting monthly updates from their Chino, Calif. home as part of Brittany's Instant Loss web site. Slowly, steadily, they lost weight, documenting both their successes and their setbacks.
By October 2018, Rebecca had lost 57 pounds and Dan had lost 40. But then some tough medical news sent reeling — Rebecca was diagnosed with breast cancer.
They've put their monthly updates on hold so Rebecca can focus on healing. They are also maintaining their weight loss for the moment, and planning to restart their weight-loss efforts once Rebecca finishes her treatments.
"We're still eating healthy the majority of the time, but it's difficult going through chemo because my tastes have changed," Rebecca says. "Some days I just eat whatever I can and it's not always super healthy. Some days all I can eat is a graham cracker."
SUCCESS ATTRACTS A FOLLOWING
Throughout 2017 Brittany posted about her success on Facebook and people asked what she was eating. Sharing the recipes was time consuming, so she created a Facebook group — and 20,000 people joined it the first day.
That success spurred her to start the Instant Loss web site, which had 52,000 views shortly after it went live. "It just went crazy really fast and hasn't stopped since. I stumbled on something a lot of people need — healthy recipes that are friendly for the whole family that you can cook quickly," she says.
Roxanne Villafranco, 35, was one of the people who found what she needed on the Instant Loss site. Her pastor's wife recommended the site, and Roxanne hoped it might work for her. Married with two young children, she had gained weight with each pregnancy and saw her weight climb to 233 pounds.
With the demands of work and her family, she didn't have much time for exercise, and she admits she stopped even trying to lose weight or eat well. Brittany's post, "What are you eating anyway?" resonated with her.
These were simple rules. 'If it comes from the earth, eat it. Have veggies with every meal. Drink 10 glasses of water a day.
Roxanne Villafranco
"These were simple rules. 'If it comes from the earth, eat it. Have veggies with every meal. Drink 10 glasses of water a day.' It was fun because it didn't feel restrictive. Instead of saying what I can't eat, it was what I get to eat," she says. She started cooking more vegetables and unprocessed foods with the Instant Pot. "Everything I made was super delicious and it became fun for me," Roxanne says.
She's lost 50 pounds and feels comfortable with her weight in the 170 to 185 range. "I look back to what my grocery cart used to look like and it's a completely different thing. It makes me proud of myself," she says of her switch from piles of processed foods to mostly vegetables.
CREATING A COOKBOOK
Brittany compiled 125 of her favorite recipes in Instant Loss Cookbook. "Instant Loss is all about creating a better relationship with food. It's not a diet at all, it's just eating the way our bodies were designed to eat—whole foods in modest portions," she says.
Rebecca has enjoyed watching her daughter's success. "It's been so unbelievable how social media can turn somebody's life upside down, in a good way," she says. "It was never something she tried to do. She fell into the social media presence and the cookbook. It just kind of happened," Rebecca says.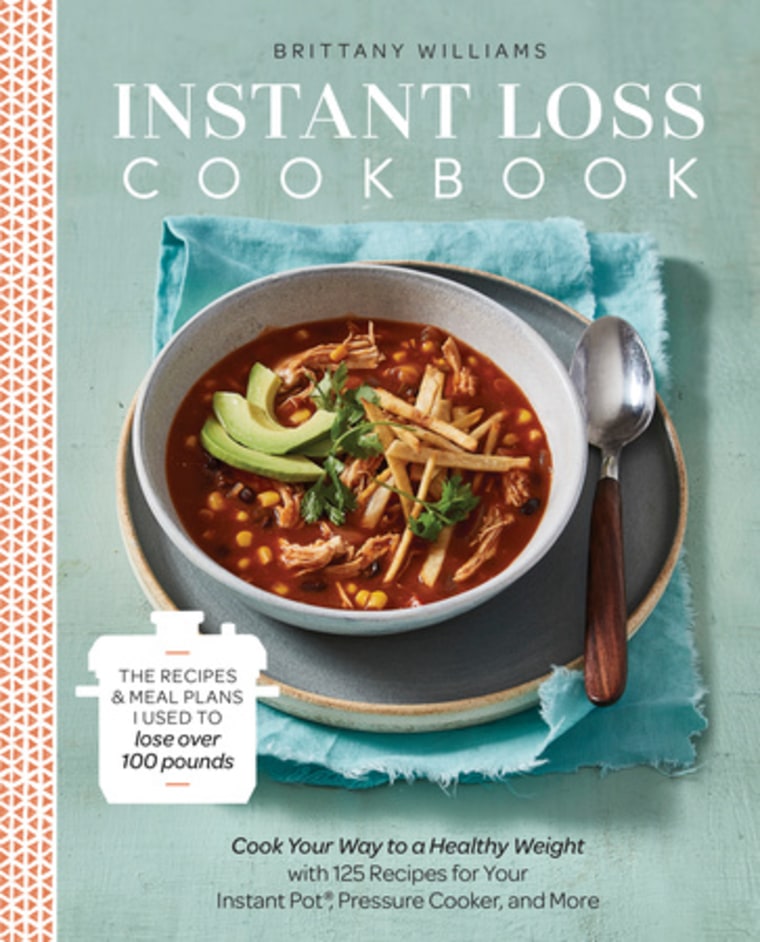 Rebecca acknowledges that Brittany has always had a magnetic personality. "She's the most friendly, outgoing, down-to-earth person. People have always been drawn to her and her personality. She's always been so transparent," she says.
Brittany says that, like Roxanne, a lot of her followers have shared their success stories, with many people losing over 100 pounds. And they have seen health improvements, too. Brittany was able to stop taking thyroid medication, and she says followers have gone off medication for diabetes, high blood pressure, and high cholesterol.
And as for her daughter Avey? "She's doing great. She hasn't had a flareup in over a year," Brittany says.
MORE INSTANT POT RECIPES
Want more tips like these? NBC News BETTER is obsessed with finding easier, healthier and smarter ways to live. Sign up for our newsletter and follow us on Facebook, Twitter and Instagram.