A vegetable-packed frittata makes for a satisfying light meal. Using individual ramekins as the cooking vessel allowed for easy transfer for serving (not to mention elegant presentation). We added a little water to our egg mixture to keep the frittatas ­tender, and sautéed a vibrant mix of vegetables to drive off their excess moisture and make sure they were fully cooked. Tangy goat cheese, tarragon, and lemon zest kept the frittatas bright. You will need four 6‑ounce ramekins for this recipe. If using a 6‑quart Instant Pot, arrange 3 ramekins on the trivet in step 2, then stack the fourth ramekin on top in the center. The bottom ­frittatas may puff up slightly around the base of the ramekin on top. To make this a heartier meal, serve with a salad and crusty bread.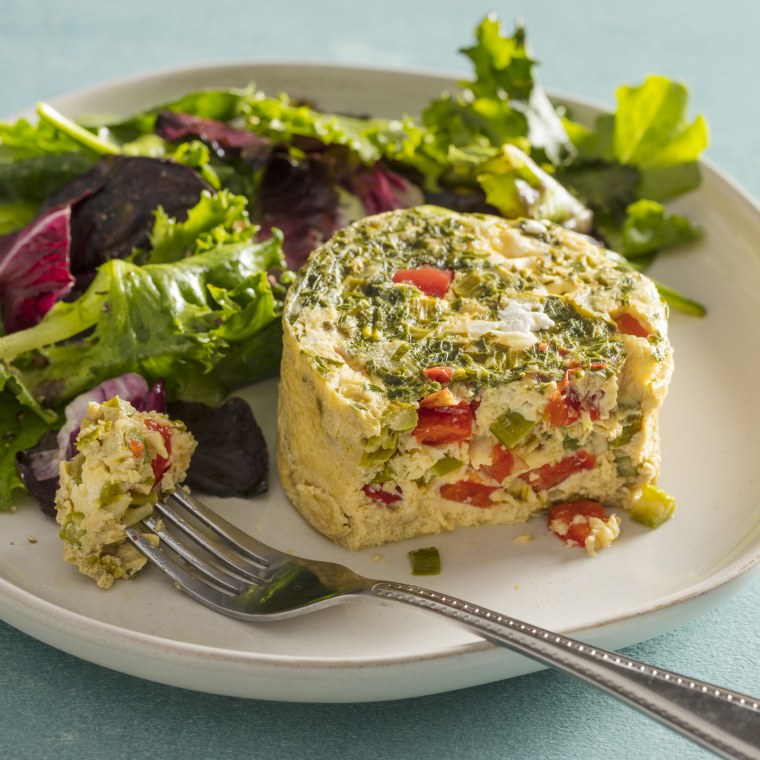 Ingredients
1 tablespoon extra-virgin olive oil
8 ounces asparagus, trimmed and sliced 1/4 inch thick
1 red bell pepper, stemmed, seeded, and chopped
2 shallots, minced
2 ounces goat cheese, ­crumbled (1/2 cup)
1 tablespoon minced fresh tarragon
1 teaspoon grated lemon zest
8 large eggs
1/2 teaspoon table salt
Directions
Using highest sauté function, heat oil in Instant Pot until ­shimmering. Add asparagus, bell pepper, and shallots; cook until softened, about 5 minutes. Turn off Instant Pot and transfer vegetables to bowl. Stir in goat cheese, ­tarragon, and lemon zest.
Arrange trivet included with Instant Pot in base of now-empty insert and add 1 cup water. Spray four 6‑ounce ramekins with ­vegetable oil spray. Beat eggs, 1/4 cup water, and salt in large bowl until thoroughly combined. Divide vegetable mixture between ­prepared ramekins, then pour egg mixture over top (you may have some left over). Set ramekins on trivet. Lock lid in place and close pressure release valve. Select high pressure cook function and cook for 10 minutes.
Turn off Instant Pot and quick-release pressure. Carefully remove lid, allowing steam to escape away from you. Using tongs, transfer ramekins to wire rack and let cool slightly. Run paring knife around inside edge of ramekins to loosen ­frittatas, then invert onto individual serving plates. Serve.
Nutrition information per serving
Cal 240; Total Fat 16g; Sat Fat 6g; Chol 380mg; Sodium 500mg; Total Carbs 6g, Fiber 2g, Total Sugar 3g; Added Sugar 0g; Protein 17g
Try these Instant Pot recipes
Want more tips like these? NBC News BETTER is obsessed with finding easier, healthier and smarter ways to live. Sign up for our newsletter and follow us on Facebook, Twitter and Instagram.