For many high school seniors, financial aid is the only thing that makes college attainable.
However, to tap into that aid, students must first file a Free Application for Federal Student Aid, which serves as the gateway to all federal money, including loans, work-study and grants.
For the 2019-2020 school year, the FAFSA filing season opened Oct. 1 — and, generally, the sooner students file, the better.
Yet it's not too late. "For those who are expecting to review financial aid award letters but haven't filed the FAFSA, there's still time," said Ashley Boucher, a spokeswoman for Sallie Mae, which provides education loans.
"Students and their parents have until June 30 to file," she said, "but it's better to act soon."
Some financial aid is awarded on a first-come, first-served basis, or from programs with limited funds. The earlier families fill out the FAFSA, the better the chance to be in line for that aid, according Boucher.
To help save time, families can use the IRS Data Retrieval Tool, which can expedite the process by automatically syncing and populating tax return information into the FAFSA.
To make it even easier, the FAFSA is also available on a new phone app, called myStudentAid, for the first time this year.
"The reasons to not complete it are getting less and less," Boucher said.
For those who haven't filed, there's still time, but it's better to act soon.
Ashley Boucher, spokeswoman for Sallie Mae
More than 70 percent of undergraduate students filed the FAFSA in 2016, up from 45 percent in 1996, according to the most recent data from the National Postsecondary Student Aid study.
Despite the rise, millions of students who would have qualified for college grants still fail to file, said Mark Kantrowitz, publisher of SavingForCollege.com.
"All students should apply regardless of whether they think they'll qualify," Boucher said. "There's $150 billion in financial aid available, and the simple act of completing the form can unlock that aid."
Students who don't file the FAFSA forgo an average of $9,741 in assistance, according to a separate study published in Research in Higher Education.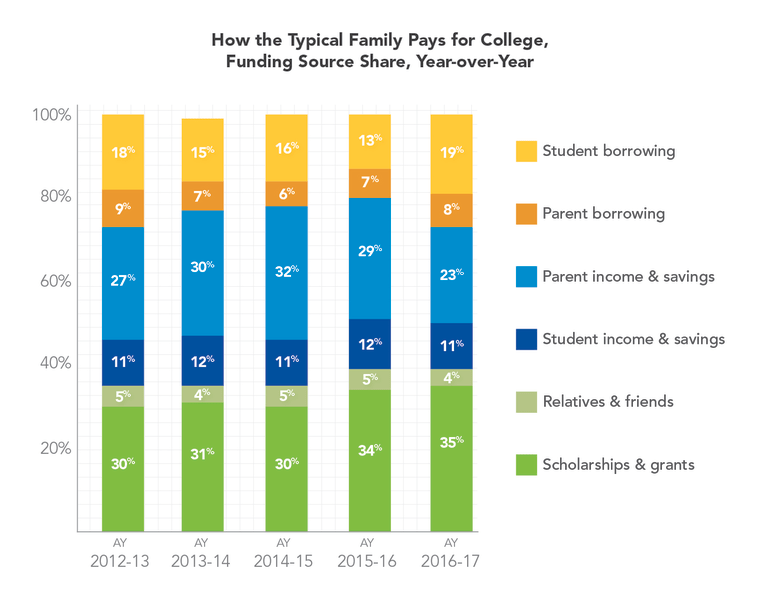 Even as college savings hit an all-time high, families are paying less out of pocket and relying on financial aid more than ever to help cover the skyrocketing cost of tuition. (See the chart above from Sallie Mae.)
Income and savings paid for 34 percent of college costs in 2016-2017, down from 41 percent the year earlier, according to the most recent report Sallie Mae.
Borrowed money paid for 27 percent of costs, up from 20 percent. And the share of college costs covered by scholarships and grants — money that does not have to be paid back — accounted for more than one-third, or 35 percent, of 2016-2017 costs, the highest in the report's history.
MORE MONEY TIPS
Want more tips like these? NBC News BETTER is obsessed with finding easier, healthier and smarter ways to live. Sign up for our newsletter and follow us on Facebook, Twitter and Instagram.