If you're hosting a holiday gathering this season, your menu is top of mind. But what your guests will wash all the delicious food down with is a close second concern.
In recent years, I have been delegated "bartender" for the night — which was fun while coming up with creative recipes and watching people's eyes light up at the first sip, but quickly became annoying when all I wanted to do was nap off my food coma and yet another order for a lemon bourbon smash came through.
So this year, I'm doing things a bit differently. It turns out, it is possible to have a fun themed cocktail (that doesn't include dumping soda and liquor into a punch bowl) without playing bartender all night.
"Punches have been a tried and tested way to gather," says Freddie Sarkis, Chief Cocktail Officer at Liquor Lab. But while "we've got into that era of sorbet mixed with ginger ale," it is possible to make a fresh, innovative cocktail in larger batches, he says.
"When you're making your punches, it's really important to stick to fresh ingredients and keep those vibrant flavors," says Sarkis. "You can still get some great apples this time of year and they hold fairly well, and that flavor is something that everybody really enjoys. So what we've done is taken that and paired it with some more traditional baking spices, and those flavors also pair really well with both whiskey, as well as darker rums."
Sarkis provided us with his New York Apple Punch recipe, which allows you to make 10 servings at once — perfect for serving at your holiday meal — plus, the recipe for shaking up a single serving (in case you need a nightcap after your guests go home).
New York Apple Punch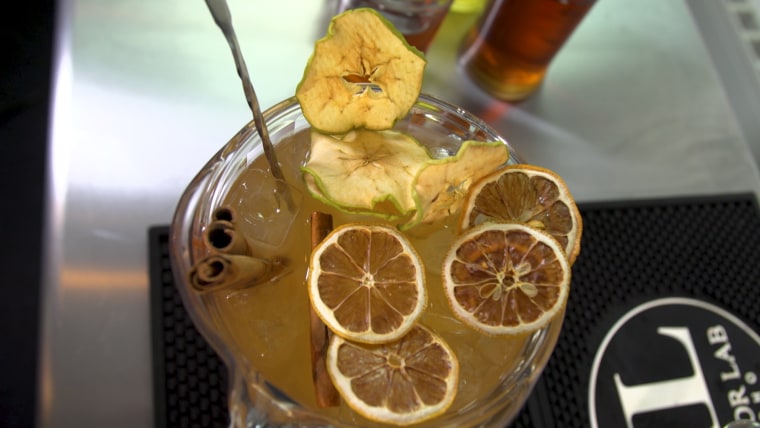 Serving size: 10
Ingredients
10 oz. American whiskey
7 1/2 oz. dark rum
7 1/2 oz. lime juice
5 oz. green apple syrup (make at home by making a simple syrup from juiced green apple and sugar - 1:1 ratio, or go store bought)
Optional garnish: dehydrated apple and lemon slices, cinnamon sticks
Preparation
Fill a pitcher with ice. Pour whiskey, dark rum, lime juice and green apple syrup over ice. Stir to combine. Garnish with a few apple and lemon slices and sticks of cinnamon. Leave out a plate of fresh garnishes, plus a tub of ice, so guests can assemble drinks on their own. You can prepare your punches without ice the day before your gathering, put them in the fridge and then ice them and set them out 30 minutes before your guests arrive.
Single Serve Recipe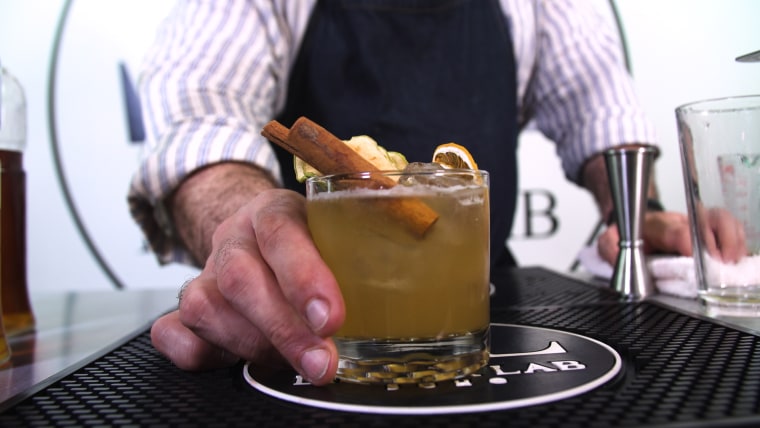 Ingredients
1 oz. American whiskey
3/4 oz. dark rum
3/4 oz. lime juice
½ oz. Green apple syrup
Optional garnish: dehydrated apple and lemon slices, cinnamon sticks
Preparation
Add lime juice, apple syrup, rum and American whiskey to a cocktail shaker. Add ice. Give it a quick shake; just enough to chill without diluting. Garnish will dried apple, lemon and a cinnamon stick.
More Thanksgiving tips and recipes
Want more tips like these? NBC News BETTER is obsessed with finding easier, healthier and smarter ways to live. Sign up for our newsletter and follow us on Facebook, Twitter and Instagram.