A new player in the crowded credit card market hopes to stand out from the crowd by doing things differently. The Petal Card is being marketed to people who typically cannot get a credit card because they have a low credit score or no credit score. Those who qualify can get a credit limit from $500 to $10,000.
Last week, just seven months after it's October launch, Petal became a rewards credit card with a unique twist: Cardholders can earn extra cash back by making their monthly payments on time.
As of May 1, all cardholders now get 1 percent cash back on every purchase. (It's automatic, no opt-in required.)
After six on-time payments, the cash-back rate bumps up to 1.25 percent.
Make 12 on-time payments and it jumps to 1.5 percent.
"We like to call Petal a responsible credit card for the modern world," said Jason Gross, the company's co-founder and CEO. "Traditional rewards programs can get people to overspend and get into trouble with debt. [We're] giving our customers cash back and more rewards as they pay on time and manage their finances responsibly."
About 53 million adults don't have enough credit history to generate a credit score that lenders can use to make credit decisions.
Other key features of the Petal card:
No fees: No annual fee, no late fees and no international transaction fees.
Interests rates (15.24 to 26.24 percent APR) are competitive and there is no penalty interest rate for late payments.
For details on how Petal calculates finance charges and other terms, check the cardholder agreement.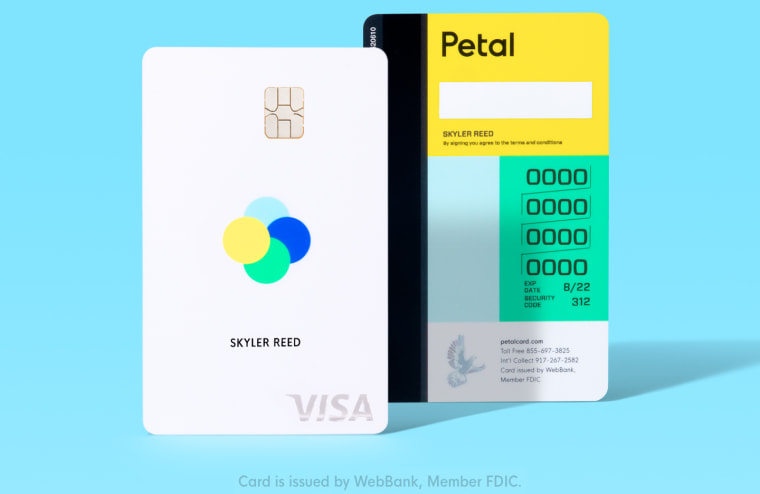 NO CREDIT SCORE REQUIRED — SO HOW DO THEY DO IT?
According to Fair Isaac, the company that created the well-known FICO score, about 53 million adults don't have enough credit history to generate a credit score that lenders can use to make credit decisions.
So, how does Petal do it? They look at your bank transactions.
"We're able to look at a more holistic picture of your financial life," Gross told NBC News BETTER. "That means we can use the money you make, the bills you pay, and the money you save to help you qualify, even if you haven't yet built up a credit score."
Applicants give Petal access to their online bank statements – checking account and savings, if they are connected. If approved, you can opt-out of sharing that information, or let Petal continue monitoring your bank account in order to provide you with their personal financial management tools and other services.
Giving a company permission to access your bank account may seem a little creepy, and there's always some additional risk of a breach when you share such information, privacy experts tell NBC News BETTER. But millions of people who use personal financial management tools, such as Mint, do it. If this is the only way you can get a credit card, you'll have to decide how comfortable you feel with letting Petal see your transaction history. You'd be smart to check Petal's Privacy Policy and Terms of Use before doing this.
"I think Petal is being smart with cash-flow underwriting, looking beyond just a credit score, if one even exists," said Ted Rossman, industry analyst at CreditCards.com.
Rossman is a big fan of the Petal card, calling it "one of the more competitive starter cards on the market, perfect for financially responsible people in the early- to mid-20s, who have a job and pay their bills on time, but don't have a credit history. (Remember, rent, cellphone, cable and utility bill payments don't get reported to the credit bureaus. Neither does paying with a debit card.)
INNOVATIVE REWARDS PROGRAM
Rewards cards are popular because cardholders get a little something with each purchase — they earn miles, points or cash back based on how much they spend. Unfortunately, that can encourage some people to bust their budget.
With Petal's reward program, the way to get more cash back is to pay the monthly statement on time — even if you only make the minimum payment required.
Once a cardholder reaches a cashback level (1.25 percent after six on-time payments or 1.50 percent after 12 on-time payments), they will not be penalized with a lower cash-back rate should they slip up.
When an account is more than 15 days past due, the cardholder cannot redeem any of the cash they've earned, but they can continue to earn rewards for any new purchases.
Note: Because Petal reports customer's payment history to the three big credit bureaus (Equifax, Experian and TransUnion), paying on time helps cardholders build a positive credit history.
A FEW THINGS TO REMEMBER
To truly take advantage of Petal's increased rewards offer, cardholders need to pay off their entire balance in full, on time, every month.
"Getting additional cash back for paying your bill on time is a wonderful benefit," said Bill Hardekopf, CEO of LowCards.com. "However, cardholders should not be lulled into just paying the minimum amount because they'll get hit with interest on the unpaid balance, and those interest charges will more than eat up any enhanced rewards."
Sara Rathner, credit card expert at NerdWallet, a personal finance website, has high praise for Petal's customer-friendly approach, but she cautions: Rewards cards make it easier to overspend by justifying unnecessary purchases.
"You might think it's like you have a coupon, but it's not," Rathner said. "Spending unnecessarily and risking getting into credit card debt is never a reason to earn rewards."
THE IMPORTANCE OF PAYING ON TIME, ALL THE TIME
A recent survey by the National Foundation for Credit Counseling (NFCC) found that 25 percent of Americans don't pay their bills on time.
"Paying your bills on time should be a top priority," said Bruce McClary, an NFCC vice president. "Every missed payment can add more fees and interest to your debt, making it more difficult to catch up."
Pay your credit card bill more than 30 days late and that will be reported to the credit bureaus which will clobber your credit score.
Tip: If you can't pay the full statement amount, at least make the minimum payment on time. That small payment won't make much of a dent in your balance, but it will keep you out of the late-payment penalty box.
MORE FROM BETTER
Want more tips like these? NBC News BETTER is obsessed with finding easier, healthier and smarter ways to live. Sign up for our newsletter.