Sallie Mae, the giant student loan lender, is rolling out a trio of credit cards aimed at college students, recent graduates and young adults already in the workplace.
The new Ignite, Accelerate and Evolve Mastercards have no annual fee and pay cash back rewards on every purchase. The Ignite and Accelerate cards offer bonus rewards for responsible financial habits.
Other features on all three cards:
Customized alerts: Set daily, weekly or monthly spending alerts to help stay within your budget.
Pause the card: Use the app to quickly disable your credit card if it's lost or misplaced.
Cell phone protection: Pay your monthly cellphone bill with the card and get up to $600 per claim (minus $50 deductible) in cellphone protection.
All three cards charge a 3 percent fee for foreign transactions.
"Our purpose is to build prosperous futures, so we've tried to build a product with features that will set our customers up for success," said Martha Holler, senior vice president of marketing and communications at Sallie Mae.
SHOULD YOU CONSIDER ONE OF THESE CARDS?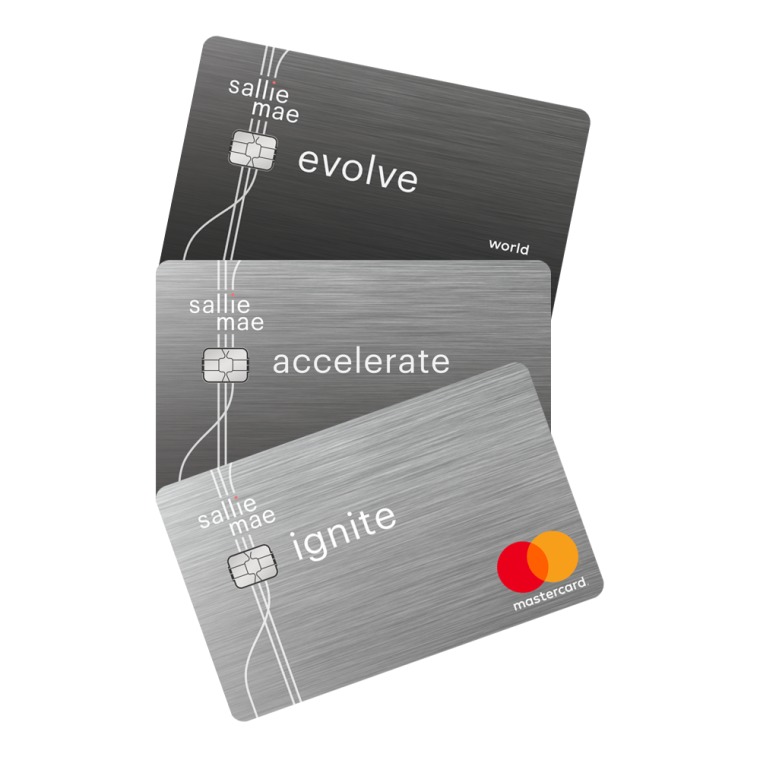 Applicants are not required to have a student loan with Sallie Mae, but only those with a Sallie Mae account can apply right now. Others can join the waiting list for a full-market release of the cards expected later this summer.
So, how do these new cards stack up against the competition?
"They're decent cards," said Ted Rossman, industry analyst at CreditCards.com. "You could do a little bit better with other cards, but you could also do a lot worse. Just don't feel compelled to get one because you have a student loan with Sallie Mae. Shop around."
The Accelerate and Evolve cards "don't offer nearly as much value as many existing cash back cards," Rossman writes in a recent blogpost evaluating the new Sallie Mae cards. "These cards have some unique features, but I wouldn't call them earth-shattering," said Sara Rathner, credit card expert at NerdWallet, the personal finance website. "There are alternatives people should definitely consider as they shop around for a credit card." (See NerdWallet's Best College Student Credit Cards of 2019.)
THE IGNITE CARD
The Ignite card is designed to help college students establish credit and earn bonus rewards for making payments on time.
"Building credit history is a really high priority for them," Holler said. "They know about credit scores and they want to start building a positive credit score knowing that it's going to help them over time."
Ignite has a 0 percent introductory APR for purchases made during the first six months. After that, the interest rate is variable: 15.24 to 25.24 percent, based on your creditworthiness when you opened the account.
Cardholders earn 1 percent cash back on every purchase. Make six consecutive on-time payments and that reward jumps to 1.25 percent.
The credit limit on the Ignite card is set at $500 for the first six months.
"We want you to get in the habit of managing your card and making your payments, so even if you call in and ask us to increase your limit, we're not going to do that," Holler told NBC News BETTER.
Sallie Mae says it will only consider boosting the credit limit after that six-month period, if the customer contacts them and requests a higher limit. Sallie Mae will never proactively increase the credit limit, Holler said.
Note: Federal law (the CARD Act) prohibits lenders from issuing credit cards to anyone under the age of 21, unless they can show the independent ability to pay their bills. Sallie Mae understands that some young applicants may not have a credit history and the company says that is designed into its underwriting model.
THE ACCELERATE CARD
Accelerate is aimed at recent graduates. Sallie Mae says it's the only cash back card that offers a bonus when rewards are used to pay down a student loan.
It has a 0 percent introductory APR for purchases made during the first 12 months, then switches to a variable interest rate of 15.24 to 25.24 percent.
Cardholders earn 1.25 percent cash back on every purchase. They earn a 25 percent bonus on any cash back rewards used to pay down a student loan — any student loan, not just a Sallie Mae loan.
THE EVOLVE CARD
Evolve is for a more credit-experienced individual. This cash back card has a novel twist: Earn 1.25 percent cash back on all purchases and then another 25 percent bonus on the top two spending categories each month. For example, if you spend the most on gasoline and groceries, you'll get 1.50 percent cash back on those purchases. The 0 percent introductory APR is for the first 12 months, followed by a variable interest rate from 15.24 to 25.24 percent.
SHOULD A COLLEGE STUDENT HAVE A CREDIT CARD?
Some parents worry about credit card debt; they feel that a debit card or prepaid card is a better choice for college-age children.
It's a valid concern and only you know if your child is responsible enough to have a credit card. If they are, personal finance experts say, it makes sense for them to have one.
"A debit card or prepaid card gives your child access to cash, but you're not giving them the opportunity to build a credit history, so that later in life they can quality for an auto loan or mortgage," noted Bruce McClary, vice president of communications at the National Foundation for Credit Counseling.
To help prevent overspending problems, student credit cards have lower credit limits than traditional cards. They do have higher interest rates, so the balance should be paid off in full each month.
GET MORE SAVING AND SPENDING HACKS
Want more tips like these? NBC News BETTER is obsessed with finding easier, healthier and smarter ways to live. Sign up for our newsletter and follow us on Facebook, Twitter and Instagram.