Shop online? Then sooner or later you'll probably encounter a site that's selling counterfeit goods. Some counterfeiters run their own websites; others sell their inferior copycat merchandise through legitimate online retailers.
Sales of counterfeit goods "have exploded worldwide in recent years," according to a new study from the Better Business Bureau (BBB). This "epidemic" of counterfeit goods sold online is much bigger than knock-off luxury purses, watches, sunglasses and jewelry.
"Almost anything that can be shipped can be counterfeited and sold online, including everyday products such as printer ink, headphones, phone chargers, athletic shoes, cosmetics, and even car parts," the report noted. The average victim who buys bogus merchandise loses about $350.
U.S. Customs and Border Protection seized more than 30,000 shipments of counterfeit and pirated products in fiscal year 2017 worth about $1.2 billion. Most came from mainland China (46 percent) and Hong Kong (32 percent).
"Counterfeiting is not a victimless crime," said Bob Barchiesi, president of the International AntiCounterfeiting Coalition. "A lot of jobs are lost because of it and taxes aren't being paid. There's forced labor involved and organized crime behind a lot of this. And there's also information that counterfeiting supports terrorist operations."
Almost anything that can be shipped can be counterfeited and sold online, including everyday products such as printer ink, headphones, phone chargers, athletic shoes, cosmetics, and even car parts.
Better Business Bureau
FAKE MERCHANDISE CAN BE DANGEROUS
When the U.S. Government Accountability Office (GAO) went shopping online for four different items, 20 of the 47 items purchased from third-party sellers on popular consumer websites were counterfeit, according to a 2018 report. All 13 Urban Decay cosmetics, six of the nine Yeti travel mugs and one of the 10 phone charges were fake.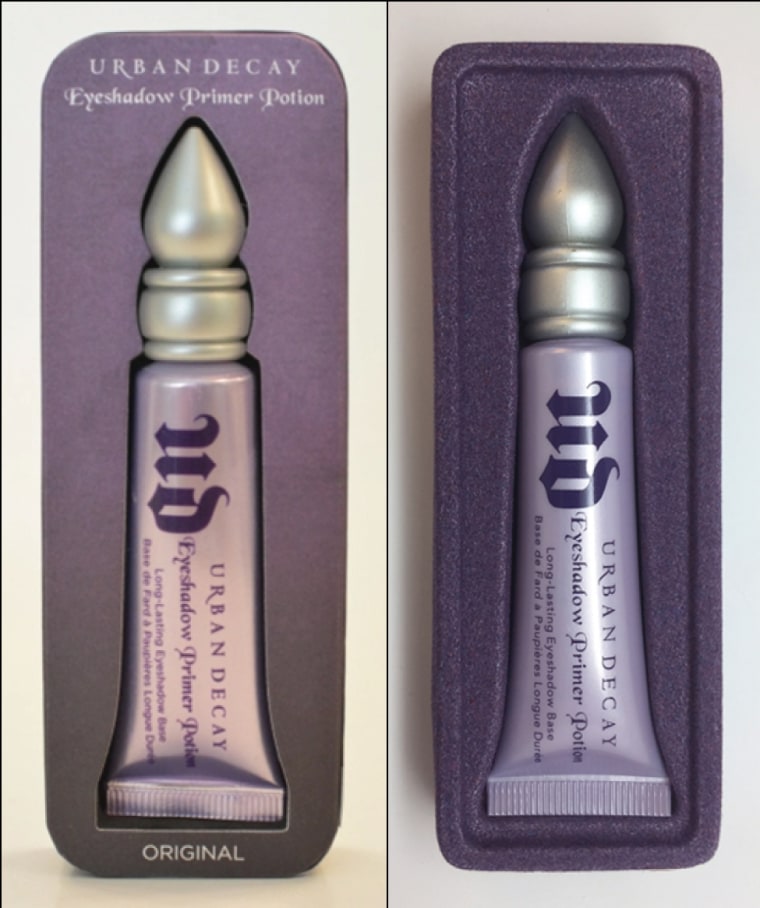 Counterfeiters do more than defraud consumers and steal from legitimate businesses, the GAO warns. In many cases, these bogus products pose serious safety hazards:
Those fake Yeti mugs were found to contain higher-than-approved concentrations of dangerous chemicals, such as lead.
Seized counterfeit cosmetics often contain hazardous substances, including cyanide, arsenic, mercury, lead, as well as urine and rat droppings.
Bogus batteries can explode. Fake power strips can start fires.
A 2016 UL investigation of counterfeit iPhone adapters found a 99 percent failure rate in 400 counterfeit adapters tested for safety, fire and shock hazards; 12 of the adapters posed a risk of lethal electrocution to the user.
Counterfeit pharmaceuticals may have no active ingredient, too much active ingredient, or the wrong medication altogether. Contamination is also a serious problem with fake medications.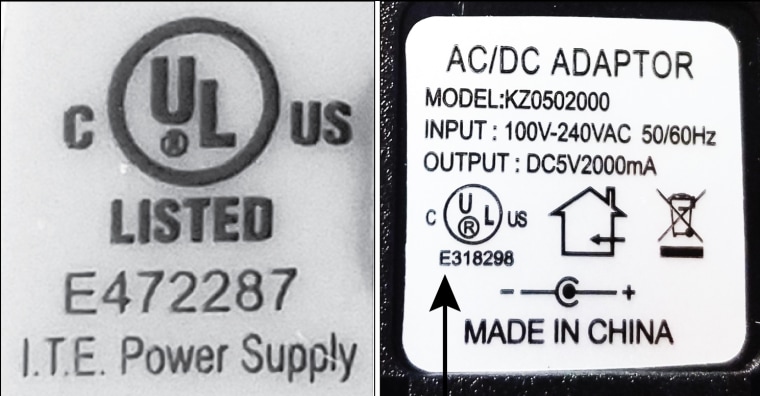 IT'S EASY TO GET FOOLED ONLINE
Most people find websites selling counterfeit goods through online searches. The fraudsters often use stolen pictures and logos of brand-name goods to trick shoppers.
"Tens of thousands of deceptive websites inundate the internet and it's often hard to tell fake sites from those selling authentic goods," said Steve Baker, BBB's international investigations specialist and author of the report. "Even Amazon has a huge problem with people selling counterfeit goods on their sites, so even though it's from Amazon, it doesn't mean it's safe."
The BBB report points the finger at social media ads, especially on Facebook and Instagram, as a large source of the traffic to counterfeit sites. Both sites are "loaded with ads that look real, but are really selling counterfeit goods," Baker said.
Andrew Ghiassi, from St. Louis, got fooled when he saw a Facebook ad on his news feed for a Mavic Pro Drone, a popular, high-quality model from DJI, a well-known drone company. The ad took him to a website that looked like the real DJI website, but it was a copycat.
"The fake site had the same branding, logos, fonts and promotional videos as the DJI site," Ghiassi explained. "It was pretty a sophisticated scam, and it took someone a lot of effort to put this together."
The drone he wanted was supposedly on clearance sale for about $200 — more than $500 off the typical price — so he bought it. When the package arrived, a $15 toy drone was inside.
Ghiassi wants everyone to know about the risk of clicking on social media ads.
"I don't even click on them anymore," he told NBC News BETTER. "Even if it's from [what appears to be] a genuine vendor, I can't verify it anymore."
FACEBOOK AND AMAZON RESPOND
Amazon recently launched Project Zero, one of several efforts to reduce the number of counterfeit goods sold on its site.
"Counterfeit[ing] is an age-old problem, but one that we will continue to fight and innovate on to protect customers, brands and sellers," an Amazon spokesperson said in an email to NBC News BETTER. "Amazon strictly prohibits the sale of counterfeit products and we invest heavily in both funds and company energy to ensure our policy is followed. We investigate any claim of counterfeit thoroughly, including removing the item, permanently removing the bad actor, pursuing legal action or working with law enforcement as appropriate."
If a customer makes a purchase from Amazon or a selling partner, and the product doesn't arrive or isn't as advertised, they can contact customer support for a full refund.
Facebook also said it takes the issue of counterfeiting very seriously.
"Our policies prohibit the sale of counterfeit goods on Facebook and Instagram," a Facebook spokesperson said in an email. "We have invested heavily in implementing technology and reporting tools to combat this activity and are continually working to expand our efforts."
HOW TO PROTECT YOURSELF
There's no surefire way to spot counterfeit merchandise when shopping online.
Price, it turns out, is no longer a dead giveaway. While an unrealistically low price could be a tip-off to a rip-off, experts say criminals often choose a price that's close enough to the authentic product price to appear legitimate.
These tips from Consumer Reports should help decrease your chances of getting burned:
Know the seller. The safest way to shop is from a trusted website that you go to directly, or the company or brand itself. Some online shopping sites will take you to a third-party vendor, which raises the risk of getting a fake. On some sites, you can click on the vendor's name to view its profile, as well as feedback from other buyers.
Know the hallmarks of the real product. Before you shop online, get familiar with the product's appearance, including the brand markings and any unique details. That way, if you're sent a counterfeit, you might be able to spot it more quickly. Genuine manufacturers will put their logo in specific places, like detailing on a purse or on a tag inside the product.
Examine the product's packaging. Be suspicious of a shipment that arrives with anonymous wrapping. Most brands put their logos on their products and packaging. If you do see a brand logo, compare it with the one pictured on the company's website. Look for misspellings and differences in design.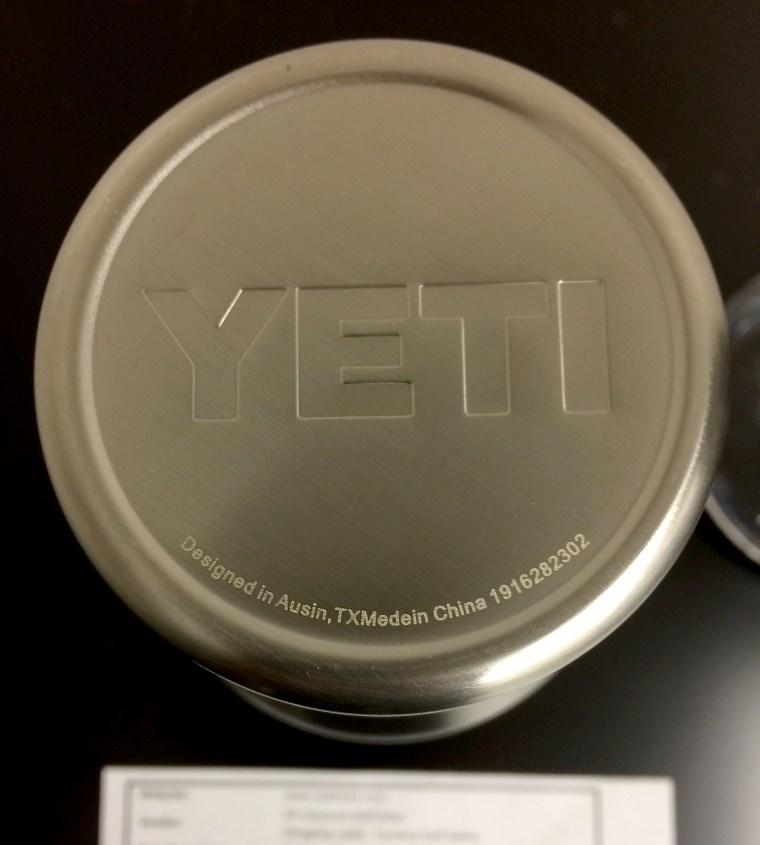 WHAT TO DO IF YOU GOT BURNED
The Better Business Bureau encourages anyone who receives a counterfeit to file a report on the BBB Scam Tracker. This information is shared with law enforcement.
If you paid for your purchase with a credit card (the safest way to shop online, much better fraud protection than a debit card) contact the credit card company and ask for a refund.
"Hopefully, you'll get your money back, plus those complaints can help cut off the lifeblood of the counterfeiters — their ability to get money from victims," the BBB's Baker said.
More from BETTER
Want more tips like these? NBC News BETTER is obsessed with finding easier, healthier and smarter ways to live. Sign up for our newsletter and follow us on Facebook, Twitter and Instagram.