Editor's Note: Raquel Pelzel's new cookbook "Umami Bomb: 75 Vegetarian Recipes That Explode With Flavor" explores — you guessed it — umami, or what's known as the fifth taste (after sweet, salty, bitter and sour). Pelzel calls umami "that something special that makes food taste better than good, more like amazing."
The book is made up primarily of vegetarian dishes, but there are a few fish dishes thrown in for good measure, including the one she shares here. Pelzel prefers wild salmon for its flavor and the way it's caught. But she says if you're using thicker farmed salmon, you may need to add a few minutes to the grill time because wild salmon fillets are usually a bit thinner. The cooking method for this salmon recipe uses a gas or charcoal grill, but you could use a grill pan on the stovetop instead. You'll miss some of the smokiness and the charring, but keep all the umami goodness.
Soy Honey Grilled Salmon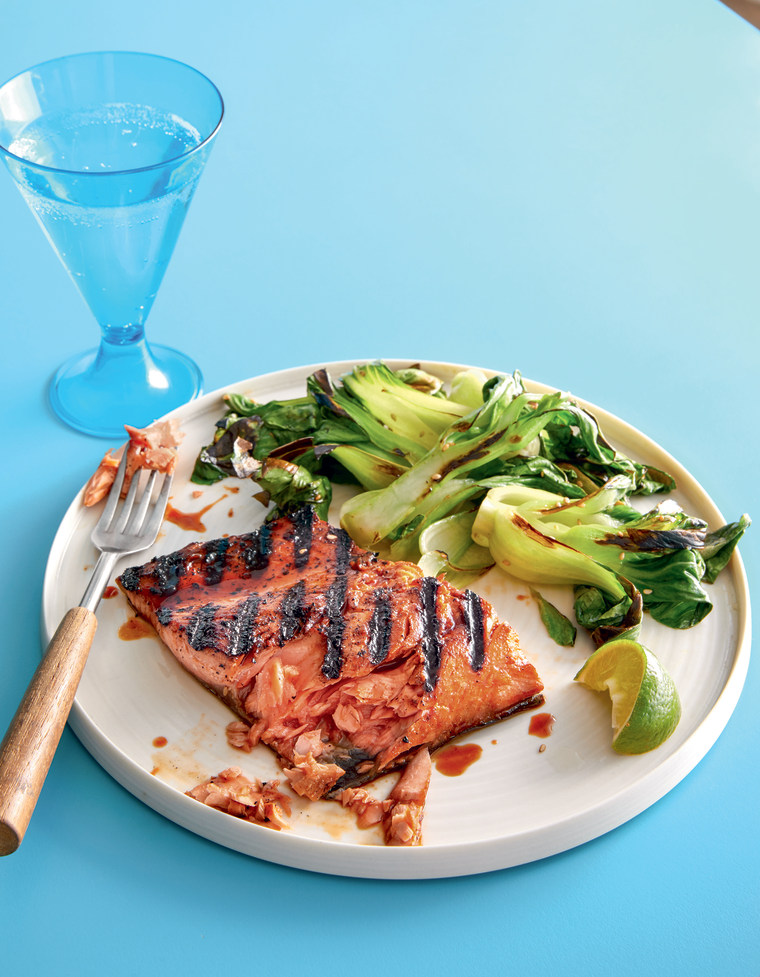 Serves 4
Umami Bombs:
1/4 cup soy sauce
1/4 cup rice wine
2 tablespoons sriracha
2 tablespoons honey
2 tablespoons balsamic vinegar
4 salmon fillets (6 ounces and about 1/2 inch thick each; preferably wild), skin on, any pin bones removed
Vegetable oil, for greasing the grill grates
1 teaspoon kosher salt
1/2 teaspoon freshly ground black pepper
1 lime, cut into wedges, for serving
Directions
Whisk together the soy sauce, rice wine, sriracha, and honey in a small saucepan. Bring to a simmer over medium-high heat, reduce the heat to medium-low, and gently simmer until the glaze has reduced by about half and is syrupy, 4 to 6 minutes. Turn off the heat and stir in the balsamic vinegar. Set aside to cool for at least 10 minutes. It will thicken as it sits.
Pour three-quarters of the glaze into a 9-inch-square baking dish; set the remainder aside for grilling. Add the salmon fillets, turning them onto each side to coat, then placing them flesh side down into the glaze. Set aside to marinate, at least 15 minutes or up to 1 hour.
Heat your charcoal or gas grill to medium-high according to the manufacturer's instructions (you can also use a grill pan over high heat). Brush the hot grill grates with a grill brush. Fold a paper towel into quarters and dip it into the oil, then use long barbecue tongs to grease the grill grates with the oil-saturated towel.
Place the salmon on a foil-lined plate or sheet pan and season with the salt and pepper. Transfer the salmon to the grill and cook, flesh side down, covered (if using a charcoal grill, make sure the air vents are open so you don't kill the fire), until the fish is opaque up the sides and has nice grill marks, 3 to 4 minutes (a little longer for thicker fillets).
Slide a metal spatula under the fish and flip it over. Grill on the other side until the thickest part of the fish gives only slightly when pressed, about 2 minutes longer. Transfer to a platter and serve immediately with lime wedges alongside.
This glaze works beautifully on grilled tofu, too.
Umami-Roasted Vegetables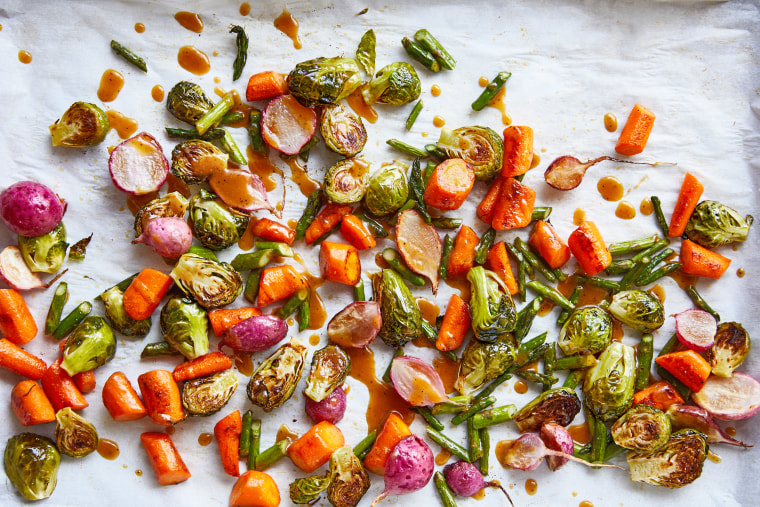 Tossing roasted veggies with a miso glaze is a fast way to make a workhorse weekday dish extra special. Feel free to use any vegetables you have lingering in the fridge, from carrots to cabbage, asparagus to Brussels sprouts. Quicker-cooking tender veg — say asparagus or zucchini — should be added after the first 20 minutes of cooking.
Serves 4
Umami Bombs:
9 to 10 cups bite-size vegetable pieces (such as broccoli, Brussels sprouts, asparagus, carrots, radishes, cauliflower, mushrooms, or parsnips)
3 tablespoons canola, grapeseed, or olive oil
1 teaspoon kosher salt
2 tablespoons miso paste
1 tablespoon soy sauce
1 tablespoon honey or agave syrup
2 teaspoons toasted (dark) sesame oil
1/2 teaspoon freshly ground black pepper
Directions
Adjust an oven rack to the middle position and preheat the oven to 425°F.
Toss the vegetables with the canola oil and 3/4 teaspoon of the salt in a large bowl, and turn out onto a rimmed sheet pan (save the bowl). Roast, stirring after 20 minutes, until the vegetables are browned and tender, 30 to 35 minutes total.
Whisk together the miso, soy sauce, honey, sesame oil, and pepper in the reserved bowl.
Remove the vegetables from the oven and toss in the bowl with the glaze. Sprinkle with the remaining ¼ teaspoon of salt, then transfer to a platter and serve.
The roasted vegetables will keep, in an airtight container in the refrigerator, for 3 days.
Excerpted from Umami Bomb: 75 Vegetarian Recipes That Explode With Flavor by Raquel Pelzel (Workman Publishing). Copyright © 2019.
MORE RECIPE IDEAS
Want more tips like these? NBC News BETTER is obsessed with finding easier, healthier and smarter ways to live. Sign up for our newsletter and follow us on Facebook, Twitter and Instagram.