Farro is a hearty whole grain that can become a staple in your kitchen, appearing in everything from soups to casseroles to warm sides to room temperature salads like this one. It's been around for a long time, once a mainstay of the ancient Roman diet. Farro has a substantial chewy texture, and it's high in fiber and a good source of iron and protein, which also makes it a great anchor for a lot of vegetarian dishes. Try using it in recipes that you might ordinarily reach for barley or brown rice.
You can use other grains or small pastas instead of the farro — Israeli or Mediterranean couscous is nice, as is freekah, barley, or another firm grain.
Here the farro is tossed with some mushrooms, and a big pile of arugula and spinach. Beautiful watermelon radishes are becoming increasingly easy to find, and are worth seeking out. You can see where they got their name when you slice them! If you can't find them, use a few regular radishes instead.
This is also a great dish for a picnic or for a different kind of offering at a potluck.
Serves 6
Ingredients
½ cup uncooked farro
3 tablespoons extra virgin olive oil
2 tablespoons sherry or red wine vinegar
2 tablespoons minced shallots
1 tablespoon Dijon mustard
Kosher salt and freshly ground pepper to taste
8 ounces sliced cremini or button mushrooms
4 cups arugula
4 cups baby spinach
1 large watermelon radish, thinly sliced
Pepitas (hulled pumpkin seeds) or pine nuts to sprinkle on top (optional)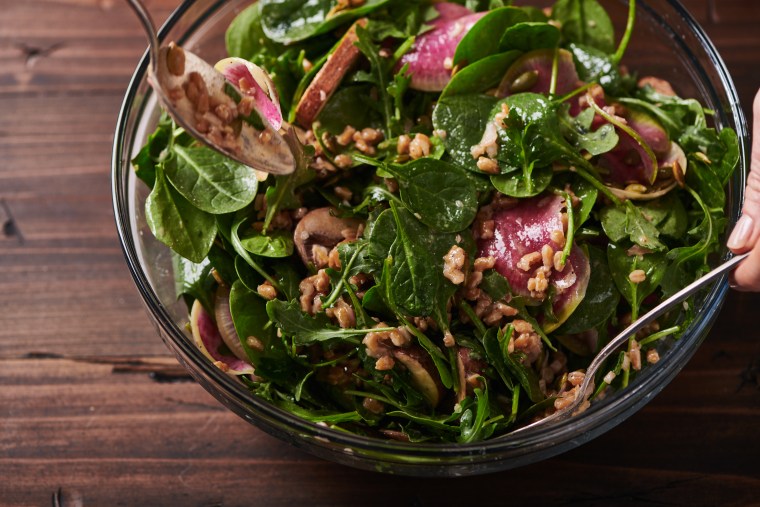 Directions
Cook the farro according to package directions, or follow the instructions here. Cool on a baking sheet.
In a large bowl, combine the sherry or red wine vinegar, olive oil, shallots and Dijon, and season with salt and pepper. Add the cooled cooked farro and toss. Add the mushrooms, arugula, spinach and watermelon radishes, then toss again. Sprinkle with the pepitas or pine nuts if desired, and toss once more.
More Salad Ideas
Want more tips like these? NBC News BETTER is obsessed with finding easier, healthier and smarter ways to live. Sign up for our newsletter and follow us on Facebook, Twitter and Instagram.