This is Modern Ruhles, a podcast from Stephanie Ruhle that features compelling conversations for culturally complicated times. Listen to podcast, read the stories and share your own thoughts here.
When my team and I decided to devote one episode of Modern Ruhles, our new podcast, to the topic of privilege, I had so many ideas of who I wanted to speak with. One of those people was my husband, Andy. He is the definition of privilege: he attended an elite all boys school as a child, always excelling in academics and sport, which eventually landed him at Princeton University and then the Credit Suisse training program where we met. Andy has worked hard to be successful in his career, no doubt about it. But he knows the odds were stacked in his favor. He goes out of his way to emphasize this fact to our own children, which is one of the traits I admire most about my husband.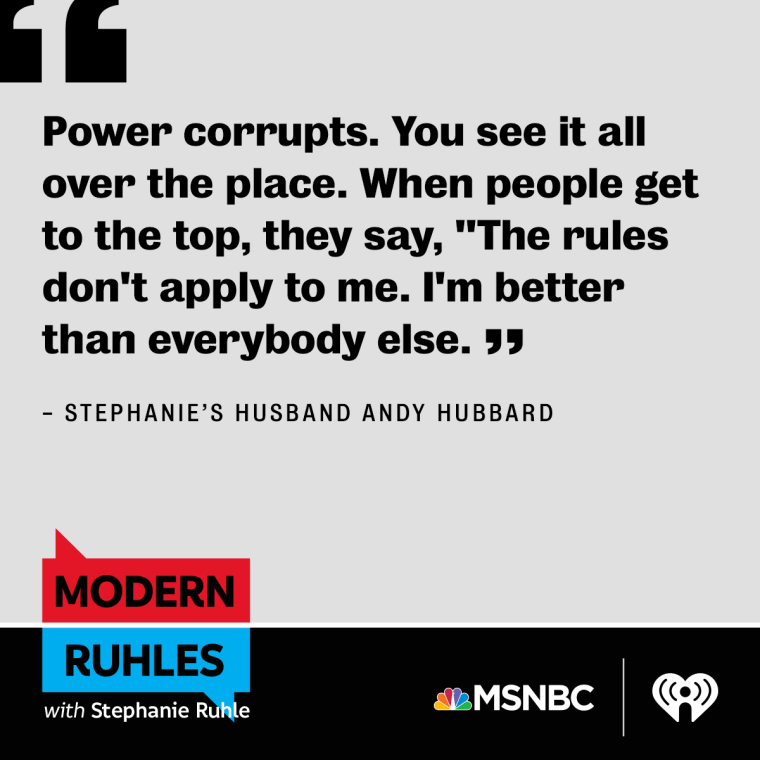 Who gets a seat at the table?
If we were going to cover this topic holistically, we needed someone who could explain these odds: Who has a seat at the table? How did they get there? Who is missing, and how can we change that?
I knew there was no better person to answer these questions than Wes Moore, the CEO of the Robin Hood Foundation. He is a strong, empathetic leader who cares so deeply about the mission of the organization he leads — to end poverty in New York City and beyond. This cause is especially close to his heart because it is personal. Wes grew up in Baltimore, Maryland and the South Bronx with two siblings and a single mother. She worked multiple jobs to support her children — often times leaving for work before they woke and returning home after they went to bed.
Wes says that one thing he will never forget about his years in the Bronx is proximity. "Even from where we sit right now, from the home that I grew up in the Bronx, we're still talking about no more than seven miles, eight miles," he told me in our Midtown NYC studio. "It was a world away, because I grew up in a community, whether it was in the neighborhoods that I grew up in in the Bronx, or the neighborhoods that I moved back to in Baltimore when I was 13, that were just so chronically neglected. And we knew it growing up there, how chronically neglected and unseen that we felt."
In his current role, Wes works with some of the wealthiest New Yorkers to fight poverty. Celebrities like Oprah, Michael Bloomberg and Eli Manning are only a few of the many A-listers who attend the organization's yearly gala, not to mention the Wall Street power players the event draws. I spoke to Wes about this stark contrast. What is it like to work alongside some of the richest people in the world to help the poorest?
We're going to need more seats
Wes's central message, to me and to the people he works with every day, is the same. "We don't live in a society where it's zero sum. We don't live in a society where, in order for one person to gain, it means I must lose. It means that we have to use our privilege … it's not about 'let me give up my seat,' but it is about 'why are there so few seats at this table in the first place?'"
He told me this: Get a bigger table. What if Harvard added more spots in their freshman classes, or our country's biggest banks recruited from schools outside of the Ivy League for their internship program? These actions would be monumental moves in the right direction. But there also needs to be a mental shift, Wes says. "We have to think more creatively about the way we are truly supporting the future of this country … I think these large organizations, these large corporations and institutions, they have an obligation not just to build up their own personal endowments." Moore posits that they have to also support institutions in their communities that support and serve students who may not make it into their university, but "who are just as important to the future of the community as the kids who are walking on campus."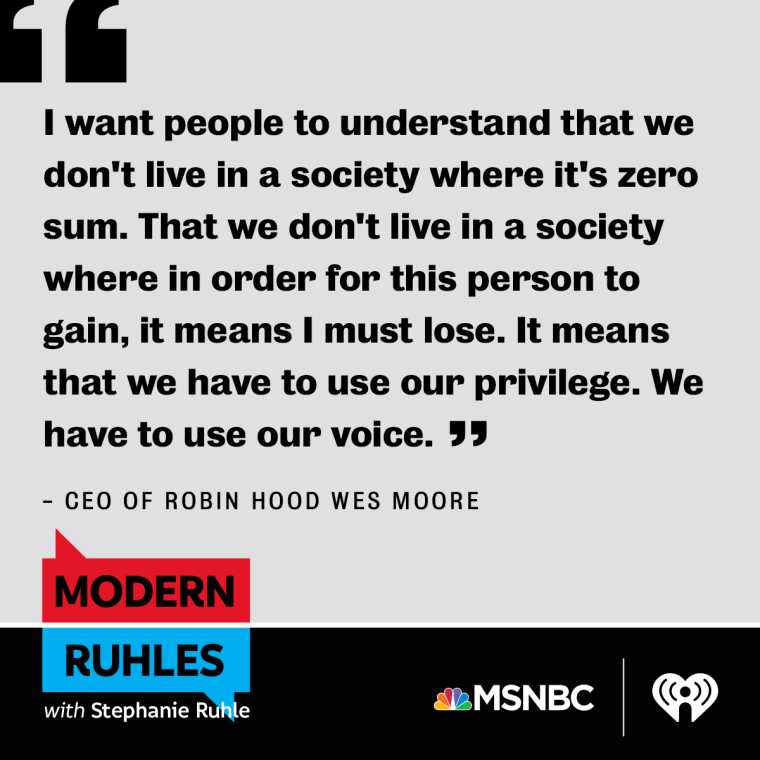 Evening the playing field starts with me
I end every episode of Modern Ruhles with the same reflection: What did I hear from my guests, what do I think about what I heard, and what am I going to do as a result? Following my conversation with Wes, I couldn't stop thinking about the answers to these questions. Yes — there is so much more our country's policies, local governments and education systems can do to address this dire issue. But there are also actions we can take in our every day lives to combat the uneven playing field privilege perpetuates. As a takeaway, I'm going to do these two things:
1. Acknowledge my privilege
Wes made me smarter and better on this issue. He taught me that acknowledging our privilege is the first step in addressing it. This made me think of a conversation I had with my sister a while back. She is a small business owner with two children in the public school system. She supported Trump in 2016, which became a point of contention between the two of us. So I decided to challenge her on it. "You are luxury voter," she told me. "You can afford to vote based on your morals. You can worry about how he treats women because your job isn't at stake. Your ability to send your kids to college isn't hanging in the balance." She is right on both counts. I think about this exchange often — it is essential to understand your own position if you are going to try to make sense of where your peers are coming from.
2. Build a bigger table
The conversations I had with my guests for this episode got me thinking about the opportunities I can create in my own life for those who may not have the same privileges that I enjoy. It doesn't mean that my own children can't go to the Halloween block party. It means inviting students from a neighboring school, those that may not get to go trick-or-treating at all, to attend alongside them. So move over and make some room, because #togetherwerise.
Written with Julie Brown, an anchor producer for MSNBC's Stephanie Ruhle.
More from Stephanie Ruhle and Julie Brown
Want more tips like these? NBC News BETTER is obsessed with finding easier, healthier and smarter ways to live. Sign up for our newsletter and follow us on Facebook, Twitter and Instagram