This Sunday finds us in the lull between the Christmas week and New Year's Eve, and I don't know about you, but I could use a little reset. I like an opulent dinner as much as the next person, but I also need a little break from making standing rib roasts and dry brining turkeys.
I'm 100 percent thinking about pork loin. Inexpensive and simple, and whoa, what a lovely gift of leftovers if you plan ahead and make extra, whether it's a second pork loin, or just one that's too generously sized for one meal. Sliced they make great sandwiches (try adding a smear of herbed mayonnaise, and piling the pork with lettuce and tomato on sourdough bread), or the flavors in this recipe are gentle and universal enough that you can add them to an Asian stir fry, such as pork and bok choy stir fry. Just add the cooked meat towards the end for just long enough to heat through, but not to cook further.
Okay, the menu!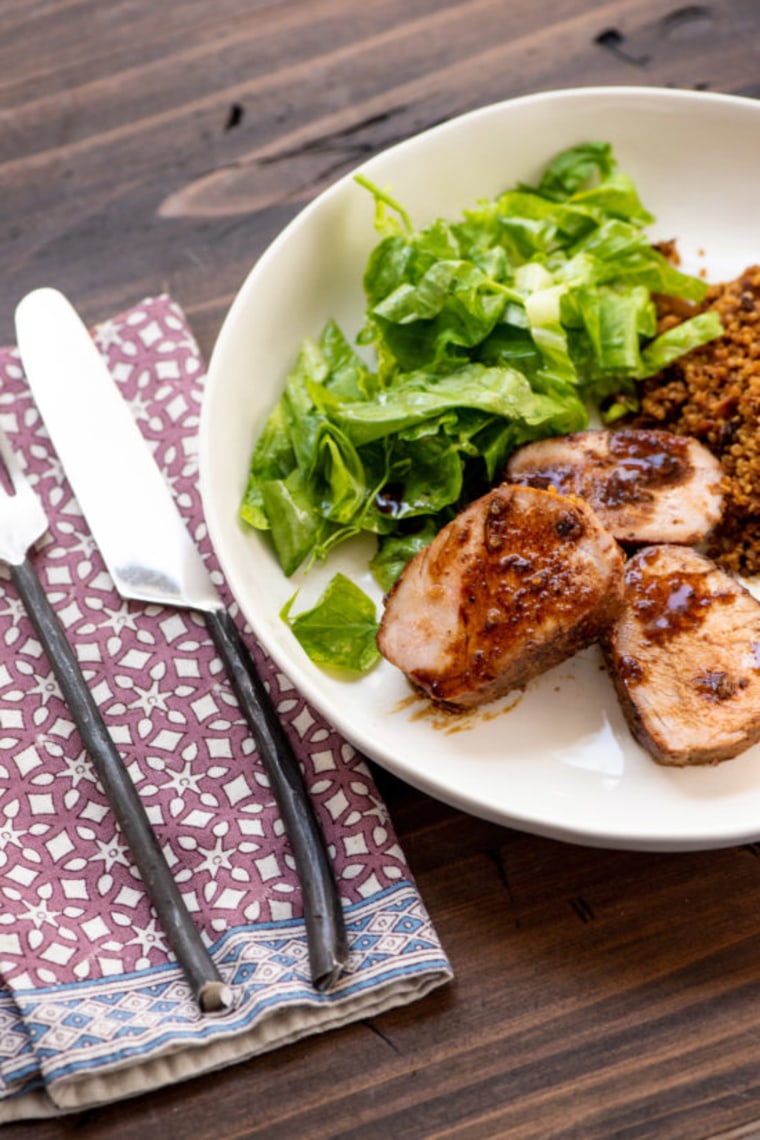 A small handful of ingredients turns inexpensive pork loins into a terrifically flavorful main course. Cooking pork is intimidating for some people. Let's fix that. Like with all meat, much of the success is simply about internal temperature. You'll want to cook the pork until it hits an internal temperature of 140°F internal temperature, take it off the heat (in this case out of the oven) and let it sit. The temperature will climb for another 5 to 10 degrees or so (this called carryover) cooking, and it will be cooked safely, but still be juicy. A hint of pinkness in the center means it's done properly, not undercooked.
Possibly the most perfect comfort-food side dish in the world. If you have never made homemade mashed potatoes, then this is your moment. If you have, then this is also that moment. If you make the mashed potatoes ahead of time you can hold them, covered in the pot, for up to three hours, then reheat them gently over low heat, adding some more hot milk as necessary and stirring frequently.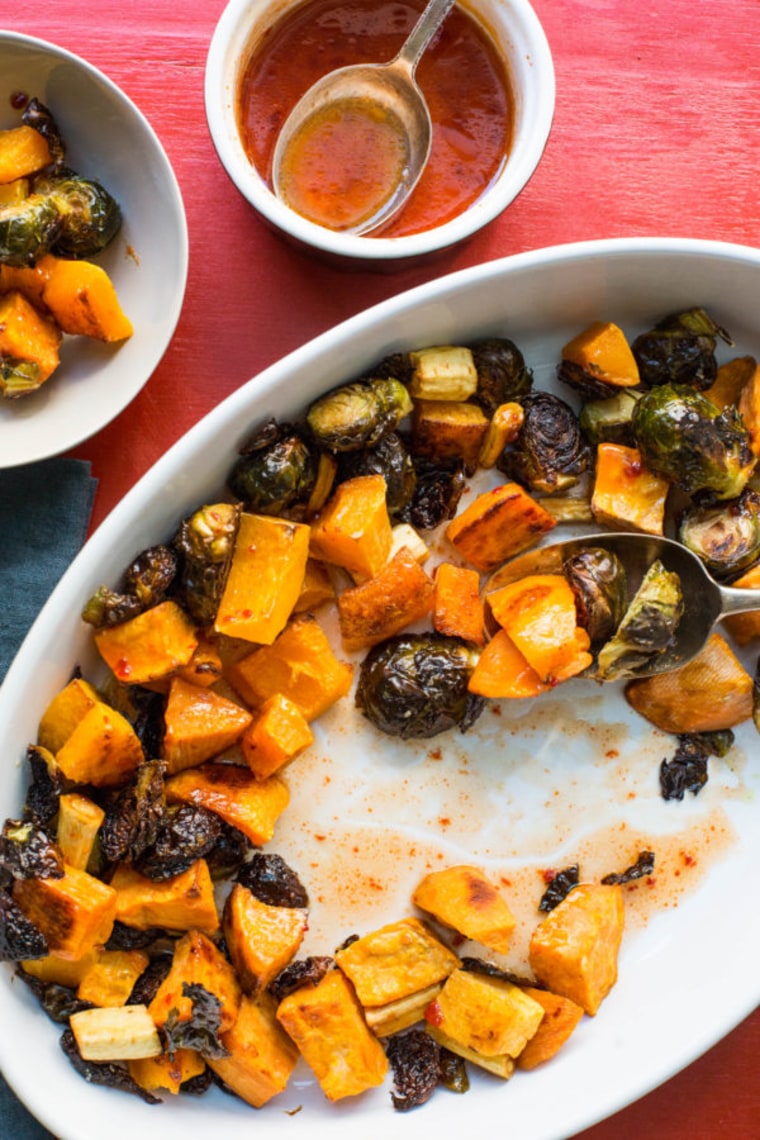 A bit of heat perks up these earthy vegetables in such a great way. Also: honey. Excellent in flavor, helpful in caramelization. And (me again with the leftovers), do you know how amazing the vegetables are later in the week heaped on top of a bowl of brown rice or quinoa? That's lunch, baby.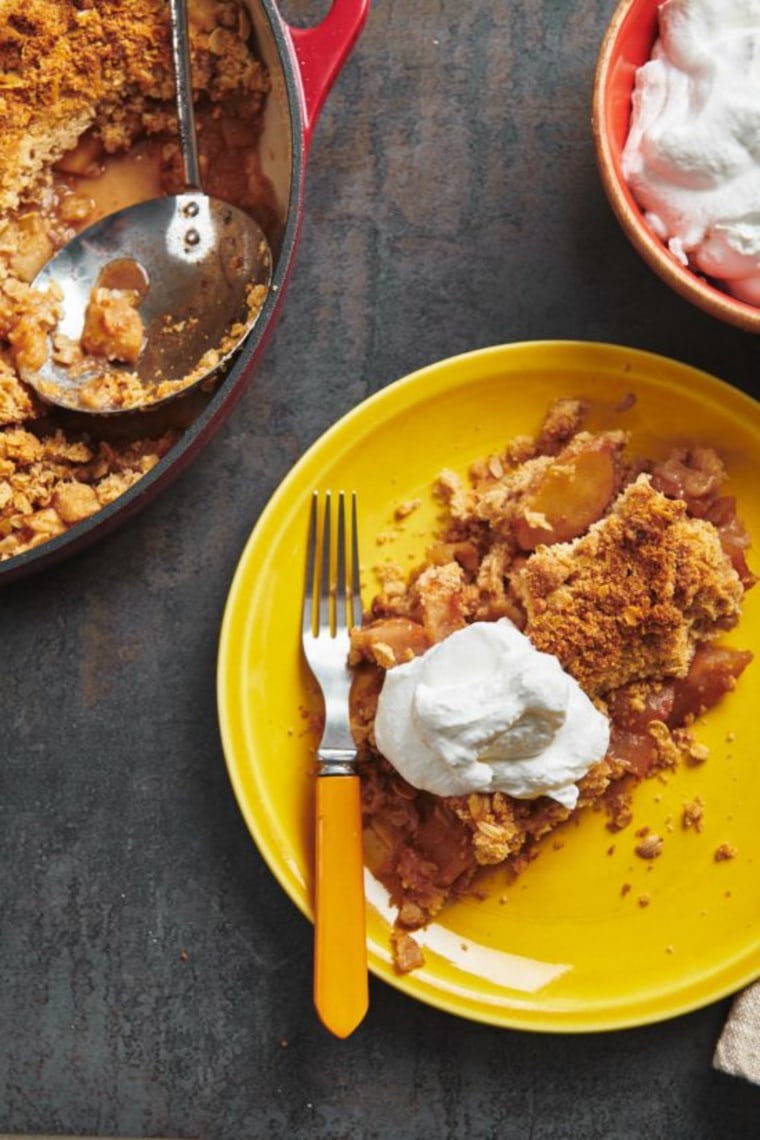 Even though we've now finished up with fall, apples are still plentiful in the markets. This apple crisp has a thick layer of topping. A deep, dense, non-apologetic layer of sweet oat-laced topping. We all know that's the best part of the crisp, so let's get in there.
Happy Sunday,
Katie
Two more Sunday suppers
Want more tips like these? NBC News BETTER is obsessed with finding easier, healthier and smarter ways to live. Sign up for our newsletter and follow us on Facebook, Twitter and Instagram.