Like the rest of us, kids are increasingly shopping online. So, giving your teens and tweens their allowance money in cash, doesn't really cut it anymore.
For many parents, the solution is a new generation of prepaid debit cards specifically designed for teens, tweens and in some cases, younger children.
These kid-friendly cards, from companies such as Greenlight, FamZoo, Current and gohenry, put parents in control but give the child enough freedom to learn financial responsibility and money management skills without getting into serious trouble, as they could with a credit card.
Your kid is going to be using plastic eventually, so getting them started on using a debit card while they're still under your roof is a really good idea.
Liz Weston, NerdWallet
With these debit cards, a child can only spend the money that's loaded onto the card, so there's never an overdraft fee.
"Your kid is going to be using plastic eventually, so getting them started on using a debit card while they're still under your roof is a really good idea," said Liz Weston, personal finance columnist at NerdWallet. "It's sort of like providing them with training wheels for learning how financial transactions work."
These app-based cards have a variety of features not available on a traditional debit card linked to a checking account. The specific offerings vary from company to company, but they all allow parents to:
Load money at any time from anywhere
Limit how much can be spent and where
Decide if the card can be used to withdraw money at an ATM
Turn off the card
Automate allowance payments
Monitor all transactions on the account
Note: These cards are generally designed to have few or no fees other than the monthly or yearly service fee, but parents would be smart to compare.
Laura Levine, president and CEO of the JumpStart Coalition for Personal Financial Literacy, does not endorse any specific product, but she told NBC News BETTER she gave her teenage son one of these cards.
"There are no magic solutions," Levine said. "The teaching comes from the interaction and the card is a tool to bring that to life. Just handing them the card and hoping for the best is not going to get you the outcome you want."
The Greenlight Card
Greenlight has been getting a lot of buzz lately because it offers so many control options. CNBC reports that the company is backed by Amazon and several big banks, including Ally Financial and SunTrust.
Tim Sheehan, co-founder and CEO, came up with the idea to solve a problem he experienced — how to give his kids money when he didn't have any cash. Greenlight now has more than a half-million customers, Sheehan told NBC News BETTER.
Greenlight provides customers with three accounts in one: A spending account, saving accounts and giving account (the app makes it easy to donate to charity). A built-in investment account is coming soon.
"The app has all of these different things that are part of the personal finance spectrum that you want to teach your kids," Sheehan said. "They can learn to spend wisely, make trade-off decisions — you don't necessarily have to buy immediately, you can save up, earn interest and then perhaps buy something even better down the road. And because it's real money; it's their money, the kids care about it."
Ted Rossman, industry analyst at CreditCards.com, likes the concept of a kid-centric debit card in general, and the Greenlight card specifically.
"Greenlight is incorporating some really useful, unique elements," Rossman said. "It fosters independence, but with appropriate guidelines and the collaboration between parents and kids is really great."
Greenlight features a long list of parental controls
Parents and children use the same Greenlight app, but have two different experiences when they log in. Kids can monitor their account balances, set their savings goals and learn how to manage their money. Parents have the controls and receive real-time alerts any time the card is used, even if a purchase is declined. Parental controls include:
Spending limitations: While many of these teen-centric cards enable parents to limit how much can be spent or what sorts of transactions can be made (online, ATM cash withdrawal, point of sale), Greenlight lets you choose the specific stores where the card can be used. If your child wants to make a purchase outside the boundaries you've established, they can send you a request for permission. If ATM withdrawals are allowed, you can limit that withdrawal to a specific amount. Certain categories, such as wire transfers, money orders or lottery tickets are automatically blocked. The card cannot be used to get cash back from a purchase, helping to ensure parental spending controls are followed.
Automated allowance: This lets you manage weekly, monthly or one-time chores. The money can be automatically sent to the child's Spend, Save or Give accounts once a chore is completed.
Instant money transfers: A few taps on the app and the money is loaded from whatever account you choose. There's no waiting for a check to clear.
Parent-paid interest: Encourage saving by paying interest at whatever rate you want on the balance. This helps demonstrate the power of compound interest and the long-term benefits of making a habit of saving money. (Greenlight says the average account is currently set at 18 percent APY. Parents will need to explain that this is far from the typical return on savings in the real world.)
Because of all this parental oversight, kids can make mistakes without getting into serious trouble.
"They're supposed to make mistakes; that's how they're going to learn," Sheehan said. "But it's done in a safe, secure environment, so they're not making these mistakes as an adult that could cost them several thousand dollars and lead to a horrible credit score. They're learning these things as a teenager."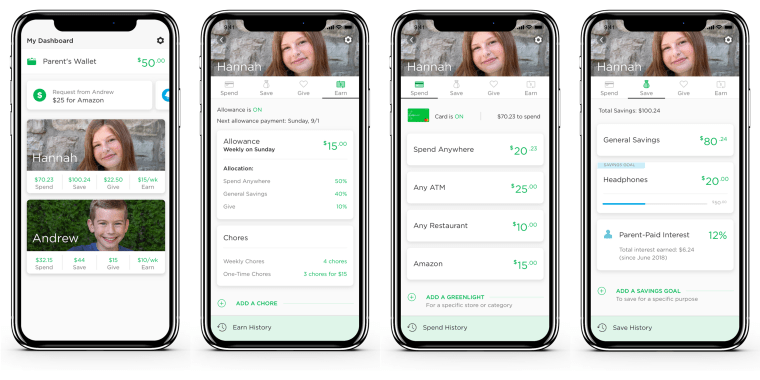 Are there any downsides?
These companies all charge for their services — from $36 to $72 a year — which could be seen as a downside by some parents. They all offer free trials.
Because these are debit cards, your son or daughter won't be building their credit history, as they would if they were using a credit card.
Building a credit history is important, but that's not the major objective for tweens and younger teens, personal finance experts told us. Kids need to learn the basics of financial literacy first.
"A debit card is a great tool for learning the basics of money management," said Bruce McClary, vice president of marketing at the National Foundation for Credit Counselling. "Once children have a sound grasp on the basics, then they can graduate towards other things, like understanding the concept of borrowing money and responsibility that comes along with that, but that's later on down the line."
These services don't replace the parent's role
Nathan Hamilton, industry analyst at The Ascent (from The Motley Fool), believes the lack of financial education "is one of the biggest problems" facing the country today. "It's a contributor to rising credit card debt, inadequate retirement savings and many other financial problems."
Parents must fill the gap, but research done by The Ascent finds that many parents aren't discussing financial topics with their children.
These app-based products are a good way to start the conversation "in a fun way, a technological way, that's meeting children on their own terms and is going to keep them involved," Hamilton told NBC News BETTER. "But parents need to realize that this is a tool that they have to be involved with. It's not like you're going to sign your kid up for one of these cards and all of sudden they're magically going to get smarter."
MORE FROM BETTER
Want more tips like these? NBC News BETTER is obsessed with finding easier, healthier and smarter ways to live. Sign up for our newsletter and follow us on Facebook, Twitter and Instagram.