The combination of delicate shrimp with the sometimes fiery shishitos (you never know when you'll get a spicy one, so be adventurous!) slathered in chimichurri sauce feels so fancy but literally, this dish comes together in about 10 minutes. The skewers cook so fast on the grill and the sauce takes minutes in a food processor — super simple.
I recommend doubling that chimichurri recipe because you'll want to put it on everything! Shrimp is also an excellent umami, protein-rich food with loads of vitamin D, vitamin B3, and zinc. These "Chimichurri Shrimp and Shishito Pepper Skewers" are made with wild-caught shrimp and are clean, gluten-free, and paleo.
The best part: leftover grilled shrimp make excellent next-day shrimp tacos, or protein on a salad. You can always substitute probiotic-rich tempeh, a fermented whole soybean product, in this recipe for a completely plant-based protein — and it's totally delish.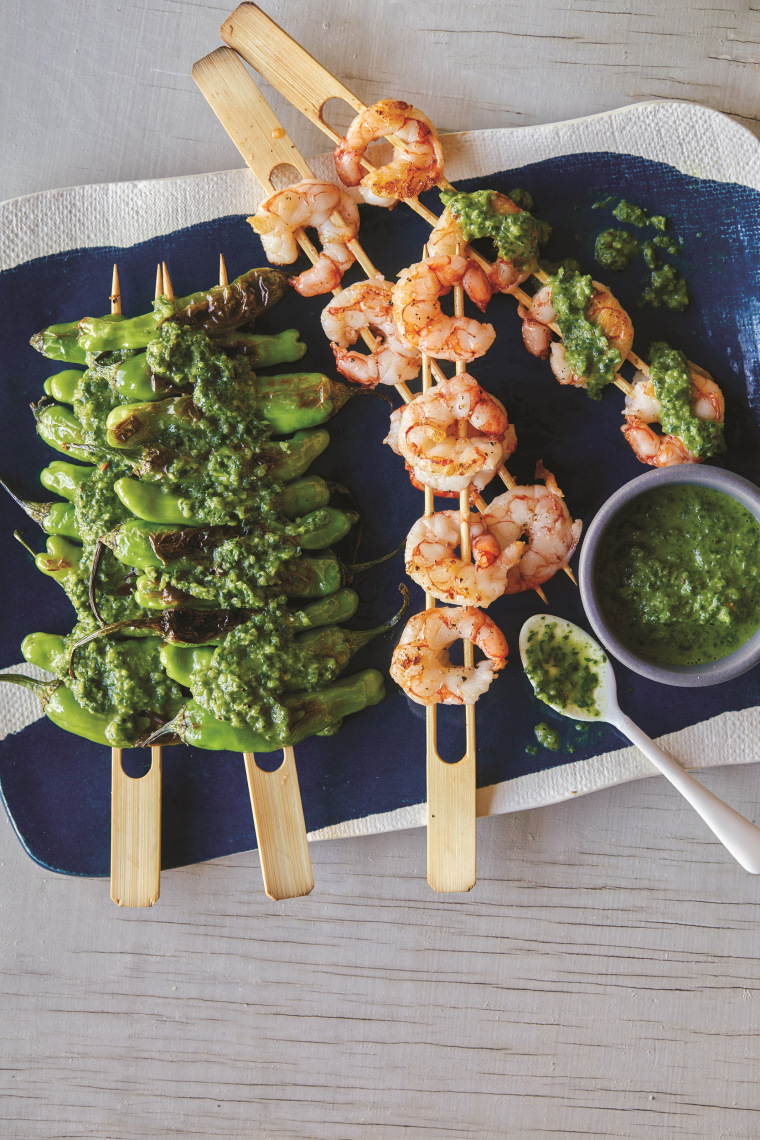 CHIMICHURRI SHRIMP AND SHISHITO PEPPER SKEWERS
MAKES 4 SERVINGS
INGREDIENTS
Nonstick olive or coconut oil cooking spray
2 pounds large (16/20-count) wild-caught shrimp
1 teaspoon grated lime zest
Juice of 1 lime
Pinch of sea salt
Pinch of freshly ground black pepper
1 pound shishito peppers
1½ cups cherry tomatoes
Chimichurri Sauce (below)
DIRECTIONS
1) Soak 12 wooden skewers in water for 30 minutes to prevent burning on the grill. Heat a grill to medium-high.
2) In a medium bowl, combine the shrimp, lime zest, lime juice, salt, and black pepper. Set aside to marinate while the grill heats.
3) Drain the skewers and pat dry with a paper towel. Mist them with cooking spray. On each of 4 skewers, thread 4 shrimp. On the remaining skewers, thread the shishito peppers and tomatoes, alternating them. Mist the skewers with cooking spray.
4) Grill the shrimp skewers for 2 minutes on each side, taking care not to burn shrimp. Grill the vegetable skewers until the skins are slightly blistered and charred, 4 to 5 minutes total.
5) Remove the skewers from the grill and brush with Chimichurri Sauce; serve more sauce on the side.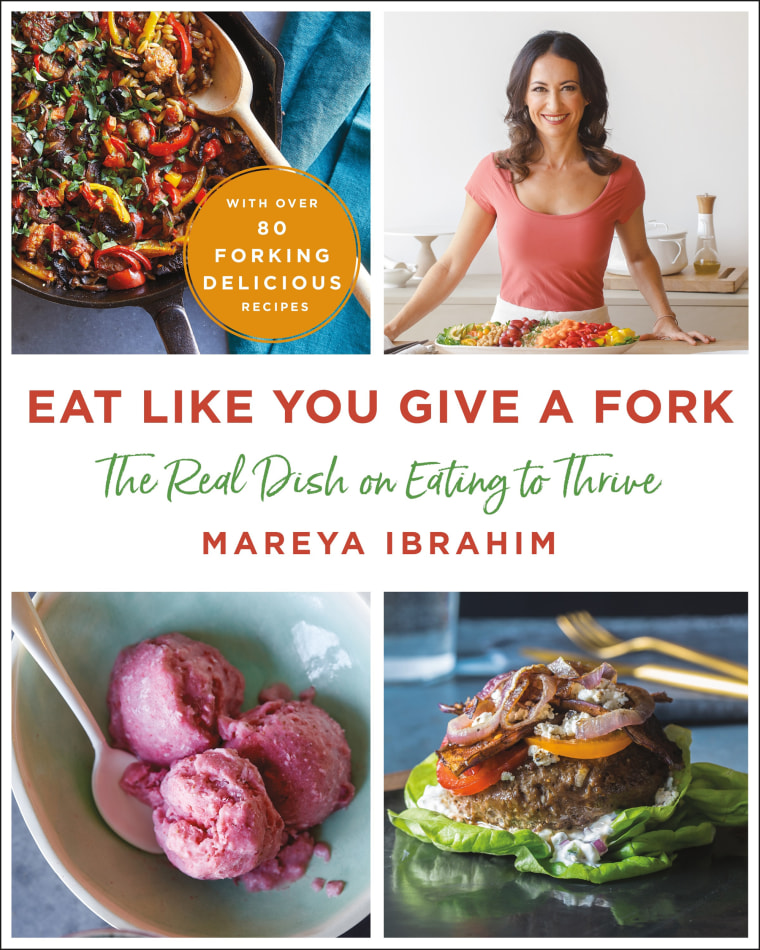 Chimichurri Sauce
INGREDIENTS
1 pasilla or serrano pepper
Nonstick olive or coconut oil cooking spray
2 tablespoons white onion
1 cup fresh cilantro
½ cup fresh parsley
½ cup extra-virgin olive oil
1 tablespoon raw unfiltered apple cider vinegar
2 teaspoons fresh lemon juice
½ teaspoon chipotle chile flakes
DIRECTIONS
1) Preheat the oven to 450°F. Line a baking sheet with parchment paper or a silicone mat.
2) Place the pasilla and serrano peppers on the prepared baking sheet and mist them with cooking spray. Roast until the skins blister, about 20 minutes. Remove from the oven and carefully transfer to a plastic bag; seal and set aside for 10 minutes (this makes the skins easier to remove). Peel the skins from the peppers by rubbing in a plastic bag and remove stems and seeds; transfer the flesh to a food processor.
3) Add the onion, cilantro, parsley, olive oil, vinegar, lemon juice, and chipotle flakes and pulse until smooth.
4) Serve the chimichurri sauce alongside proteins, as a dipping sauce for veggies, or drizzled over eggs. SO good you'll want to eat it with a spoon and slather it on everything.
From EAT LIKE YOU GIVE A FORK: The Real Dish on Eating to Thrive. Copyright © 2019 by Mareya Ibrahim and reprinted with permission from St. Martin's Griffin.
MORE RECIPE IDEAS
Want more tips like these? NBC News BETTER is obsessed with finding easier, healthier and smarter ways to live. Sign up for our newsletter and follow us on Facebook, Twitter and Instagram.