These are kind of like garlic knots meet monkey bread. Monkey bread is small knots of bread dough tossed in butter and some seasonings (often sweet ones, like cinnamon and sugar), and piled into a pan to bake. They partially fuse together, but not completely, so you have to pull it apart with your fingers … monkey style.
The deliciousness of lightly buttery, garlicky bread knots is so hard to resist — every time I'm at a pizzeria I work hard to justify the ordering of a couple of them on top of the pizza purchase. This recipe, anchored with refrigerated biscuit dough, takes the pleasure of garlic knots and turns them into a fun and dead easy pull apart treat. Just before you slide them in to the oven, they're dusted with Parmesan — how good is that? You can use fresh oregano if you have it, dried if you don't.
Whether it's a holiday meal or just a fun dinner with company, a plate of garlic oregano monkey bread is pretty hard to beat as a side dish.
Garlic-oregano monkey bread
Serves 8
Ingredients
2 tablespoons unsalted butter, melted
1 tablespoon olive oil
1 teaspoon finely minced garlic
1 teaspoon fresh chopped oregano or 1/2 teaspoon dried oregano
½ teaspoon kosher salt, or to taste
1/2 cup freshly grated Parmesan cheese, divided
1 (12-ounce) can refrigerated biscuits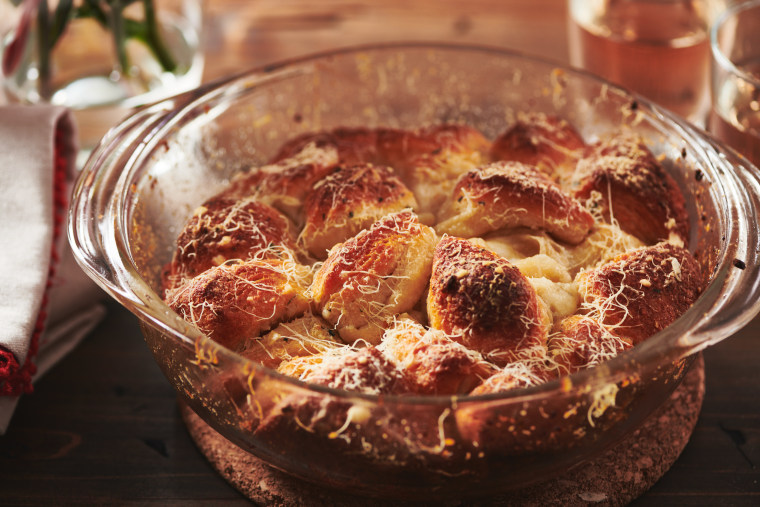 Directions
1. Preheat the oven to 375°F.  
2. In a 1 to 1 ½ quart baking dish (eyeball it, and see if it looks big enough to hold the biscuits) combine the melted butter, olive oil, garlic, oregano, salt and 1/4 cup of the Parmesan.  
3. Separate the dough into biscuits, and cut each biscuit into quarters.  Place the pieces in the pan with the butter mixture and use your hands to toss to combine and coat the pieces well.  Distribute the dough pieces out evenly in the pan, and sprinkle with the remaining Parmesan cheese. Cover with aluminum foil.
4. Bake for 20 minutes, then remove the foil. Bake for another 15 to 20 minutes until the top is golden brown and the inside is cooked through, with no doughy pockets (use a butter knife to check out the middle).  Cool for 5 minutes in the pan on a wire rack.  Invert the monkey bread onto the rack, then flip the bread carefully over again and transfer to a serving plate.  Serve warm, and let everyone pull it apart into hunks.
Other Easy Biscuits and Breads
More holiday tips and recipes
Want more tips like these? NBC News BETTER is obsessed with finding easier, healthier and smarter ways to live. Sign up for our newsletter and follow us on Facebook, Twitter and Instagram.