On a sunny morning in August, I sat in our family car ready to head to the airport. The trunk was packed with luggage for three nights for me and my seven-year-old twins and we were heading to a place I never thought I would go — an all-inclusive resort.
In my pre-kid life, the idea of staying in one place for your vacation and not getting to explore the local culture would have been unthinkable. When my husband and I traveled as a couple, we never considered taking a tour — we were big believers that the best experiences often happened spontaneously. We were unafraid to wander into a restaurant without a menu written in English and point to whatever looked good on someone else's table. We went off the beaten path to find a black sand beach in Hawaii, took a helicopter to a glacier in Alaska and stood shoulder to shoulder with locals on a vaporetto in lieu of a touristy gondola ride in Venice.
Since becoming a mom of twins, I've tried to make sure we still get out there and explore the world but since my daughter's autism diagnosis at age two, there hasn't been a lot of time, resources or energy for traveling. So even though I never envisioned taking them to an all-inclusive resort, the fact that there would be 20 restaurants, countless pools and a kids camp for our vacation admittedly sounded great.
I heard that Beaches had become an Advanced Certified Autism Center (ACAC), a designation given by the International Board of Credentialing and Continuing Education Standards (IBCCES), meaning they have staff training and special accommodations in place to help families traveling with a child on the spectrum. I knew this was a place I wanted to try visiting with my daughter, E. We pretty much take her everywhere her twin brother goes, and expect her to participate in everything we do (from boating to amusement parks to roller skating) to the best of her abilities. But I couldn't help but be curious to see what a place like Beaches could mean for kids like her (and other families in the same predicament).
"Just because a child has autism, doesn't mean their life should be limited — it means they might need extra help or adaptations in order to do the same things that others do," said Janeen Herskovitz, a licensed mental health counselor who specializes in helping parents of children with autism. "Traveling can be enjoyable for the person with autism, and also for the entire family. As the mom of a 22-year-old who is profoundly affected by autism, I can tell you that some of my son's most celebrated gains happened during travel."
I was ready to see what we might get out of this travel experience. Since my husband had to work, I nervously boarded a plane by myself with the twins, ready to meet my sister and her two girls on Turks & Caicos for some family fun. Turns out that I had nothing to worry about. Both kids were excited for the trip and on their best behavior. It also helped that we had read a social story that E's teacher at school made for us about the upcoming trip together — a simple story with pictures explaining what was going to happen. Once we landed, we were expedited through customs, a VIP service offered through Beaches that I had to admit was great because it eliminated the need to wait in line when we were ready to begin our short vacation. I could see how this could be really helpful to families with special needs after having just taken a long plane ride (and even for families without special needs).
That was a big realization for me: Many of the things that I associate with accommodations for kids that are different ... are actually the things that most kids can benefit from.
And that was a big realization for me: Many of the things that I associate with accommodations for kids that are different (like quiet rooms where you can take a break) are actually the things that most kids can benefit from.
Herskovitz told me that she thinks it's great that places like Beaches are adopting an autism-friendly attitude. "Families often feel like they are very much alone, even when out in public," she said. "The possibility of a meltdown or odd behavior, as it might be judged by others, is always present. To allow our children to be themselves, can only happen in an atmosphere of inclusion. And this atmosphere can only be achieved when everyone involved is educated and on board. Awareness doesn't just mean others know about autism, it means they know what to do in order to help your child and family feel accepted, even when things don't go as planned."
A new kind of adventure — and some much needed adult time
Our first full day was filled with swimming, hitting the beach and trying out many of the different restaurants. By the next day my sister and I were ready to drop the kids off at Kids Camp. This was one of the services offered I was most curious about (and not just because it would mean a couple hours of off-duty time for me and my sis!).
Normally, if there is a group activity that kids are doing, I need to assist E in participating. I can't just leave her to take care of herself, so that would preclude me bringing her to this type of club at most other places. But since Beaches offers a one-to-one "Beaches buddy" I actually had the option to let her go along with her brother and cousins, knowing that she would get the attention she needs to be safe and have fun.
Leaving your kid with a stranger (whether she has special needs or not) isn't easy, but Kimone, our assigned buddy, made me feel comfortable right away. My sister and I took the opportunity to have some drinks and share a meal together where we could catch up without having to cut anyone's food but our own. For all the stressed out special needs parents, I can't emphasize enough how great it was to have even a small amount of time to do grown-up stuff, and because I knew E was getting the attention she needed, I didn't have to feel worried about it. When we returned to pick the kids up, I heard they had played at the water park and made arts and crafts together.
Even though I knew that this wasn't going to be anything like the vacation I got to take with just my husband earlier this year, no part of me ever expected to have a Sesame Street character come knocking at our door to do a "tuck-in"!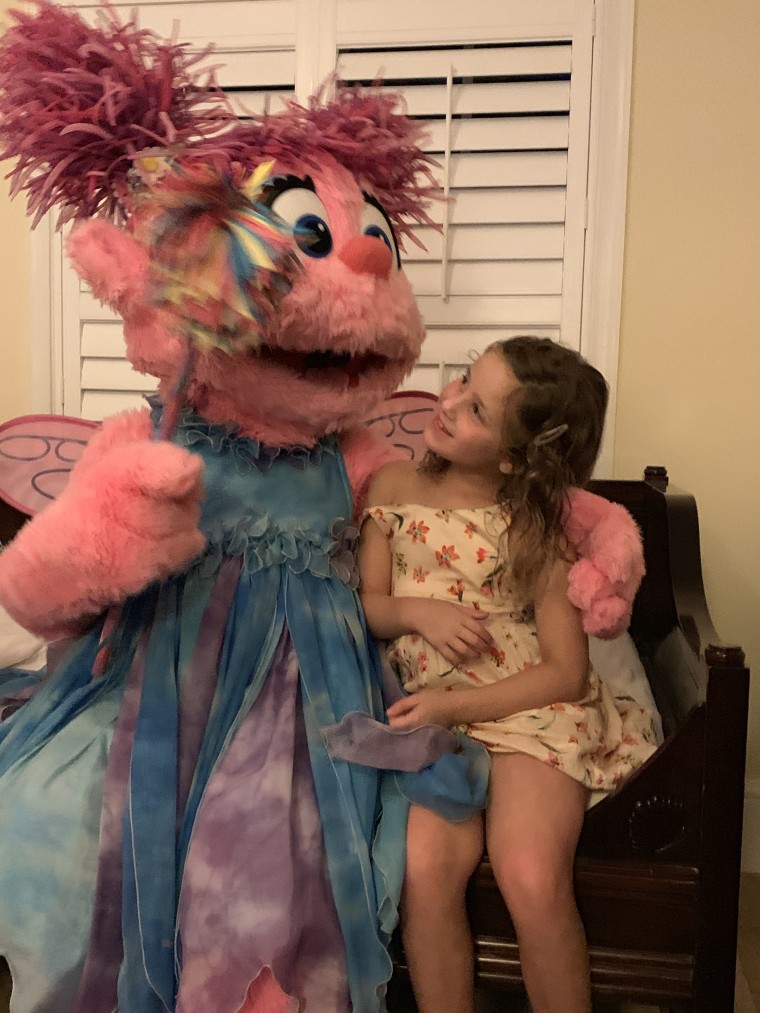 You know it's a kids' vacation when a furry character holding a wand enters your bedroom (unless you're into that kind of thing, hey, it takes all kinds!). As Abby's assistant read a bedtime story to the twins and their cousins, I stood to the side observing the look of sheer awe on E's face. At one point, she got up and started to engage Abby in a game of peek-a-boo — I couldn't believe my eyes since my daughter is rarely the one to initiate social interaction. Even more surprising was the way that Abby responded, stopping what she was doing to engage with E and treating her interruption as a fun game that everyone could be a part of.
I later learned that both the person in the Abby costume and her assistant had autism training. The skills they employed interacting not just with my daughter, but with the other kids, absolutely made this the highlight of our trip.
An autism-friendly environment gave new meaning to 'all inclusive'
While I worried E's autism would be catered to in a way that we don't do at home being at an ACAC, just the opposite was true — the resort was a truly inclusive place — a vacation spot that has the needs of kids in mind whether they are special needs or not.
"I think parents in the autism community want more autism-friendly everything," said Gena Mann, co-founder of Wolf + Friends, an app for moms raising kids with special needs. "Our children have just as much 'right' as anyone else to enjoy events, restaurants, amusement parks, vacation spots. That said, I think all parents need to be realistic when it comes to taking their children to places that are appropriate for where their child is in their development — not where they expect them to be."
Only 13 percent of autism families surveyed take family vacations. Yet, 93 percent of respondents said they would be more inclined to travel if autism services were available.
According to a study by IBCCES, only 13 percent of autism families surveyed take family vacations. Yet, 93 percent of respondents said they would be more inclined to travel if autism services were available. Now, with places like Beaches, and others such as Sesame Place (which we've visited), SeaWorld Orlando, Aquatica Orlando and Discovery Cove, hopefully more families will get to have the life-enhancing, transformative experience of travel.
With one in 59 children affected by autism, I hope that parents know they are not alone, and that this is doable! And remember, just like we found that the same kids benefited from most of the services that were in place for E, I also saw that there were plenty of meltdowns occurring by seemingly neurotypical kids too. My point is, even though you might feel like that crazy autism family, the truth is all families have a little bit of crazy coming out, especially when they are traveling.
Months later, the twins are still talking about our amazing vacation, and E loves watching the video I made of Abby's tuck-in. Our trip was a big success not just because the kids had fun, but because as a parent it made me feel like, "Yeah, we can do that!"
As a mom of a son with autism once wryly said to me, "When we go out, we think of it as 'spreading awareness.'" My advice? Get out there, be your own unique selves, spread some awareness, and give your child (and yourself) what just might be the adventure of a lifetime.
More on BETTER
Want more tips like these? NBC News BETTER is obsessed with finding easier, healthier and smarter ways to live. Sign up for our newsletter and follow us on Facebook, Twitter and Instagram.