Personal trainer Leanne Pedante was never a runner. If anything, running was a chore — something she had to force herself to do. In 2017, a stint teaching a treadmill HIIT class led to a job as the program director at STRIDE, a now popular treadmill studio in Pasadena, California. With the classes and community she fostered alongside STRIDE's co-founders Katie Ownbey and Misa Dugally, a funny thing happened: all three women became runners — indoors and out.
Treadmill studios are popping up all over the country. From the 1,100 and growing Orange Theory locations worldwide to the mom-and-pop boutique studios and everything in between, fitness buffs and runners alike are jumping on the treads.
Lynne Garcia, a 47-year old sales professional based in Los Angeles, counts herself among them. As a lifelong runner who got more serious about her sport in the past few years, her schedule required that she run in the dark, pre-dawn hours by herself. "I didn't enjoy that," she says, "so I started looking for a gym where I could use a treadmill."
Her search led her to STRIDE and she hasn't looked back. "Having a studio to run in has made me more consistent with my training because I can always fit it in," she says. "That wasn't always the case."
If you're intrigued by the idea of joining others in a treadmill workout, know that there are plenty of variations from one studio to the next. As with spin classes or other group workouts, it may take some trial and error to find the right studio for your needs. But when you do, you may find you're hooked.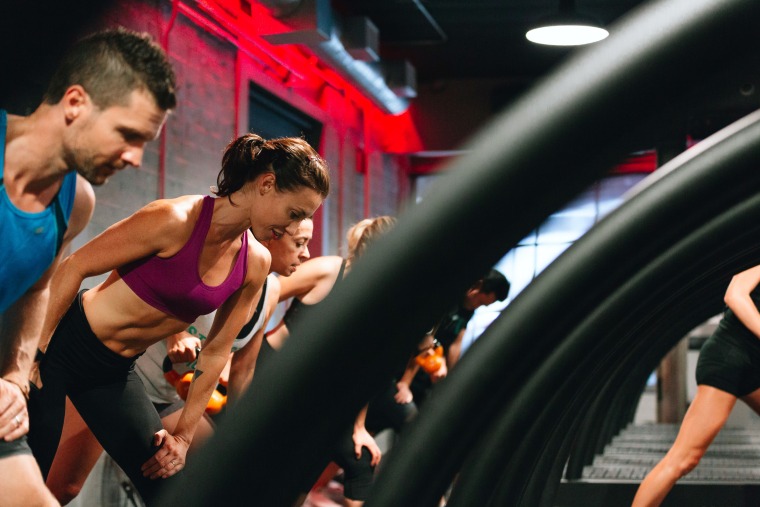 What to expect from a treadmill workout
Most studios will offer several classes per day, making it fairly easy to find one that fits into your schedule. The classes may vary in structure from one day to the next or even one class to the next, depending on the studio.
Orange Theory, for instance, averages around eight to nine classes per day, but could go into double digits if it's a particularly busy location. Pricing varies by location as well, but there are membership levels from four classes per month at a cost of $59, up to unlimited classes at $159 per month. The average drop-in cost is $28 per class.
Coleman Rutherford, senior manager of workout design with Orange Theory, says that classes run from 45 to 90 minutes, hinging on the purpose of each session. "Depending on the class, we will have one group start on the treadmill for sets of intervals while another is on the floor doing various strength work," he explains. "They then switch."
The classes aim to take participants through five different heart-rate training zones and each member wears a monitor. "We classify participants as either a power walker, jogger or runner, and they vary their paces off their category," explains Rutherford. "Everything is in the participant's control. If they are feeling off due to a bad night's sleep, for instance, they can take it easy that day. If they feel like pushing hard, they can do that, too."
With these differing levels, Orange Theory aims to offer something for everyone. Pedante says that STRIDE opened with the intent of making running accessible to the general public. "Adults often don't identify as runners or have a mentality that you either can or can't run," she says. "We wanted to break down those barriers."
When the studio first opened, it was populated by people who simply wanted a good workout, not by those who considered themselves runners, says Pedante. "But many of them have become runners and now there is a percentage of our membership who uses the workouts as part of their race training."
Adults often don't identify as runners or have a mentality that you either can or can't run. We wanted to break down those barriers."
At its core, Pedante says, STRIDE aims to do away with any intimidation members might have about taking a class. "You'll see a 76-year old walker on a treadmill next to a Boston Marathon qualifier," she says.
Garcia races 10ks and half marathons and generally plans her longer weekend runs outdoors. "I will come into the studio a couple of times each week and fit the sessions into the run plans I follow," she says.
As with Orange Theory, some STRIDE classes also offer a strength training component, which Garcia has found helpful. "I'm not as dedicated to strength work on my own," she says. "Having a group setting has given me incentive to do it."
That community aspect is one of the biggest reasons treadmill studios are catching on. "The coaches and fellow members are all supportive and encouraging," says Garcia.
Most studios set up with a coach cueing up the workout. In some, the coach or coaches run along on the treadmill, while in others, the coaches are walking the floor and available to clients who want extra encouragement or supervision.
In testament to how trendy treadmill classes are becoming, Equinox fitness club just opened its first dedicated studio in New York City's Flatiron district, where drop-in classes run $36 a pop. The chain's Precision Run classes, which launched in 2014, became its most popular across the board. STRIDE is doing its own expansion, partnering with XPONENTIAL Fitness — whose brands include Club Pilates, Pure Barre and Row House — to begin franchising. "It was always our goal to open multiple studios so when XPONENTIAL approached us, it was a no-brainer," says Pedante.
For her part, Garcia isn't looking back. "I didn't expect to like it as much as I do," she says, "but the whole experience has been really nice."