If you're at a steakhouse, or maybe an upscale seafood restaurant, perhaps the ultimate order is the surf and turf. Indulgent, rich, kind of over the top. Totally luxurious. Often very pricey.
It makes me think of that amazing line at the end of "Trading Places", when actors Eddie Murphy, Dan Aykroyd and Denholm Elliott (who plays their butler Coleman) have made their fortune and decamped to a tropical island with their girlfriends. Coleman asks his companion if she would prefer the lobster or the cracked crab for lunch, and she coyly but covetously says, "Can't we have both?"
The surf is usually lobster tail, though sometimes other types of seafood share the plate. The turf is usually steak, and the steak is often filet mignon, a steak that is probably the top of the line in terms of tenderness. A quick dive into menu prices showed meals like this hovering around $50 bucks per person, definitely ratcheting up even higher at fancier restaurants. But guess what? Both the surf and the turf are completely easy to cook at home! Not to mention pretty fast to make.
And with Valentine's Day on Friday, this might be just the way to spoil your partner without breaking the bank. And get some bonus points for cooking as an extra plus.
Let's start with the steak!
How to make filet mignon at home
1. Buying filet mignon
Filet mignon is from the tenderloin part of the cow and is both lean and tender at the same time. Choose filets that are about 1 ½ inches thick, as this will allow the outside to form a nice caramelized crust, without the inside overcooking.
If you can purchase your filets at a good butcher, you will be rewarded with good meat. There are a lot of options to choose from: dry-aged, grass-fed, organic — talk to the butcher, and see what makes the most sense for you and your budget. If you are buying your meat at a supermarket, you may well still be able to buy it freshly sliced at the meat counter, and have a conversation with a person who knows steaks.
2. Cooking filet mignon
Pat the steaks dry: Use a towel or paper towels to blot all moisture from the steaks — moisture will prevent getting a nicely caramelized crust on your steak. Season with kosher salt and a grind of pepper on both sides, and make sure you don't season them until just before they are ready to be cooked, or the salt will start to cause the meat to release moisture.

Sear, then roast: While grilling is an option, at this time of year indoor cooking is where most of us land. If your steaks are thick, 1 ½ inches or thicker, you probably want to start cooking them in a hot ovenproof pan, and then transfer that pan to the oven to finish cooking them. Thinner filets can be seared and cooked entirely on the stovetop.

Start with a lightly oiled pan to sear the steaks. Let them sear for about 3 minutes on each side without moving them around so that they form a lovely browned crust. Then transfer the pan into a preheated oven at around 450°F to finish cooking. A bit of butter, either plain or flavored butter is a very nice way to finish the filets when you transfer them to the oven. All you really have to do is put a pat on the top and let it melt over the steak as it finishes cooking, basting it with lovely flavor and richness. You also might make a pan sauce to go with. Gild that lily!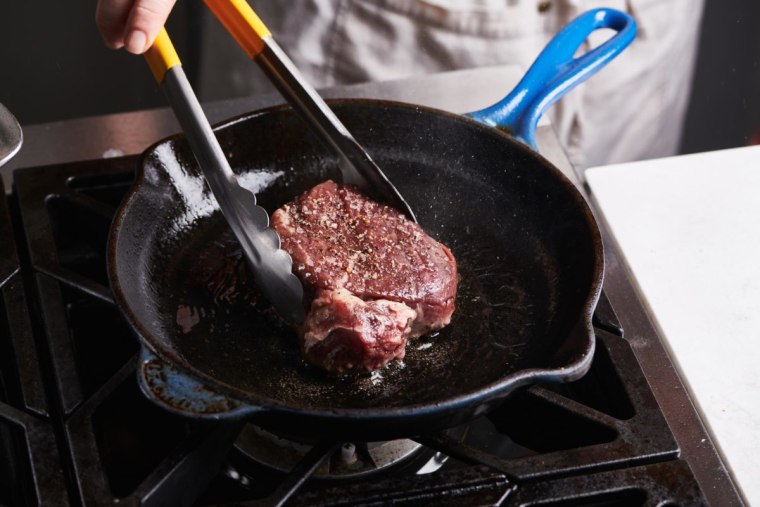 On to the lobster!
How to make lobster tail at home
Lobster tail is a good way to go for surf and turf, since a) a plate can only hold so much, and b) if you're not in the mood for the dining workout that is involved in eating a full in-the-shell lobster, this is a more elegant presentation.
1. Buying and choosing lobster tail
Ask for cold water lobster tail (unless you have the intention of doing otherwise). It has an appealing firm texture, and a sweet, clean taste. Most of these lobsters in this country come from Maine and New Hampshire. Most lobsters are harvested between late June and the end of the year.
In a perfect world you'll get your lobster tail at a fish market, or a supermarket with a fish counter that has everything on ice and a robust turnover so you can be sure you are getting the freshest lobster. When you buy whole lobster, in general you want to buy live lobsters, but with tails that obviously isn't the case. Try to avoid lobster tail that is already packaged in the refrigerator section of the market. Price clubs often sell lobster tails packaged to order, and there are good online sources as well — read the reviews before ordering!
In short, the harder the shell the better. As with whole lobster, much depends on when in the molting phase the lobster was when caught. This means the lobster has fully filled out its shell, and you will get a larger amount of tender, sweet, firm meat.
Avoid lobster tails with any grayish discoloration, or dark spots, which could indicate decay. Make sure there is no yellowing of the meat itself. Look or ask to see if there is extra water or any other product injected into the lobster before buying. You want pure lobster meat.
2. Buying frozen lobster tail
More often than not, the lobster tails you see at the market, or the fish store, have been frozen, or are sold frozen. That's fine — most seafood in general is frozen at some point in order to maintain peak freshness, unless you are getting your seafood shipped overnight, or if you happen be right near the shore.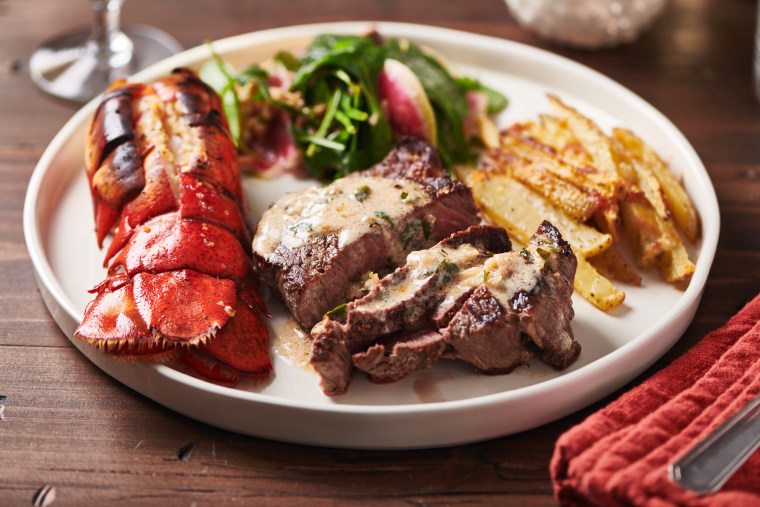 3. Thawing lobster in the refrigerator
The best and easiest way to thaw lobster tail is in the refrigerator, in its packaging, or transferred to a sealed container. Lobster tails should thaw in one day, unless you have really large ones weighing over a pound.
4. Cooking lobster tail
Lobster tail can be cooked on the grill, steamed on the stove, or roasted or broiled. Whichever you choose, while you are preheating the grill or oven, or bringing water to a boil, you'll want to simply prepare the lobster. Using kitchen scissors, cut the top of the shell down the middle and then spread open the shell a bit to expose the meat (this might be easy or hard, depending on how attached the meat is to the shell — it's all fine). For the oven methods, place them on a rimmed baking sheet or other baking pan.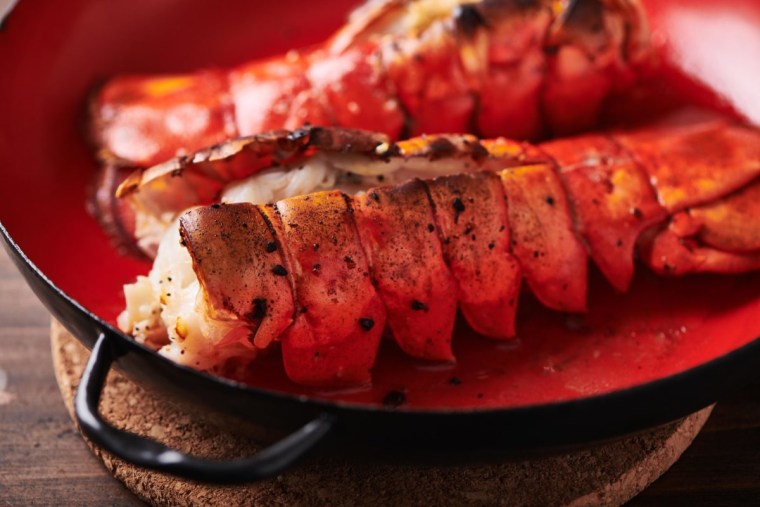 Unless you are steaming the tails, brush the exposed meat with salted butter or garlic butter. Grill or roast or broil the lobster for about 8 to 10 minutes until the meat is firm and opaque (white) and an instant read thermometer registers 140°F in the center of the tail. For steaming, place them in a steamer basket and steam for 8 to 10 minutes. These times are for lobster tails weighing about 6 ounces; adjust up or down accordingly.
And what to serve with your surf and turf? The following sides would turn your lush main course into an extravagant and colorful meal!
More tips for better Valentine's Day
Want more tips like these? NBC News BETTER is obsessed with finding easier, healthier and smarter ways to live. Sign up for our newsletter and follow us on Facebook, Twitter and Instagram.