In search of an easy, healthy snack for parties, picnics and lazy days by the pool? I have just the thing to help you cool off during the long dog days of summer … frozen yogurt bark! This light and tasty dessert will have the kids barking for more and parents can feel good knowing their kids are eating a nutritious snack.
This dessert is great for eating poolside or serving at a neighborhood barbecue. I came up with this tasty treat when trying to get my kids out of the pool to enjoy a healthy snack. As a mom of two boys, I'm always striving to share easy meal and snack ideas on my Instagram and I found that this no-bake, frozen yogurt bark was a big hit with kids and adults. It checks off several boxes:
Easy to make
Refreshing for the summer
Healthy and wholesome
I have so many memories of my kids racing to finish their treat before it melted! It's creamy, yet light and also nutritious. And best of all, it takes only five minutes of prep time.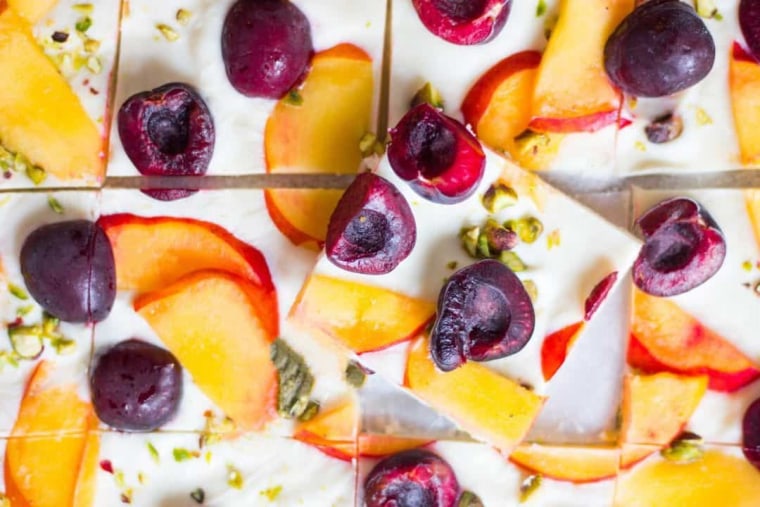 Cherry peach yogurt bark
Ingredients
Greek yogurt with honey or flavor of choice
Peaches, sliced
Cherries, pitted and halved
Pistachios, peeled
To serve
Line a baking sheet with parchment paper.
Evenly spread the Greek yogurt.
Add toppings as desired. (If you like the fruit and nuts incorporated, mix all ingredients in a bowl before spreading on the parchment paper.)
Freeze a minimum of 3 hours.
Slice, and enjoy immediately.
Recipe reprinted with permission from Charisse Yu.
MORE RECIPE IDEAS
Want more tips like these? NBC News BETTER is obsessed with finding easier, healthier and smarter ways to live. Sign up for our newsletter and follow us on Facebook, Twitter and Instagram.