Welcome back from the cookie-cocktail-candy binge. It was fun while it lasted, but most of us are likely feeling the effects — whether you're sluggish, bloated or carrying a few extra pounds around the middle.
So it's time to bounce back. And we think breakfast is a great (and manageable) place to start.
"Coming off the holidays it's normal to crave a lot of sugar, so I created both of these breakfast options as an alternative," says Kelly LeVeque, holistic nutritionist and celebrity health coach. "They're both high in fiber, protein and healthy fat, and low in sugar and net carbohydrates to support blood sugar balance, regulate hunger hormones and fuel our body for the new year. If you grew up on cereal, yogurt or granola these are the perfect swaps."
LeVeque shares the two recipes from her new book, "Body Love Every Day: Choose Your Life-Changing 21-Day Path to Food Freedom," to help get your new year started on the right foot.
Fab Four Chia Seed Pudding
Makes 1 serving
Ingredients
1/4 cup chia seeds
1 1/2 cups unsweetened vanilla almond milk, plus more if needed
1 serving vanilla protein powder, LeVeque likes this NOW pea protein powder that is low in sugar (disclosure: she's an ambassador for Now Foods)
1 tablespoon almond butter
Suggested Toppings: fresh berries, organic shredded coconut, variety of nuts/seeds
Preparation
1. Place the chia seeds in a mason jar (or other glass container with screw-on lid).
2. Place the almond milk, protein powder and nut butter in a high-speed blender and blend, then pour the mixture over the chia seeds and screw the lid on tight. Shake well to mix.
3. Refrigerate for 20 minutes, then shake lightly again and taste. If the pudding is congealed but the chia seeds are still crunchy, add 2 more tablespoons almond milk, stir to incorporate, and return to the refrigerator until you're ready to eat. (You're more likely to need this added step if you use a plant-based protein powder.)
4. Add your favorite toppings and enjoy!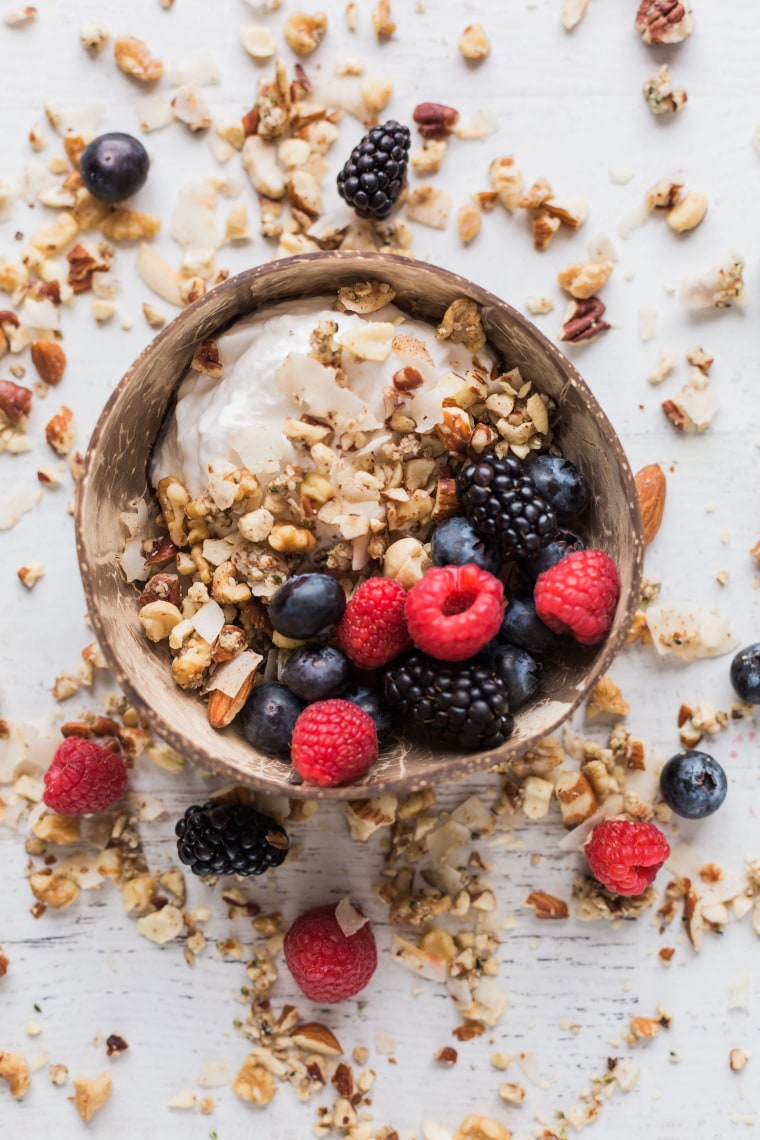 Coconutty Cereal
Makes 12 servings
Ingredients
1 cup raw walnuts
1 cup raw pecans
1 cup raw almonds
1 cup raw cashews
2 tablespoons coconut oil, melted
1 tablespoon honey
1 cup coconut flakes
1/2 cup hemp seed hearts
1 teaspoon pink Himalayan salt
Preparation
1. Preheat the oven to 220°F.
2. Place the nuts in a food processor and pulse to create small chunks. (Or put them in a sealed, heavy-duty freezer bag and use a mallet to pound them to your desired chunk size.)
3. In a large bowl, mix the coconut oil, honey, coconut flakes, hemp hearts, salt and nut chunks. Transfer the mixture to a baking sheet.
3. Bake for 30 minutes, until the nuts are dry and toasted. Let the mixture cool, then store it at room temperature in an airtight container.
4. Serve over unsweetened Greek yogurt.
More healthy recipes
Want more tips like these? NBC News BETTER is obsessed with finding easier, healthier and smarter ways to live. Sign up for our newsletter and follow us on Facebook, Twitter and Instagram.