While dreams of winning a record billion-dollar Powerball jackpot typically involve mansions and yachts, the financial flameouts of previous big lottery winners show that becoming very rich very fast can be a dangerous combination.
"Seventy percent of people who land a big windfall, lose it within several years," Brian Benham, president at Benham Advisory Group, a retirement planning firm in Indianapolis, told NBC News. "Many are not prepared for such a massive change in lifestyle and they don't set a budget, (but) even millionaires need a budget."
Related: Winners! At Least Three Winners in $1.5B Jackpot
Here are eight past lottery winners who squandered their windfalls and wound up in dire financial quagmires – or worse:
1. Evelyn Basehore née Adams
Evelyn Basehore didn't just beat the odds, she crushed them by winning the New Jersey Lottery twice in the '80s — raking in a total of $5.4 million. Her luck didn't hold up so well at Atlantic City, though, where she gambled away her fortunes. Basehore, who is now in her 60s, told the New York Post in 2012 that she was broke, working two jobs and living in a trailer park. While Basehore had said in other interviews that "winning the lottery isn't all it's cracked up to be," she told the Post that she still plays the lottery. NBC News was unable to contact her to find out if she's playing the Powerball. Could the third time be the charm?
2. Vivian "Viv" Nicholson
One of the most famous cases of a person blowing all their winnings is Vivian "Viv" Nicholson, a British Cake-factory worker who in 1961 won 152,319 pounds in the Littlewoods Football Pool (factoring in inflation, that would be worth more than $5 million U.S. today). As soon as the 25-year-old was handed her prize, she uttered what would become her eccentric catchphrase, and decades later the name of a London musical based on her story: "Spend, spend, spend!" And spend she did, until she had virtually nothing left and was unable to pay a big tax bill.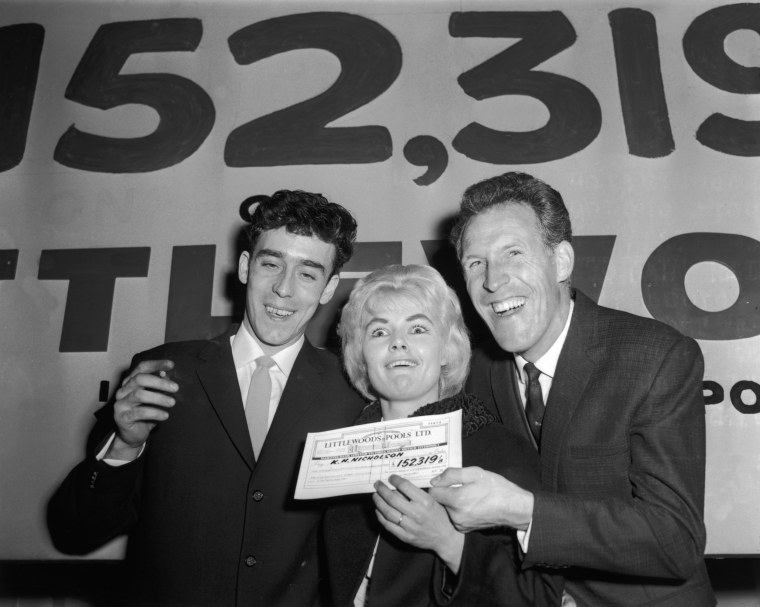 Nicholson battled alcohol and depression after the death of her husband in a car accident at the age of 27 and her financial plummet. In a first-person account published by The Guardian in 2003, she wrote that later briefly worked as a stripper — performing to "Hey, Big Spender," before landing a job in a perfume shop. She died last April at the age of 79.
3. Janite Lee
Political donors, heed the tale of Janite Lee. The St. Louis wigmaker and South Korean immigrant won an $18 million lotto jackpot in 1993. Lee wanted to do good with her money and spent much of it on philanthropy, as well as on contributions for the political campaigns of Bill Clinton and Al Gore. But Lee was perhaps too generous. Eight years later, in 2001, she was buried in debt and filed for Chapter 7 bankruptcy. Her filing listed $700 in assets and $2.5 million in debt, according to Time.com.
4. Billy Bob Harrell, Jr.
In 1997, Billy Bob Harrell, Jr. won the Texas Lottery Lotto jackpot of $31 million. He quit his job at Home Depot, bought a ranch and several other homes for himself and family members, and made huge donations to his church. But the self-described soft touch ran through his winnings almost as fast as they arrived, the Houston Press reported in a 2000 profile. The previous year -- just 20 months after winning the lotto -- Harrell was broke and took his life, putting a shotgun to his chest and pulling the trigger. Shortly before his death, Harrell told a financial adviser: "Winning the lottery is the worst thing that ever happened to me," the Press said.
5. Denise Rossi
Married but not interested in sharing any winnings with your spouse? Take it from Denise Rossi that keeping the win a secret from your partner could cost you in the end. In 1996, Rossi won $1.3 million in the California lottery. But she didn't tell her husband about her big win and divorced him within days, the Los Angeles Times later reported. Eventually, the ex-hubby found out and sued Rossi for not disclosing the winnings. A judge determined that she acted out of fraud or malice and awarded her former spouse every penny of her windfall.
6. Suzanne Mullins
In 1993, Suzanne Mullins won $4.2 million in the Virginia lottery. After taxes, Mullins received 20 annual payments of $47,778.84. But that money wasn't enough to keep Mullins in the pink. The Associated Press reported in 2004 that she paid more than $1 million in medical bills for an uninsured son-in-law, then took out a loan against future payments from the People's Lottery Foundation, a company created specifically to give lottery winners money up front to be repaid when annual payments arrive. But when the lottery rules changed in 2000, enabling winners to collect their money in a lump sum, Mullins opted to take the remainder of her prize and stopped paying her loans, the AP said. She ended up broke and in court. "It's been a hard road," her lawyer, Michael Hart, said at the time."It's not been jet plane trips to the Bahamas."
7. Alex and Rhoda Toth
In 1990, the Florida couple won $13 million from a Florida Lotto jackpot, payable over 20 years in annual payments of $666,666.66. The Toths, who had been destitute before their win, lived lavishly for a while, but crashed hard. In 2006, the Tampa Bay Times reported, they were charged with filing fraudulent income tax returns. Alex suffered a heart attack and died before facing trial, while Rhoda went on to plead guilty to filing a false tax return and serve two years in prison. She also was ordered to pay the IRS $1.1 million in restitution.
8. Ibi Roncailoli
In 1991, Ibi Roncailoli of Ontario, Canada, won $5 million in a Lotto/649 drawing. But the Toronto Star reported that the Hungarian-born former beauty shop owner lived a secret life after her big win, giving $2 million to a son she'd had with another man — one her husband, gynecologist Joseph Roncailoli, didn't know about. In 2008, Joseph was found guilty of manslaughter in the poisoning death of his wife.