If figuring out what to make for dinner each night stresses you out more than going to work in the morning, meal delivery kits can seem like a total godsend. For a fee, subscribers receive a single recipe and all the ingredients needed to prepare it in an insulated box, rendering mealtime a no-brainer for those who'd rather order food than cook it.
These kits are a great way out of meal ruts. "I made a few items I wouldn't have thought of making," says Kerrie Lynch, from Brooklyn, NY. "It's great for when you don't want to think or shop, or when you get back from vacation."
For some, these kits can be cost prohibitive. Julie Taylor of Glendale, CA recently put her meal kit subscription on hold because, at $72 per week for 3 meals for 2 (plus $6 shipping), she felt the indulgence was getting rather expensive. However, if the price were more palatable, Taylor says she would start ordering them again. "If money were no object, I would still totally do it for convenience sake," she said.
After all, this business is built on convenience and for many, convenience trumps cost. "It's definitely affected how I shop — I buy less and waste less," says Amy Oztan of Brooklyn, NY. "I don't know if it's actually saved me money. I'm not a person who budgets. For me, the savings are in time and aggravation."
Gianna Roma, clinical registered dietitian at Beth Israel Deaconess Medical Center, says these types of meal kits can also help people to follow a healthier, well-balanced diet. "Services like these reduce time required for food shopping, meal preparation and provide step-by-step directions that are easy to follow and can help with portion control. They may also expand culinary horizons and get people to experiment with foods they may not have had the confidence to previously," she says.
We polled some readers and did a little research to share what to expect from some of the most popular delivery service contenders.
BETTER editors, writers and experts take care to recommend items we really like and hope you'll enjoy! Just so you know, BETTER does have affiliate relationships. So, while every product is independently selected, if you buy something through our links, we may get a small share of the revenue.
$7.87 to $8.99 per serving, plus shipping
Available in 10 markets and rapidly expanding
Choose from the Veggie Plan ($8.99/serving) for 2 or 4 people 3x per week, the Classic for 2-4 people 2,3 & 4 days per week ($8.99/serving), and the Family Plan ($7.87/serving) for 4 people, 2 or 3 days per week, prices before discounts
$5.99 shipping fee (before special offers)
Choose from up to 15 recipes per week
Seafood is sustainable, meat and veggies come from family-owned farms
Select the recipes you want
Skip weeks you won't use
HelloFresh promises "dinner in 30 minutes or less" with "low or no prep ingredients." Of all the feedback we received, HelloFresh was overwhelmingly positive, with Plated coming in at a close second. Why? An abundance of "easy to follow," "family-friendly" recipes that were easy to execute well and flexibility. On the menu: Korean Beef Bibimbap with Zucchini, Mushrooms and Carrots, and Hot Honey Chicken with Barbecue-Roasted Potatoes and Buttery Broccoli.
$47.80 to 79.60 per week, shipping is free over $60
Available in 95 percent of the U.S.
Select the recipes you want
Can be tailored to some dietary restrictions
Order up to 4 servings per night and up to 4 nights per week
Prices range from $47.80 - $79.60 per week before special offers
Shipping free for plans over $60
Skip weeks you need to without charge
Uses antibiotic free meats and seasonal hand-packed produce
One fan we polled says he never had a boring or bad meal from this service and though he's not a chef "by any means," the recipes are described as delicious and fail-safe. Among their offerings: Chinese Pork Lettuce Wraps and Greek Chicken Panzanella.
$51.94 to $71.92 per week, shipping is free
Food is antibiotic, sustainable and GMO free
Order for 2 or 4 people, 2-4 times a week
Prices range from $51.94 - $71.92 before discount offers, shipping is free for meals
Skip meals you won't eat without charge
Wine & gift cards also available
According to our feedback, Blue Apron's meals were tasty, but the recipes were a bit more complex, making them perfect for the more adventurous cook. Among the recipes offered: Corn and Goat Cheese Quiche with Butter Lettuce and Ranch Dressing, and Dukkah-Crusted Pork Roast with Roasted Cauliflower and Tahini Dressing.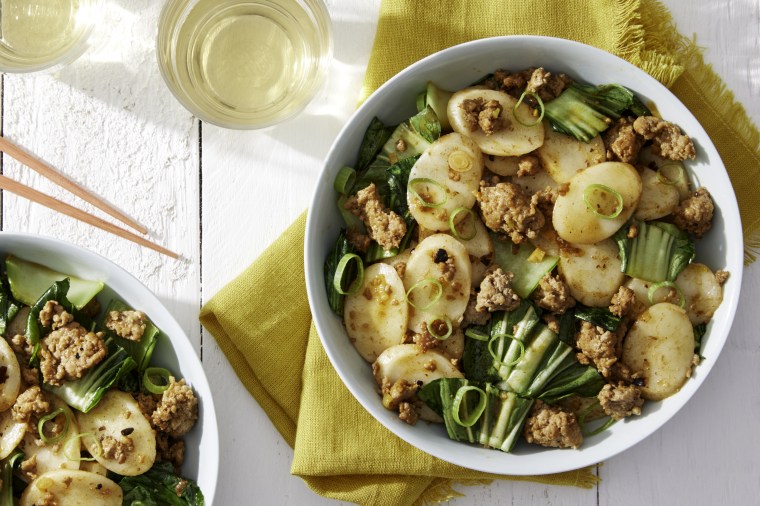 $71.94 to $143.88 per week, plus shipping
Available throughout the U.S.
Prices range from $71.94 - $143.88 per week for 2-4 meals, 3x per week before special offers (didn't see one), plus $6.99 shipping (shipping free for first box)
Add sides, soups and desserts for an extra fee
Vegetarian options available
Select the recipes you want
Can change or modify delivery dates
Gift cards available
"Make dinner in 15 minutes" with one pan is Gobble's credo. Taylor praised the easy-to-make, "gourmet" and "trendier" recipe offerings from this meal service purveyor, but considered the service costly. Among the recipes offered: Thai Basil Chicken with Jasmine Rice and Parmesan Crusted Chicken with Lemon Basil Orzo Salad.
What to Look For
So, if you decide to take the plunge, which should you choose? Most of the people we asked had tried a few before settling on the one they liked best. Fortunately, many of these companies offer free trial weeks or discounts to get you started. Health-wise, Roma advises choosing a meal-kit delivery service with dietitians in charge of the menu, or picking meals plentiful in vegetables, seafood or poultry, versus one heavy in cheeses or meats. Besides, as Roma says, after a long day "a balanced meal that is easy to prepare at home" beats "a fried greasy option at a fast food restaurant" any day.
MORE HEALTHY EATING ADVICE
Want more tips like these? NBC News BETTER is obsessed with finding easier, healthier and smarter ways to live. Sign up for our newsletter and follow us on Facebook, Twitter and Instagram.