It's hard to remember a world before chia seeds and almond milk. But before earning a permanent spot in our homes, these products were newbies — food trends to keep an eye on. I've been covering food trends for at least a decade and just as these hall-of-famers have stood the test of time, other trends fall off the map. (RIP, Crystal Pepsi and Snackwells.) Here's a look at some more recent trends that make nutritious sense. They also happen to be delicious, which is why I predict they will have a place on people's plates for years to come.
Cauliflower Everything
This is more than a moment. We have entered the cauliflower era! I traded in traditional mashed potatoes for mashed cauliflower quite some time ago, but these days, I'm really digging riced cauliflower, cauliflower pizza, and other cauliflower hacks. What makes cauliflower so versatile is its mild flavor; it takes on the taste of the seasonings it's prepared with. Plus, depending on how it's prepared, cauliflower can take on many different textures — from a chewy grain to a crispy crust to a smooth and creamy ingredient or side dish.
If anyone tells you not to eat white foods, consider cauliflower a big exception! With fiber, vitamins, minerals, and cancer-fighting compounds, this is one versatile veggie I can't get enough of.
If you're new to the cauliflower craze, riced cauliflower is a good place to start. I like the frozen varieties, such as Bird's Eye Veggie Made Riced Cauliflower or Trader Joe's Organic Riced Cauliflower. If you're not ready to trade your grain for this veggie, you could always go 50/50 for starters.
Bean-based pasta
This pasta was a game-changer in my house. Legumes, like chickpeas, lentils, and peas, are naturally high in fiber and plant-based protein — an ideal hunger-busting combo. I also like that these pastas are gluten free. And while typical gluten-free brown rice pasta can get gummy, the texture of bean-based varieties is a closer match to regular pasta made from semolina and durum wheat flours.
I serve these pastas just as I would ordinary varieties — with pesto sauce; as a pasta salad with broccoli, shelled edamame or peas, and tuna; tossed in a marinara; or simply with a little olive oil, ground black pepper, and Parmesan cheese. I love convenience foods that also provide a nutritious boost and these pastas stand out on both fronts. Be on the lookout for brands, like Banza and Tolerant, both available nationwide at mainstream and natural food stores.
Flavored sparkling water
As I sit here sipping on La Croix, I have to say, I'm glad my favorite drink isn't going anywhere anytime soon. Drinking a naturally flavored bubbly water in lieu of a sugar-sweetened soda is a good way to cut calories and sugar, and I'd highly recommend giving this a try. I'd also suggest swapping your diet soda for one of these beverages — be it La Croix, Polar Seltzer, Bubly, or another brand on the scene. With two ingredients (carbonated water and natural flavors), these are undeniably better choices. And with flavors ranging from passion fruit and coconut to mango and cherry and more, I bet you'll find a few you enjoy.
Lower calorie, higher protein ice creams
I'm always looking for products that satisfy a sweet tooth in a healthier way and this new wave of ice creams does the trick. Though the protein is a nice touch, I'm even happier about the lower sugar count (typically 6 grams) due to the addition of erythritol, a natural low-calorie stand in for sugar. I admit, these ice creams aren't as decadent as regular, higher-fat varieties (there had to be a catch!), but they're great for people whose routine includes a little something sweet since they only contain around 70 calories per serving compared to upwards of 200 calories per scoop of most varieties of Haagen Dazs, Talenti, and Ben & Jerry's.
My only gripe: Though these products often tout the calorie or protein counts for the whole pint, I generally recommend a more moderate approach. Learning how to eat well means getting a handle on appropriate portion sizes so if you're prone to overdoing it, developing tools to manage overeating is a better long-term plan.
Some brands to keep an eye out for: Halo Top and Enlightened.
Plant-based milks
Due to their rising popularity and the rapid expansion of varieties, I devoted an entire article to plant-based milk. But truthfully, there are so many, I couldn't even cover them all! And I wouldn't be surprised to see new entrants to the category. Surely you know of almond milk and coconut milk, but there's also cashew milk, flax milk, hemp milk, pea milk, and oat milk, to name a few. And there are also blends.
I love this trend because just as I stock a variety of whole grains in my pantry, I keep a variety of milks around for different needs. If I'm looking to pack in some protein, I'll pick milk made from peas, which I also prefer in coffee and oats because of its creamy and smooth consistency. But for times when protein isn't on my mind — say, if I'm making a smoothie with protein-rich Greek yogurt — I'll go for almond milk to keep the calories down.
If you're shopping for a dairy alternative, you'll want to read labels and be on the lookout for added sugars, which may show up in original varieties as well as flavored ones.
Pea Protein Products
This relative newcomer is showing up in products all over the grocery store. Pea protein comes from split yellow peas, which are part of the legume family, like chickpeas and lentils. While people have sensitivities and allergies to other plant proteins, including soy, seitan (made from gluten), and nuts, peas don't trigger these reactions. Pea protein is also more environmentally-friendly than soy and dairy protein. And research links pea protein to some pretty appealing benefits: It has been shown to improve satiety and is as effective as whey protein at promoting muscle gains after resistance training.
Some easy ways to try this trend: Pea-based milks, like Bolthouse Farms Plant Protein Milk; in Beyond Meat's Beyond Burgers and Beyond Sausages; and in Rise Bar's Plant-Based Protein Bars.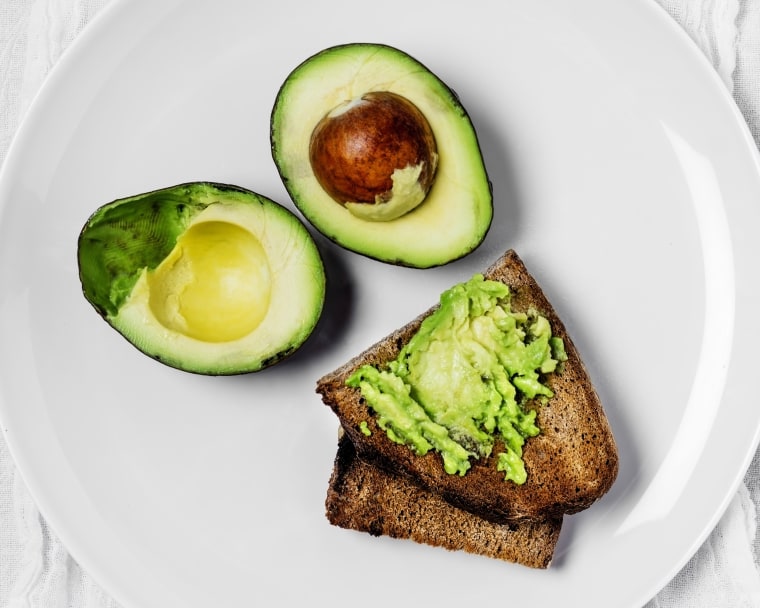 Avocado Insanity
Granted, avocados aren't exactly a new trend, but our love of avocados isn't fading, either. And what's not to love? Avocados have heart-healthy monounsaturated fat and studies suggest that they promote weight loss and stave off troubling belly fat. Because of their combination of healthy fats and fiber, avocados are naturally filling and satisfying. Plus, they pack vitamins, minerals, and other notable health-protective substances.
If you haven't gotten on the avocado bandwagon just yet, I'd encourage you to hop on board! If avocado toast doesn't wow you, consider adding avocado to smoothies for a dairy-free creamy consistency, use it as a spread in lieu of mayo, create a dip, or add it to baked goods. Avocados blend well with sweet and savory flavors so the possibilities are limitless. Once you try avocado chocolate pudding, you'll be a believer.
WHAT A NUTRITIONIST WANTS YOU TO KNOW
Want more tips like these? NBC News BETTER is obsessed with finding easier, healthier and smarter ways to live. Sign up for our newsletter and follow us on Facebook, Twitter and Instagram.