Actress Ashley Judd was one of the first women to publicly accuse Harvey Weinstein of sexual harassment last year. But Judd is no stranger to speaking out. She has always been vocal about issues facing women — from equal pay to body shaming and objectification — often experiencing the loneliness that comes with what she calls "striving to have a big, courageous voice." We sat down with Judd after her keynote address at the ANA Inspiring Women in Sports conference in Palm Springs where she addressed female athletes on the importance of making workplaces more inclusive, and how we can all use our voices to fight for real and lasting change.
Here's what Judd has to say about the importance of telling women's stories and how she stands up for gender equality — both at home and around the world.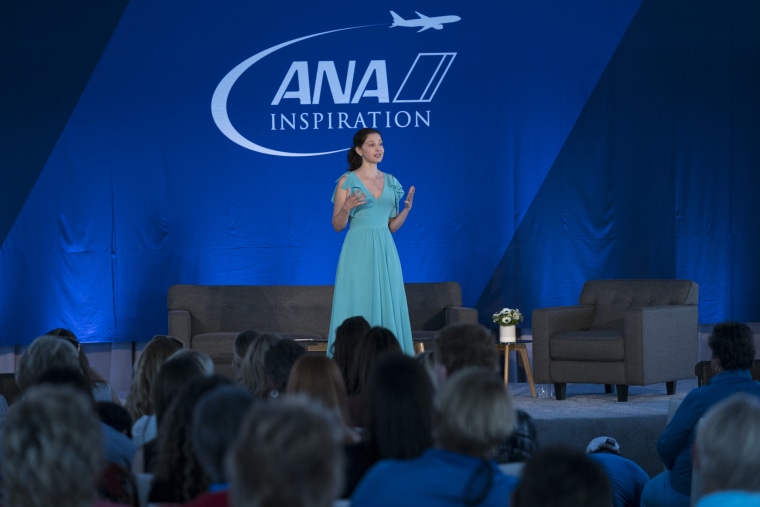 On what it takes to tell your story
Judd: Our stories are data with soul and we need to persevere in telling our stories. And that also requires internal reflection to understand our narrative and the impact it has on us. I know in one of the instances of sexual assault that I experienced as a young person, I was an adult in recovery before I was able to re-frame it and understand it as coercive, abusive and a misuse of another person's power over me. And so having a mentor, a healing professional relationship, a favored friend ... it's important to dialogue about your experiences to get a healthy perspective and vantage point.
We're still not entirely in a world that's friendly toward our healing journey and the loneliness can be quite real.
On the loneliness that comes with calling out injustice
Judd: I encourage women to tell their stories, to persevere, to be to resilient, but we're still not entirely in a world that's friendly toward our healing journey and the loneliness can be quite real. So, for me, the solution has been having a spiritual director and having mentors who really believe in me. And faith: a God of my own understanding, meditation and learning how to set (and maintain) healthy boundaries has been really been crucial. Also, just flat out having fun — laughter is so healing and being able to goof off ... to lighten up. I love going camping in the Great Smoky Mountains National Park, I play charades, I host a lot of picnics with my friends and family. That stuff isn't to be written off — that's how you heal the loneliness that comes with striving to have a big and courageous public voice.
On fighting for equal pay and inclusion
Judd: I have an inclusion rider in my contract for "Berlin Station" [television show] and I fought for 50/50 male to female participation amongst the directors in the second season. And going into season 3, our writers' room is actually more female than it is male, and again, we'll be striving for 50/50 participation with the directors. We have to have market-based solutions, as well as policies that allow women to work. For example, when we were filming in Berlin, it was hard for women who have families and can't leave California to go direct something in Europe. We can use tax incentives to film in California so they can stay home with their families while continuing to work in film and television. The transparency we're seeing around Hollywood salaries is important because transparency breeds accountability and it ends impunity. So whether it's Michelle Williams — when we found out we were so outraged on her behalf and we're very thankful for the way it was resolved — and now, the revelation around "The Crown" and the fact that the leading woman is making less than a male supporting actor. That kind of transparency leads to accountability and adjustments to the marketplace.
Transparency breeds accountability and it ends impunity.
On what she's worried about now
Judd: I'm very concerned about the Rohingya refugee crisis because I was just in Bangladesh. I'm very thankful that there are ways Americans can make a difference. For example, contributing to a safe birth delivery kit. There are tens of thousands of Rohingya women in refugee camps who are of reproductive age and the kit only costs $5. It allows the woman to have a sterile pad on which to have her baby and a way in which to cut the umbilical cord, gloves and a bar of soap. That's something that's on my mind and I'm so grateful that there's something tangible we all can do.
One of my dearest and closest relatives is a Trump supporter and we're able to have pie and coffee and dialogue and talk and love each other with dignity and respect.
On living outside the bubble
Judd: Living in Tennessee, my friends are "normal", everyday folks. My best friends are stay-at-home moms, one of my friends is a third-grade teacher. On one hand, I know a guy who's the CEO of a global company in San Francisco and then back at home, I know a guy who works in a cubicle for that same company. I just recently took that quiz that's going around the internet about the size of your bubble — and I'm not tooting my own horn, but because the choices I've made about where I live, my bubble was actually very thin. I live in a politically very diverse area. One of my dearest and closest relatives is a Trump supporter and we're able to have pie and coffee and dialogue and talk and love each other with dignity and respect. And that's something I hope to bring to the whole of my engagement with the world at large. It's about principles above personality and understanding that we're all humans just trying to get our needs met. We all want the world to be a better, safer and more just place.
NEXT: How Mika Brzezinski found her value and got paid what she's worth
Want more tips like these? NBC News BETTER is obsessed with finding easier, healthier and smarter ways to live. Sign up for our newsletter and follow us on Facebook, Twitter and Instagram.