Chicken soup has long been used to help ward off colds, and it turns out there's some scientific evidence to back up this common sense cure. "The best-known research, from Nebraska pulmonologist Stephen Rennard, M.D., found that chicken-vegetable soup inhibited the movement of white blood cells that trigger cold symptoms such as a stuffy nose," according to a Consumer Reports article about home remedies for colds. Additionally, the steam from chicken soup helps combat congestion, while salt can soothe a sore throat and the broth helps hydrate, Dr. Natalie Azar explained on TODAY.
But most soups share those same hot, steamy and slightly salty properties with chicken noodle, so when it comes to fighting flus, colds and general seasonal malaise, why not mix things up by adding a few more varieties to your recipe repertoire?
Here, chefs and cooking experts Dorie Greenspan, Andrew Zimmern and Giada De Laurentiis share a few of their favorite versions of the ultimate "food hug," as Zimmern puts it.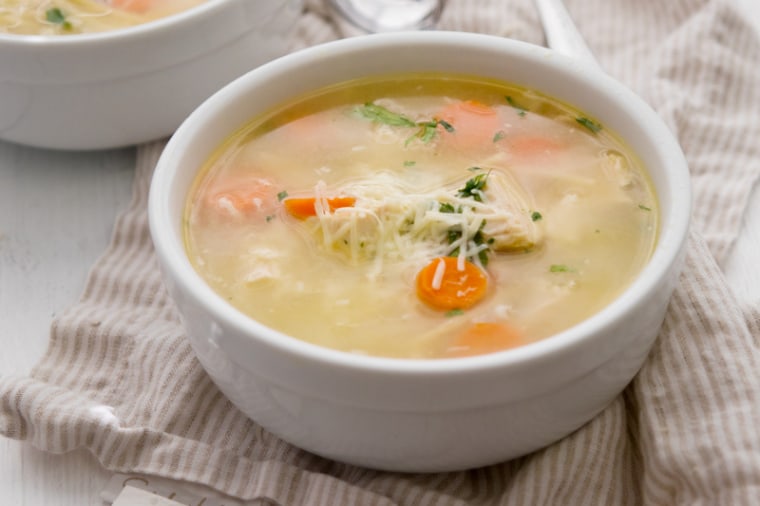 What's better than homemade chicken soup? Homemade chicken soup that comes together in less than an hour, like this lemony version from TV personality, cookbook author and restaurateur Giada De Laurentiis. "It's just like mom's chicken soup, only my recipe uses spaghetti for an extra comforting twist," says De Laurentiis. "I use store-bought rotisserie chicken too — making it a breeze to whip up in a hurry." The additions of Romano cheese, fresh parsley and fresh lemon juice elevate this soup well above anything you'd find in a can — plus, you get a little dose of vitamin C from the lemons!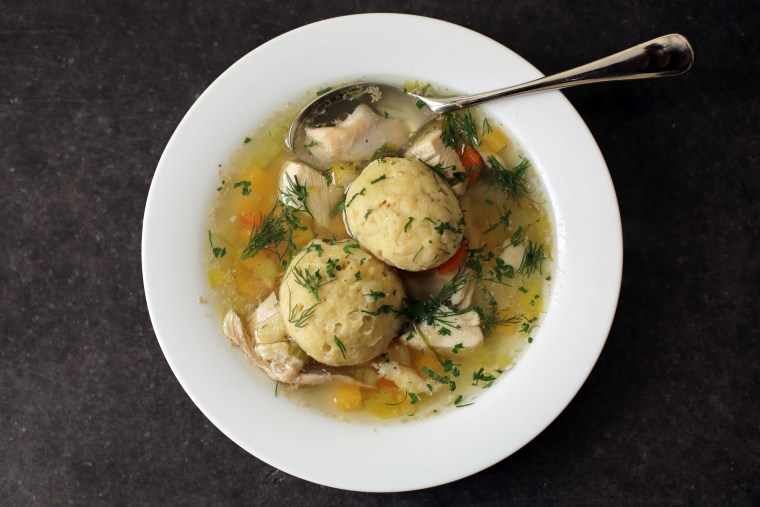 "Soups are my ultimate comfort food evoking the emotional tug of my childhood, and of course the smell of my grandmother's apron," says Zimmern, four-time James Beard Award-winning TV personality, chef, writer, teacher, executive producer and host of Travel Channel's "Bizarre Foods" and "The Zimmern List" and owner of the soon-to-open restaurant Lucky Cricket in the Minneapolis suburbs. "My ultimate go-to is my classic chicken soup, which cures every human ill imaginable, even spiritual maladies," Zimmern adds of this classic chicken and matzoh ball soup, aka Jewish penicillin.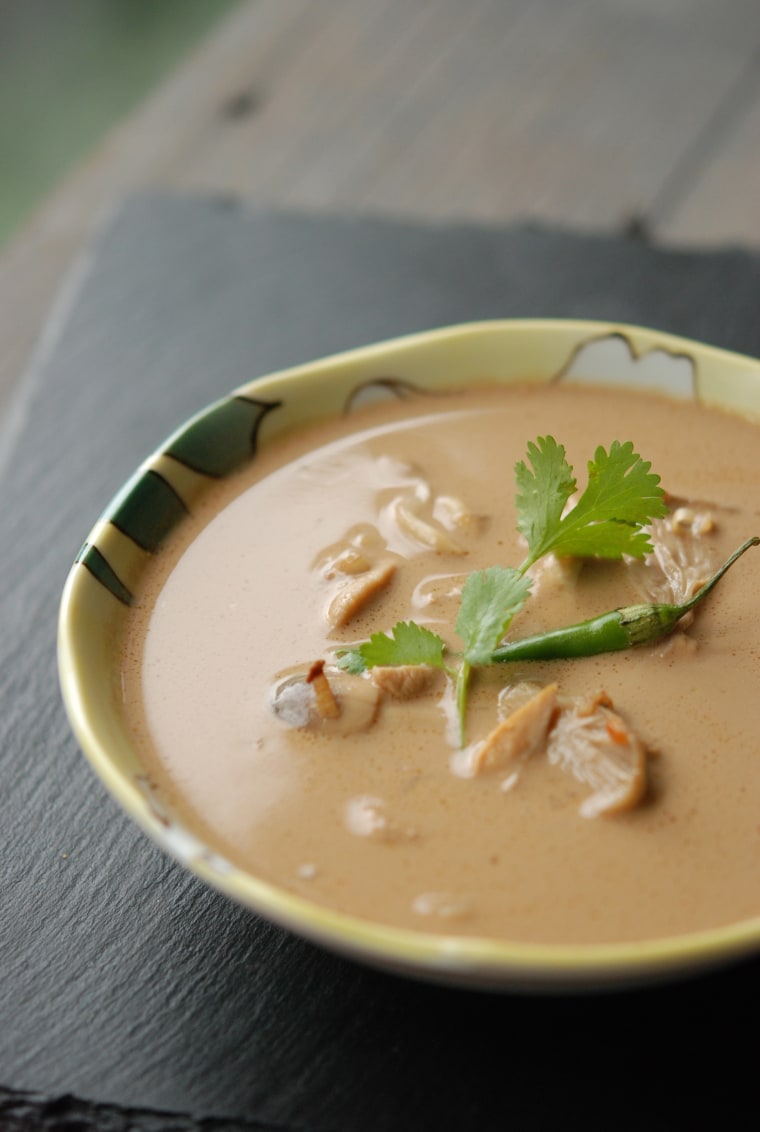 Amp up your chicken soup experience with Andrew Zimmern's take on a Thai classic. "Thai hot and sour coconut chicken soup is a beloved favorite around the world, and everyone thinks it's hard to make, but it's super easy," says Zimmern. "The coconut milk and the exotic aroma make it truly soul satisfying." Plus, adds Zimmern, "From a wellness standpoint, the broth and chilies in this soup can't be beat to kill the winter blahs or keep nasty colds at bay."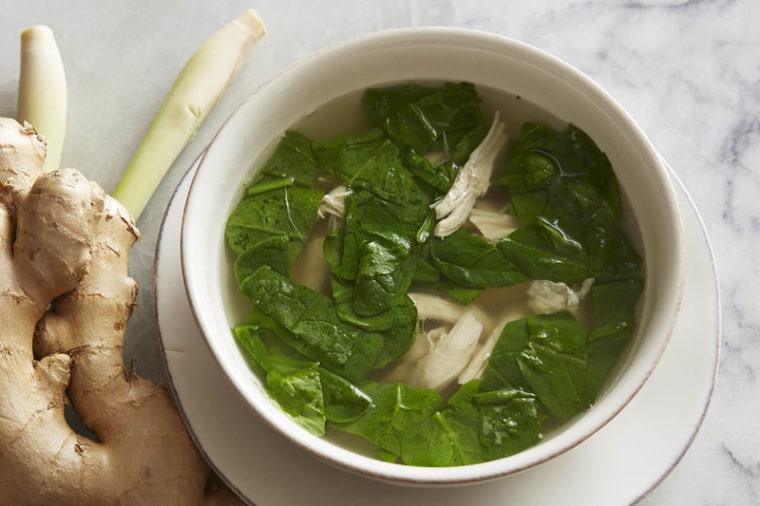 "This broth is a fantastic tune-up for your body," De Laurentiis says of her tangy chicken soup with lemongrass, ginger and a Thai chile for kick. "It's packed with anti-inflammatory veggies and spices such as garlic and ginger, to help with liver function and aid digestion."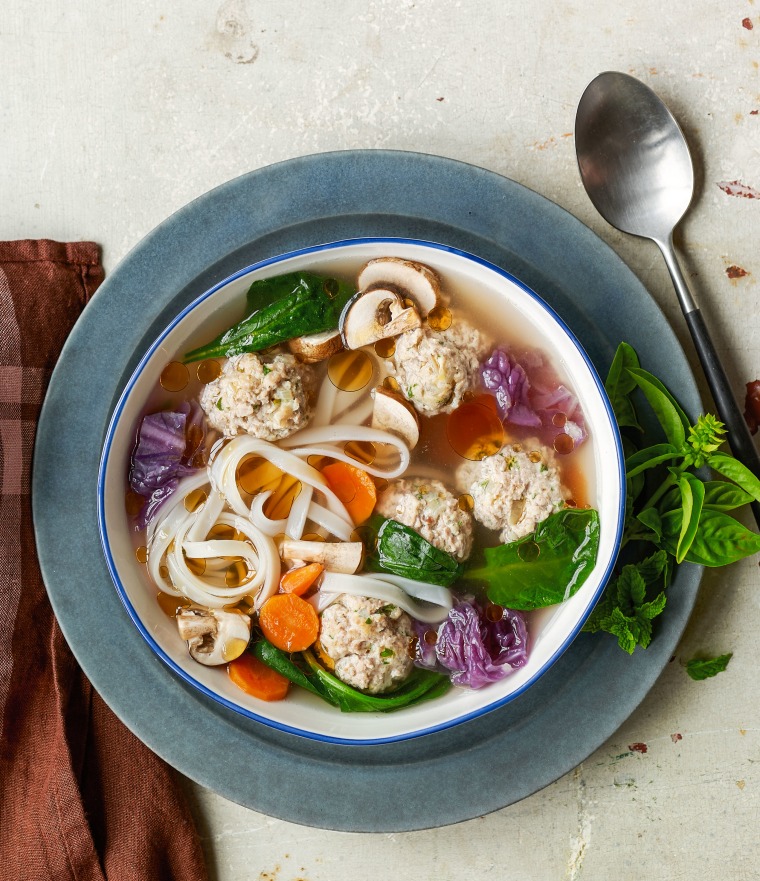 Chicken isn't the only poultry game in town when it comes to feeling better. Proof is in this soup from five-time James Beard Award-winning author Dorie Greenspan's latest cookbook, Everyday Dorie. "This is the perfect cool-weather soup," says Greenspan, whose accolades also include two Cookbook of the Year Awards from the International Association of Culinary Professionals. "The broth is soothing and satisfying — it's light, but it's packed with flavor and chockablock with vegetables. The noodles are nourishing and fun to slurp. And the meatballs are tasty — it would be impossible for them to be otherwise, since they've got plenty of herbs, garlic and ginger, and some yogurt for tang." Bonus points for the fact that garlic and ginger might help fight inflammation. Both the broth and the meatballs can be made ahead, and the meatballs can be frozen, then used for all sorts of dishes in addition to the soup, including pasta, bean dishes and sandwiches (try them on a roll with sriracha and mayo, as Greenspan suggests). "Think of this recipe as soup with additional possibilities," says Greenspan.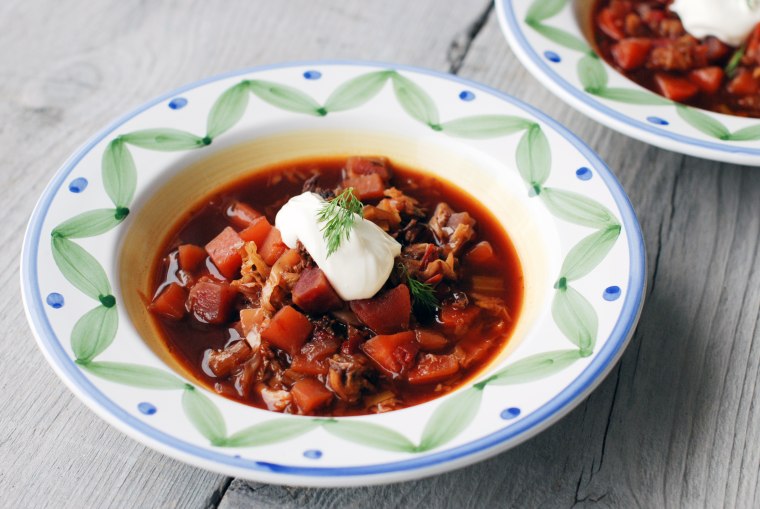 When you're ready to move beyond poultry, try Andrew Zimmern's recipe for beef, beet and cabbage borscht, an Eastern European and Russian staple. Zimmern loves the "great interplay of vegetal sweetness and mild sour flavors" in this hearty soup, which he also notes can feed a crowd. "It's also a great way to eat a ton of superb winter vegetables," he adds.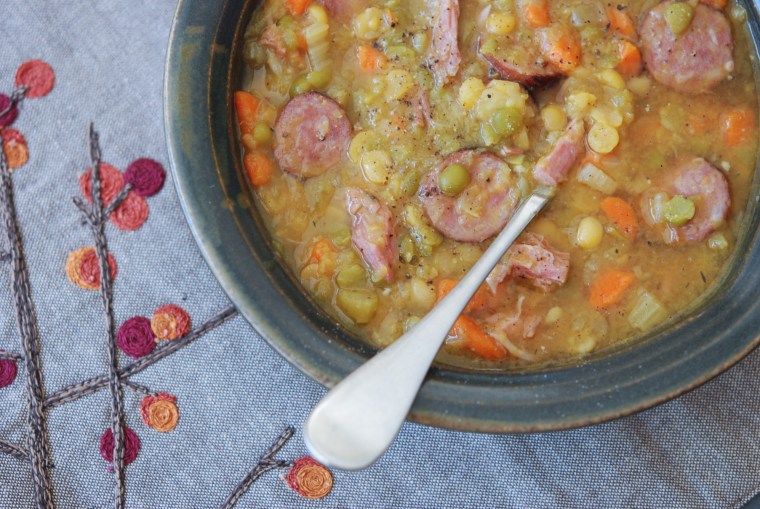 Get all the health benefits of beans and other legumes — including possibly improving immune function — with Andrew Zimmern's hearty split pea soup with sausage. "This was my grandmother's recipe that I tweaked a bit and it is one of the most popular recipes I've ever developed," says Zimmern. "Oftentimes I skip the sausage and just use the ham hock, but using both creates an irresistible layering of meaty flavors. The peas are so good for you, and the soup itself is a stick to the ribs meal in a bowl that simply can't be beat."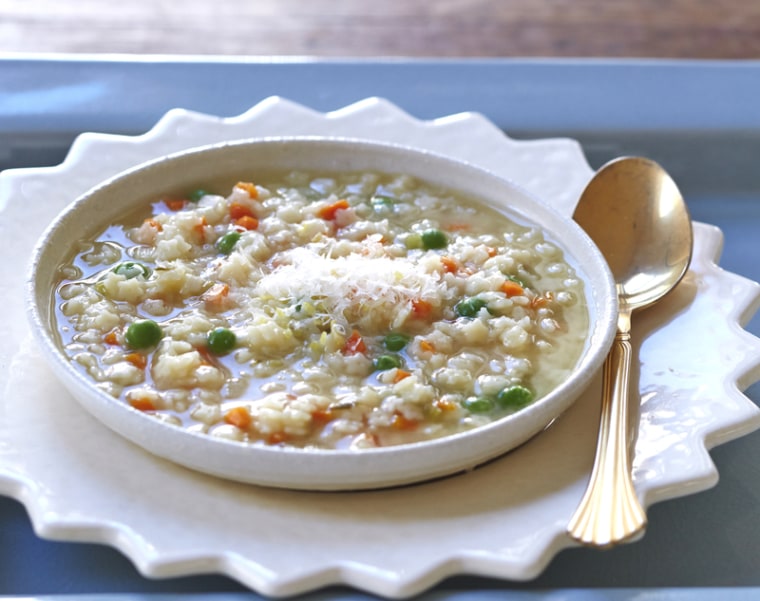 "Made with a tiny variety of pasta called stelline, a bowl of these tiny stars was just the thing we were given as kids when we stayed home from school sick," says De Laurentiis, who also notes that her daughter likes the little star-shaped pasta, but that you could experiment with other shapes. "It was warm, soothing and nourishing. Truly a bowl of Italian comfort." Also comforting: The soup takes a mere 30 minutes to prep, start to finish, so you can be eating dinner and feeling better quickly!
>>For more great soup ideas, learn how to hack your homemade ramen.
MORE RECIPE IDEAS
Want more tips like these? NBC News BETTER is obsessed with finding easier, healthier and smarter ways to live. Sign up for our newsletter and follow us on Facebook, Twitter and Instagram.