Kermit the Frog had it wrong — at least where actress and singer Jessica Vosk is concerned. The Wall Streeter-turned-Broadway star finds it very easy (and comfortable) to be green in Broadway's hit musical "Wicked."
Since its opening on Broadway in 2003, "Wicked" has been performed in over 100 cities around the world and is the sixth longest-running musical of all time — and 35-year-old Vosk has seen quite of a few of those cities and stages. After a year playing Elphaba, aka the Wicked Witch of the West, on the national tour, she made her Broadway debut in the iconic role in July of this year. To celebrate the hit musical's 15th anniversary, Vosk sat down with Lester Holt to reflect on her personal yellow brick road and a career in musical theater that almost didn't happen.
A musical beginning
Vosk grew up singing in a musical family — with the dream of a career in the arts in the back of her head. During her childhood, she performed constantly — landing roles in local productions of "West Side Story" and "Guys and Dolls" in New Jersey where she grew up. But after a semester studying musical theater at the Hartt School at the University of Hartford, she felt restless and transferred to Montclair State University, declaring an entirely different major: communications and investor relations. From there things started happening fast.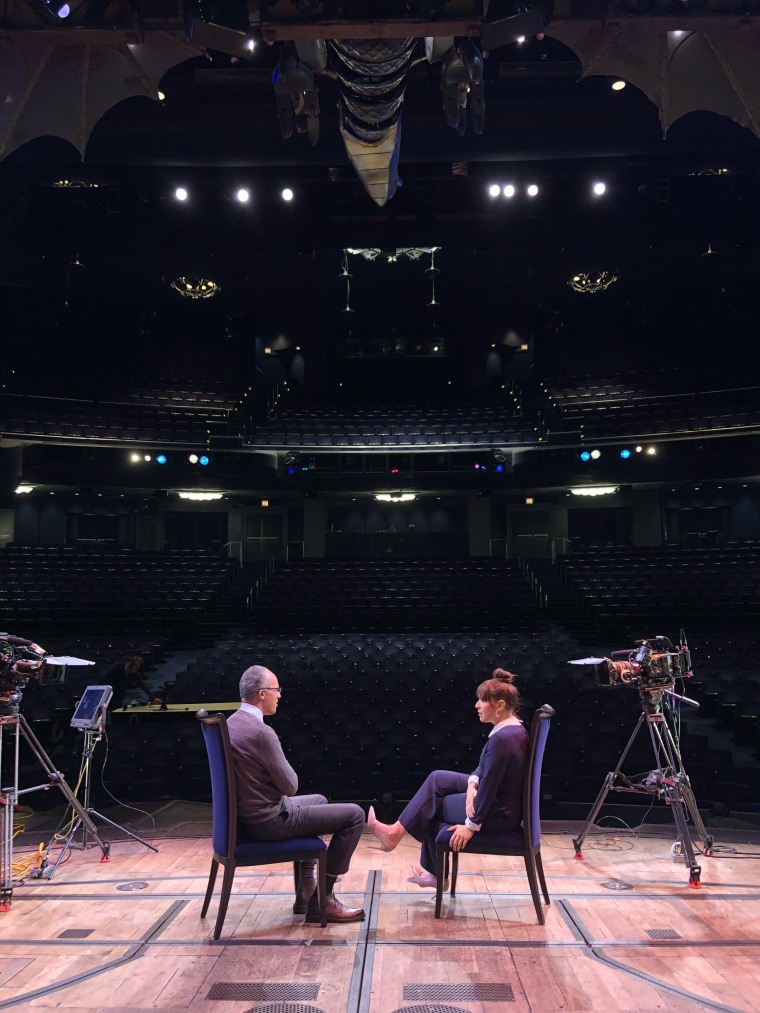 Next step: Wall Street
As she approached graduation, Vosk says she remembers "my parents saying, you know, tick tock, you're about to graduate so get a job." After applying for many "big girl jobs" she landed an entry level position at an investor relations firm before she even graduated from college. The actor told Holt that the job paid well — including bonuses — and that within three years she had been promoted twice. "I could have made it a very, very large career if I wanted to," said Vosk.
But as the would-be Broadway star tallied up the pros of the job — she was good at what she did and was paid well for it — there was a big con: anxiety. "I developed such an anxiety that I used to get panic attacks ... and it usually happened at work."
Her job involved working with clients all over the world. She says her body clock was off from being up talking to people in Portugal and California all in the same day. She confessed to Holt that it was "grueling and exhausting."
A realization and sign from above
Once Vosk sat down and tried to pinpoint where the anxiety was coming from, she zeroed in on one thing: art. It was missing from her life. She hadn't "seen art — been singing, acting or even going to films, ballets or operas" in those three years at the firm. "Because I think that I subconsciously wanted to do that as my passion," Vosk explained.
But then came a moment of clarity. "I was in my office one day — I had shut the door and a piece of paper fell off my desk — from my grandmother who had passed ... It said, 'I wish you a lot of luck, Grandma.'" That was the moment Vosk said "I can't do this." The actress told Holt she saw it as the universe telling her she had to make a change. It was then that she decided to quit her job and focus on musical theater full-time.
A not-so-overnight sensation
Vosk told Holt that what seemed like an overnight success to some was actually a couple of years of "going to open calls and auditions and waking up at 6:00 am." She said she did what it took to put food on the table — doing odd babysitting jobs, going to open mic nights and doing work for her old bosses on Wall Street.
Vosk says those lean years often caused to her question her career change, but when she looks back "I remind myself how strong I was at that time and how much I persevered to get where I am right now."
When Holt reminded her that she's now on the stage of one of the most successful Broadway shows of all time, the actress said "it's a dream that if you told me it was going to happen five or six years ago, I would have laughed."
After a string of successes, including roles in "Bridges of Madison County" and "Fiddler on the Roof" on Broadway — and nine years after leaving the security of her lucrative job in finance — the role of a lifetime came calling.
A risk worth taking
Despite her success, her Wall Street days aren't too far behind her. Vosk told Holt that her former role taught her valuable lessons. She says she often tells classes she teaches to remember that "you're the CEO of your own life." "You know, as Jessica the actor, I have to be in control of my life, and every facet of it. Which means I run a business for myself," the actress explained.
In two and a half hours ... you can make somebody's life completely change in an instant with the words that you say or a song that you sing.
When Holt asks her what makes being on stage worth all the risk, Vosk said this: "In two and a half hours — two hours and 45 minutes — you can make somebody's life completely change in an instant with the words that you say or a song that you sing." She said it's the kind of work that can change people's lives.
More Life Lessons from Broadway
Want more tips like these? NBC News BETTER is obsessed with finding easier, healthier and smarter ways to live. Sign up for our newsletter.