Is there anything we rely on more than chicken for a quick and healthy(ish) weeknight dinner? It's tasty, versatile and can play the leading role in oh-so-many meals. But let's face it, all chicken all the time can get a little boring. If you're in a poultry rut, we have some ideas to rev up your standard-issue chicken dinner.
Starting with the chicken dish that I judge all other chicken dishes against, we have a super juicy, incredibly flavorful grilled chicken that is, in fact, the best chicken you will ever eat. After finding this recipe on Melissa Joulwan's blog I bought the book it appears in, "Well Fed: Paleo Recipes For People Who Love To Eat". (Don't worry, you don't need to follow the Paleo diet to appreciate this!) Something magical happens when everything comes together to make this dish so much more than the sum of its parts.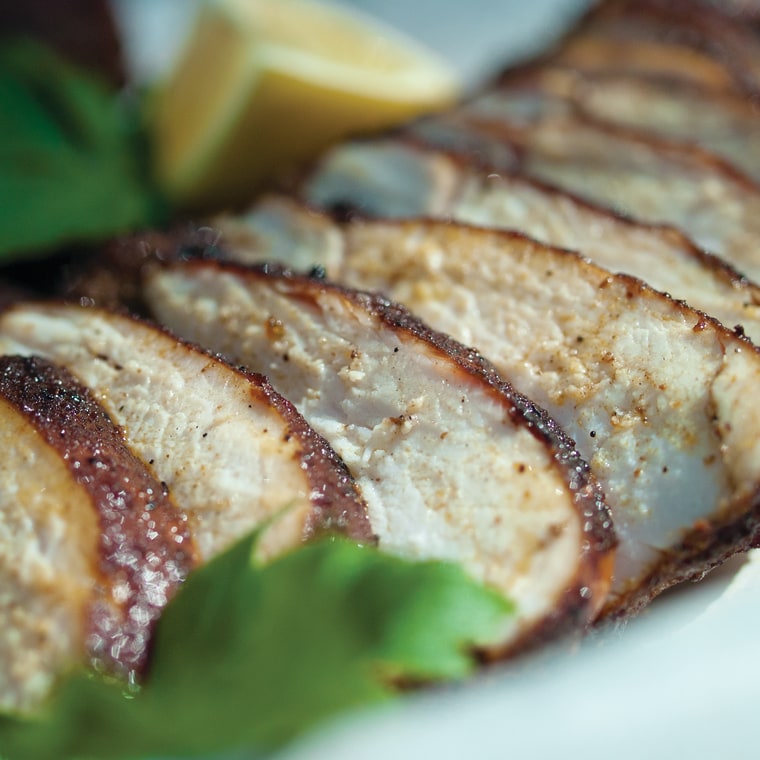 But there's a caveat. It takes a non-weeknight-friendly chunk of time if you follow the recipe to the letter, and especially if you make it with Melissa's delicious recommended side dish. But I love it so much I've found a way to simplify for weeknights, and the secret is batching.
Over a weekend I batch the dry ingredients for the first step of brining and keep them in a jar labeled with the amount needed (two tablespoons). And then I batch the dry ingredients for the dipping sauce and add a label and measurement (about one teaspoon).
The rub calls for six separate spices. I don't know about you but I don't want to drag six bottles of spices out on Tuesday night. The spice combination reminded me of ras el hanout, a spice blend I loved in the souks of Marrakech. It's readily available at grocery stores or online so I swap out the half dozen assorted spices with a scant quarter cup of ras el hanout.
Now instead of gathering 14 bottles of spices come dinnertime, I have a couple jars and one spice blend in my pantry ready to go. One time the work, four times the food!
And while the Moroccan orange salad she recommends with the dish is a stunner, it's too ambitious for a weeknight (in my house anyway), so we burn some carrots as our side (the goat cheese and honey in this recipe aren't even needed!).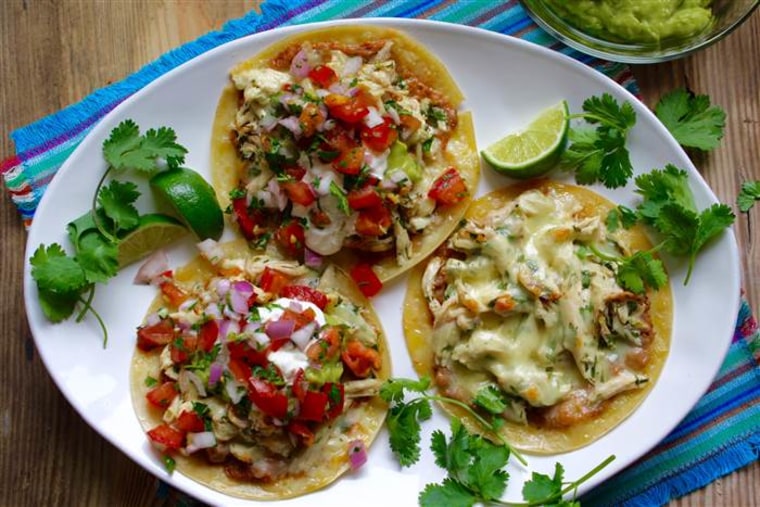 Let's say you've roasted a chicken on Sunday. Just kidding, let's say you picked up a rotisserie chicken on the way home for dinner Monday night. What do you do with the leftovers? Make tacos, obviously. You don't even have to prepare for leftovers. This chicken and cheese taco dinner would be worth dedicating a whole bird to. Loaded with the tomatoes that are just now hitting their summer stride, and creamy with a good dollop of refried beans, this is a super fast meal that just needs one thing: margaritas.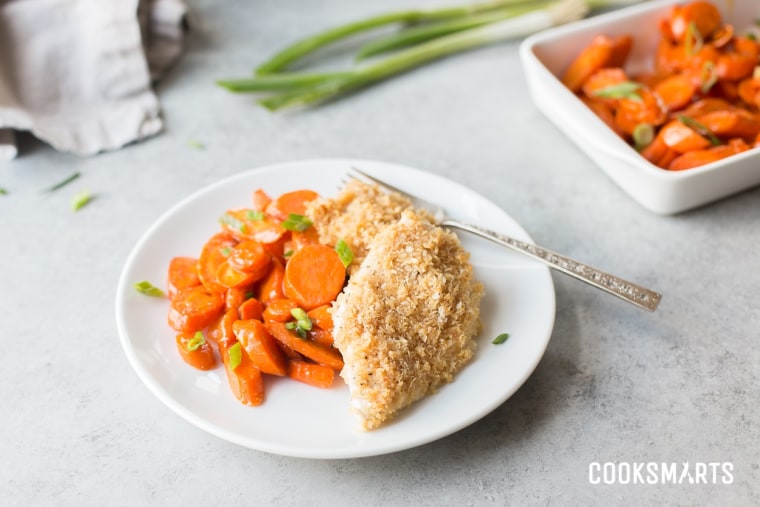 Meal planner Jess Dang specializes in healthy, fast dinners and a tantalizing grilled chicken with one of her quick and easy marinades is a winner among winners. Miso brings that umami that makes a 20-minute marinade taste like something that took a lot more time, and with only five ingredients this is a dinner even the most harried of cooks can whip up. Dang suggests making extra of the marinade to have on hand for a green salad vinaigrette or a tasty pasta sauce. And you're not limited to chicken with this recipe: it'll work on other proteins including fish and tofu as well as vegetables. This seems worth making a mega batch!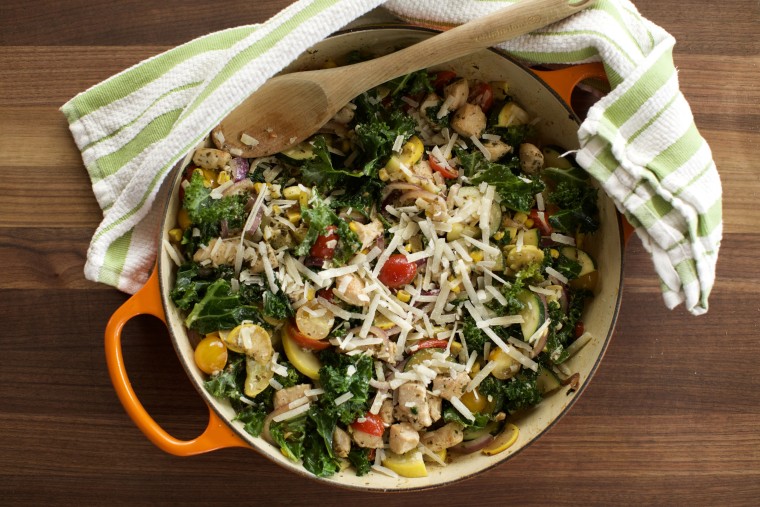 Pesto Chicken Skillet Supper from the Pioneer Woman
Ree Drumond, aka the Pioneer Woman, whose show airs on Saturdays on the Food Network, has given us a way to throw late summer into the skillet with some chicken for a colorful, no-fail dinner.
Her recipe suggests some specific veggies, but we veered a bit off course to use the vegetables we had on hand — including power greens and some hefty heirloom tomatoes gifted by a friend — and honestly, it's hard to imagine a summer vegetable that wouldn't work. Consider the corn necessary, though. It almost seems to stand in for pasta in this saucy dish, soaking up all that good pesto cream, and filling every last nook and cranny on the spoon.
I can't say it came together in the 16 minutes the recipe promises, but maybe we just like our veggies a little more on the well-done side. Regardless, it made for a dinner so straightforward we were easily able to prepare it even while our kitchen is being renovated.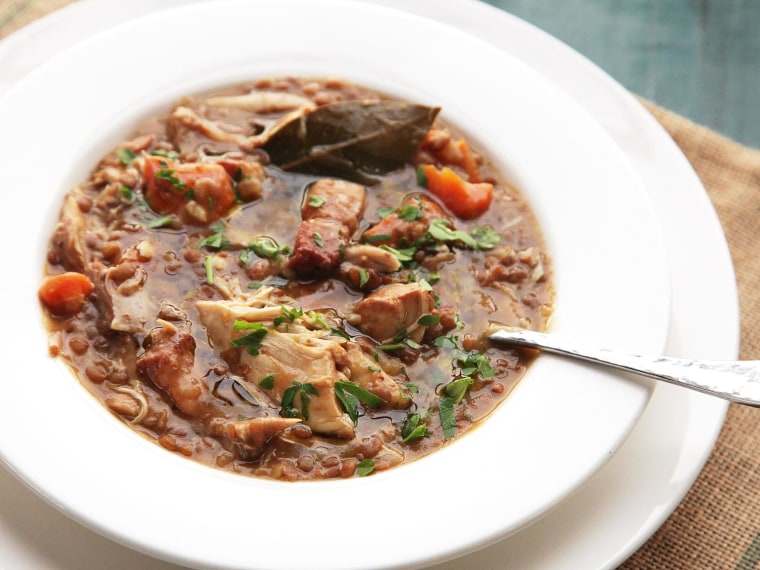 30-Minute Pressure Cooker Chicken, Lentil, and Bacon Stew With Carrots
Culinary questions in our house are answered by asking WWKD — what would Kenji do? Our dog-eared copy of J. Kenji López-Alt's Food Lab is the bible of cooking as far as my husband (the primary cook in the family) and I are concerned. When Kenji says something is so, we take it as gospel truth and have never been steered wrong. So when he says you can drop eight ingredients into a pressure cooker and have a flavor-packed stew on the table in 30 minutes, we know it to be so.
As the best recipes often are, this one keeps things simple and classic with onions, carrots, and bay leaves as the co-stars. Don't be fooled by the hearty sounding nature of this chicken stew with its lentils and bacon; finishing it with sherry vinegar, fresh parsley, and olive oil results in a fresh, bright bowl. (If you're watching your fat intake, you can make the recipe lighter by reducing the amount of bacon and choosing skinless chicken thighs.) Best of all? If you're just cooking for two you've got lunch covered for tomorrow.
MORE WEEKNIGHT RECIPES
Want more tips like these? NBC News BETTER is obsessed with finding easier, healthier and smarter ways to live. Sign up for our newsletter and follow us on Facebook, Twitter and Instagram.