'Tis the season for dyeing Easter eggs — and snacking on chocolate ones. Worried you'll wreck your healthy eating streak come Easter Sunday? Well, because your favorite pastel-packaged spring candies wouldn't exactly be classified as health food, consider this permission to live a little!
Know that term "in moderation?" That's how we should treat Easter, says Jessica Levinson, R.D.N., C.D.N., culinary nutrition expert. "If we restrict ourselves and don't have any of the candy, then we feel deprived and may end up overdoing it at some point."
Madelyn Fernstrom, Ph.D., NBC News health and nutrition editor, explains that there are two kinds of candy — those that are pure sugar (like jelly beans) and those that are a combo of sugar and fat (like creamy chocolate eggs). When it comes to picking one, eat what you enjoy. "It's treat — you're not looking for nutrients," says Fernstrom. "The most important thing when you pick a candy is that you choose one that you really want to have — that will be the most satisfying."
That being said, one way to keep things in check is to choose candies that come in individually wrapped packaging, says Bonnie Taub-Dix, R.D., nutritionist. Another tip? "Save your candies for that treat at the end of the meal as opposed to diving into the candy dish when you arrive at somebody's house," says Taub-Dix. "That's probably when you're the most hungry and when you'll eat the most of it."
Just don't beat yourself up if you pop a few more bunny-shaped desserts than you intended, OK? "You can have a great diet and have an indulgent situation," says Samantha Cassetty, R.D., a New York City-based nutritionist. "Enjoy it, be done with it and get back on track."
Of course, we're all about making better choices whenever we can. So, we've sized up the nutrition labels of some of the most popular Easter candies, with a strong focus on calories, fat and sugar content per serving — as well as the serving size.
1. Reese's Peanut Butter Eggs
At only 90 calories and 8 grams of sugar per serving, this milk chocolate and PB egg ranks first. Plus, peanuts are at the beginning of the ingredients list. "The first ingredient not being sugar is a good sign," says Cassetty.
2. Tootsie Easter Egg Shaped Pops
Clocking in at 60 calories, these lollipops have the second-lowest amount of sugar on our list (10 grams). Since a lollipop will take longer to finish than other candies, it's going to be more satisfying, says Levinson.
3. Russell Stover Coconut Cream Egg
This individually wrapped dark chocolate and coconut cream-filled egg, which comes in at 120 cals, takes the bronze because of the serving size and third-lowest amount of sugar (16 grams). "Having a single portion size is helpful for most people," says Cassetty. And although dark chocolate can have health benefits, you're not going to reap any of those from an Easter candy that is chock-full of sugar, says Fernstrom.
4. Cadbury Crème Egg
Ah, this one's a classic for a reason (is it even Easter without the Cadbury bunny?). But it's not quite as good a choice as the previous two eggs since it's higher in calories (150) and sugar (20 grams), says Cassetty. Still, the single serving size keeps this one in the top half of our list.
5. Hershey's Milk Chocolate Easter Kisses
These morsels are so much prettier in light blue and pink packaging — and they're not a terrible choice to nosh on this spring. "You get seven for 160 calories," says Levinson. "That's more satisfying than having 1/3 of a chocolate bunny. You're going to savor them, open them and really relish in the fact that you get to have seven pieces. You're getting good bang for your buck there." The down side? One serving has 18 grams of sugar.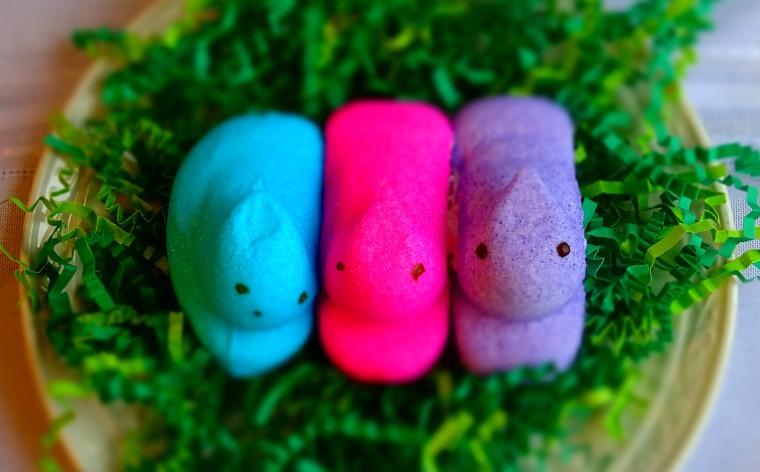 6. Peeps
Poor Peeps: Not only do they have zero nutritional value — but a RetailMeNot survey found they're not the king of Easter candies anymore. (It turns out people prefer peanut butter eggs, chocolate bunnies, chocolate eggs and jellybeans to these chick-shaped marshmallows.) "The serving size is large, so my recommendation would be to have half the serving and see if you could be satisfied with less," says Cassetty. One serving size — four peeps —rings in at 110 calories and 26 grams of sugar.
7. M&M's Milk Chocolate Eggs
These supersize M&M's have a pretty high amount of sugar — 27 grams in a ¼ cup serving. They aren't at the bottom of our list, though. "I'd rate this a tad higher than chocolate bunny, but only because I'd suggest eating just a few eggs instead of the ¼ cup serving," says Cassetty. "That would tame the high calorie and sugar counts. Levinson adds that peanut M&M's are a better option, since there's not a ton of chocolate around the nuts and you'd get some healthy fats from the nuts.
8. Lindt Milk Chocolate Gold Bunny
A serving size for this quintessential gold-wrapped Easter chocolate is 1/3 of the bunny, which amounts to 220 calories and 22 grams of sugar. But let's be real: Are you actually going to stop there? "Most people, unless you're making a conscientious choice to share the bunny, would have one just for themselves," says Levinson. That's why sadly, this choice is second to last on our last. "It's better to get something that you can easily divide," says Taub-Dix.
9. Brach's Tiny Jelly Bird Eggs
Congratulations, jelly beans: You win the award for worst Easter candy this year. One package weighs in at 250 calories and a whopping 53 grams of sugar. "They're exploding with sugar," says Cassetty. "You just don't need to go there." Of course, if you happen to love jelly beans, cut down on the sugar by putting a handful in a plastic bag and taking your time eating them to satisfy your craving, says Taub-Dix.
Want more tips like these? NBC News BETTER is obsessed with finding easier, healthier and smarter ways to live. Sign up for our newsletter.