If you've opted into going meatless as part of your "New Year, New You" but you find yourself floundering, or looking for recipes that don't trade meat for loads of carbs and cheese (because let's face it, taking meat out of a dish doesn't make it health food!) help is here — from someone who knows what's what. Damaris Phillips, a chef and culinary instructor from Louisville, Kentucky, and Food Network host, had to teach herself a radical shift in cooking when she married a vegetarian.
After meeting a "tall drink of water" at a wedding five years ago "we hit it off," Phillips tells NBC News BETTER, "and ended up dancing." Before long, conversation led to her profession — and his vegetarian lifestyle. "You could hear the record stop," she says.
"I was teaching garde manger at the time," says Phillips, "teaching people to make their own bacon and sausage, meanwhile falling in love with someone who was a vegetarian." That took some conversation! While she had a bit of experience with vegetarian cooking from her parents, adventurous eaters, she says, it was a "mash up of southern food meets tofu."
Going into her new relationship, "I could make a good bean burger and understood what TVP was," Phillips says, "it's just I didn't know how to make foods I grew up with vegetarian. As we dated longer and got engaged I realized it was really important for me to honor him and his eating choices but also to share with him and the family we're going to create how I grew up and the foods I had."
If you want to eat more vegetarian food you don't have to become a vegetarian. It doesn't have to be an identity overhaul.
The couple launched a series of cooking experiments and learned their way around the growing number of meat substitutes. The beauty of this whole thing is, "if you want to eat more vegetarian food you don't have to become a vegetarian," Phillips says. "It doesn't have to be an identity overhaul."
There's so much cultural and historical weight when you start talking about food choices it can freeze us, says Phillips. "'Oh, what am I going to do, am I not going to eat my grandma's ham salad, not going to eat the black eyed peas I ate growing up?' That's too many questions to answer on Wednesday night when you're making dinner for everyone! The good news is you don't have to choose."
And when you opt for a veggie meal, it can still be totally delicious, she promises.
Her new book "Southern Girl Meets Vegetarian Boy: Down Home Classics for Vegetarians (and the Meat Eaters Who Love Them)" is filled with tempting recipes and tips for making the switch, meal by meal. Here are some of her favorites.
Start with what you know
If you've never, say, roasted eggplant before, "don't try to make a roasted eggplant dinner because it's going to stress you out," Phillips says. "You don't even know what it's supposed to look like. Go ahead and make a meal you're used to making." She takes her dad's chili recipe and subs out the meat. And the bonus is "literally nobody can tell a difference," she says. In fact Phillips was making it for dinner for friends the day she spoke with NBC. "They're not vegetarian [but] it won't even register."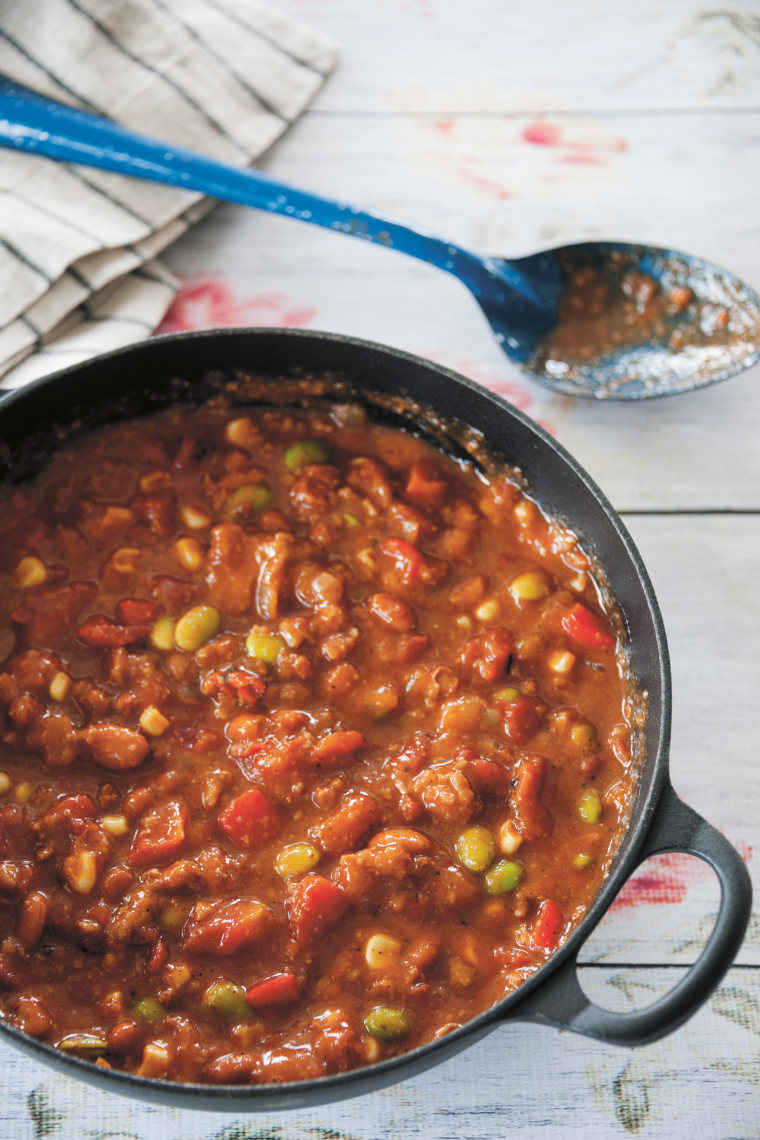 This is a good beginner's dish, she says, because it's all pantry staples except one meat substitute. Phillips swears by Trader Joe's refrigerated crumbles. To find them, "It will be in the refrigerated section either in hippie or vegetables," she says. "The package is 12 ounces and it says meatless ground beef." She also likes Lightlife and MorningStar brands.
Don't forget the fat
The thing people forget, Phillips says, is that animal protein provides not only protein, but fat. And while yes, we need the protein — it makes us feel full in a specific way and when we're trying to eat plant based meals protein means we don't walk away hungry, she explains — the fat is the kicker.
"The real thing people miss in vegetarian cooking is fat," says Phillips. "Fat is flavor. It is delicious. All we want is food that tastes good, truthfully."
Think about a meatloaf with 80/20 ground beef where it's 20 percent fat, Phillips says. "In a pound of meat that's three and a half ounces of fat. That's seven tablespoons of fat just in your meat source." And it's not just a matter of taste, she adds. "There are tons of vitamins and minerals you'll get in plant-based foods that are not soluble if you don't eat fat."
What's cool with vegetarian cooking is you get to be in charge of how much fat you add, and what kind, Phillips says. A dish can still taste great with just a couple tablespoons of fat. Perfect example? Her chickpea and dumpling stew.
"Here's the thing about chicken and dumpling," Phillips says. "The chicken is always, always overcooked, it's stringy. What you're getting from that is a lot of protein, and collageny fat if you made the stock, and it's kind of tender. So I wanted to replace it with something that would soak up all those warm herbs and also not fight those wonderful dumplings. Nobody ever said 'let's leave out the dumplings!'" Her solution? Chickpeas.
"It's a balanced meal," she says. "It's the type you could eat every day." And you don't even have to use her specific recipe. "If you're used to making chicken and dumplings make the recipe you know how to make, and remove the animal protein. Now replace with plant-based protein and add fat." Her version uses a total of six tablespoons of oil for a dish serving six.
We never make meat at our house anymore because I don't care, because we're eating delicious food.
Find the essence of the dish
Have you ever stopped to think what exactly you love about your favorite meat dish? Phillips encourages home cooks to analyze what makes, say, bacon, so delicious. "So what is the essence, is it giving you salt, smoke, chewy, crunch?" she says. "Think about all the different ways animal proteins present in a dish. What words come to mind? For pulled pork if it's juicy, tangy, smoky, tender, fatty — those are all flavor profiles so when we're re-creating a dish we just need to make sure we're hitting all that."
For instance, pork by itself isn't salty, she says. Using canned jackfruit (available at Trader Joe's) as your protein, you can introduce that element not only by adding salt, "but you can also get it in a fermented umami bomb from soy sauce or miso paste, and you can start to kind of play with it. For fattiness, again use plant fats — coconut oil is a beautiful oil to mimic animal fat because it melts in your mouth (just use it in moderation). Looking for that smokiness? Smoke your food, or add a little liquid smoke.
Love a stuffed pepper with ground meat? Swap out the animal protein for something plant-based (because, honestly, how much flavor does ground turkey have anyway?) with the texture you're looking for, using TVP, a dried meat substitute you can order online if your local store doesn't carry it. "It's one of those [ingredients] that's a little bit out of fashion," she says, "but it soaks up all the flavor into what becomes your protein."
When vegetarian food can be so tasty, healthful, and easy, and there's no commitment, why not try it? Phillips asks. But fair warning, you may well not go back to meat after trying a few veggie meals. "We never make meat at our house anymore," Phillips says, "because I don't care, because we're eating delicious food."
More Recipe Inspiration