Snag an amazing deal on a flight for the holidays? Better read that fine print before you start packing.
According to a report by Hopper, airlines are increasingly unbundling their offerings so that they can offer the lowest possible fares. Which means that once you get to the check-in counter, you'll likely find yourself shelling out more cash for things that were once included in the base price of your ticket — like a checked bag.
In fact, travelers who check at least one bag when flying domestically are paying more overall than they did before airlines began unbundling fares in 2008 and charging separately for checked baggage, according to the Government Accountability Office. Today, checking a bag can set you back an additional $25-$100 depending on the airline you're flying with. And airlines are raking it in: In the first three quarters of 2019, airlines have already made almost $4.4 billion in revenue on checked baggage fees, according to the Department of Transportation statistics — and that's before counting the travel rush from Thanksgiving to New Year's.
One person not contributing to that revenue? Patrice J. Williams, on-air style expert, blogger and author of "Looking Fly on a Dime", who says she's never checked a bag.
"I've never checked a bag because the process just gives me so much anxiety," says Williams. "I've seen so many friends and colleagues who've had travel nightmares all due to lost and sometimes stolen baggage. Traveling is stressful enough, so if there's a way for me to cut down on some of the stress, I'm all for it." Besides helping reduce stress, going the carry-on route is also a time saver. "When I went to Belize a few years ago, I caught one of the last water taxis to the island I was visiting. If I would have waited at the carousel to retrieve my bags, I would have missed the water taxi and been stuck at the terminal for two hours until the next one arrived," says Williams. "Also, when you take the time in advance to be intentional about what you pack, it makes getting dressed so much easier when you reach your destination."
Fitting everything you need into a bag that is 9" x 14" x 22" may seem an impossible feat, but Williams is sharing all of her insider tricks for maximizing space and packing more efficiently.
How to maximize space in your carry on
Tricks for packing less, without limiting your outfit choice
We've all been guilty of shoving way too many clothes in our suitcase — and only wearing half of them on our trip. Luckily Williams has a few tricks up her sleeve for cutting down on the amount of clothing you bring, without limiting your outfit options.
Clever hacks for storing all your essentials without any spills or tangles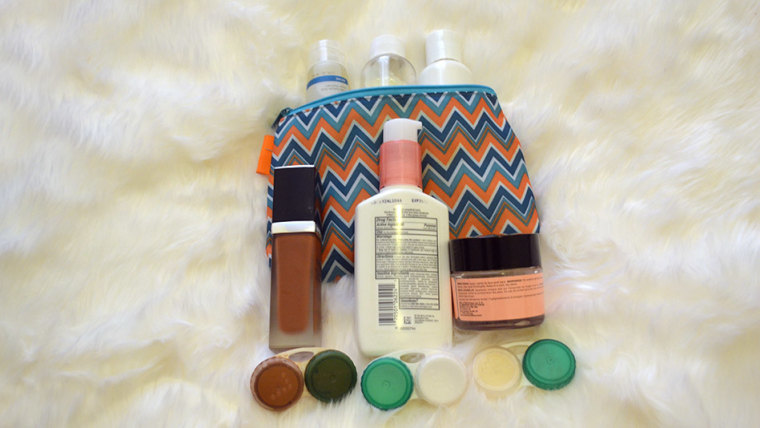 Invest in a few products that will help you pack smarter
Compression storage bags are great for packing thick shirts, bulky sweaters and jackets in a compact space.
This blanket serves multiple purposes, working as a pillow, blanket and back support in a car or airplane, and even a blanket for the beach or park once you reach your destination.
Packing cubes are a smart way to save space and can help you organize your clothes based on the day you'll wear them or even by certain activities, keeping you organized once you reach your destination as well.
Full-size shampoo and conditioner and other cosmetic items are a no-go with a carry on. A travel bottle pack allows you to pack just the right amount to stash in your carry on.
Contact lens cases are a compact and tidy way to store eye creams and moisturizers leak-free.
Keep all of your cords and chargers organized in one place with a travel cord roll.
Cord tacos are another compact way to keep cords and chargers organized, so you aren't digging for them at the bottom of your carry on or purse.
Want to really up your carry-on game? This model from Away Travel passes the 22" x 14" x 9 test, and also comes with a built-in battery plus USB charger for your cell phone, two compartments — one for clothes and one for shoes and toiletries — and a durable outer shell that won't break no matter how rough the airline is with your luggage.
Analyze your bag after a trip
Once you've returned from a trip, Williams recommends going through your bag and noting everything you didn't wear and which products you didn't use. This gives you a snapshot of what you don't need to pack for your next trip, she says. You'll have even more room for souvenirs in your carry-on next time around.
More ways to travel better
Want more tips like these? NBC News BETTER is obsessed with finding easier, healthier and smarter ways to live. Sign up for our newsletter and follow us on Facebook, Twitter and Instagram.