If you asked yourself how much time you waste scrolling through Instagram day in and day out, chances are the answer would be more than you'd care to admit. In fact, Facebook (which owns Instagram) reported last year that its users spend upwards of 50 minutes on its suite of apps each day. Unless you're hanging on to your millennium-era flip phone, you've definitely gotten sucked down the rabbit hole of double tapping #foodporn pics until you've seen enough avocado toast to last you a lifetime. (OK, maybe that's an exaggeration. There's no such thing as too many avocados — or toast for that matter).
But it turns out liking photos on Instagram might not be such a mindless habit after all — especially if what you're looking at is photos of healthy meals or people who are in shape. "Seeing positive images online can be inspiring and motivating," says Jonathan Alpert, a New York- and Washington, D.C.-based psychotherapist and author of Be Fearless: Change Your Life in 28 Days.
What's more, these kinds of Instagram posts can remind you to embrace and actually adopt healthy behaviors, says Melanie Greenberg, Ph.D., a licensed clinical psychologist in Mill Valley, Calif., and author of The Stress-Proof Brain. Considering trying a trendy diet (like Whole 30) or fitness plan (like Kayla Itsines' Bikini Body Guide)? Alpert says that social media can also provide you with a supportive community to help you reach your goals.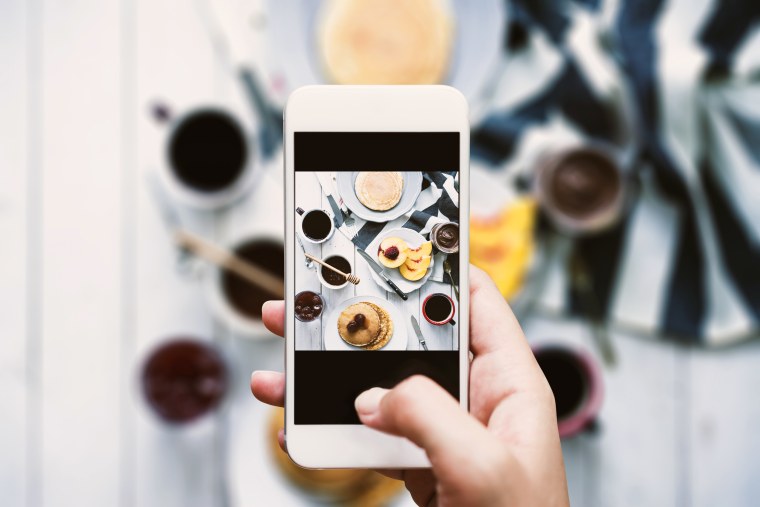 Use Social Media to Hold You Accountable to Those Get-Healthier Goals
"Watching other millennials work out, travel and share their progress really inspired me to do the same," says Alexis Chateau, a travel blogger in Atlanta who owns her own PR firm. "Before social media, I didn't have as many people holding me accountable to reach my goals. So, like everyone else, there were those days I really didn't keep up with working out — and then one day becomes two weeks and then a few months."
Allison Tibbs, a personal trainer and healthy lifestyle coach in San Francisco, shares her get-healthy tips on her own feed and follows clients on Instagram to help hold them to their goals and offer positive reinforcement.
One of Tibbs' followers even reached out to her to tell her how much her Instagram posts had helped him live healthier. "He said, 'I told my doctor about you and my doctor told me to keep following you because it's working,'" she says.
Another plus? So many pros have public Instagram accounts — meaning you can get access to expert advice you wouldn't otherwise necessarily have the dough to shell out on, says Greenberg.
Case in point: After posting photos of dishes she had cooked to her personal Instagram account, Tibbs would get anywhere from 10 to 30 DMs a day asking her for the recipes. This inspired her to create a separate Instagram, @icookclean, to give clients (and followers) easy meal ideas.
And what you see on Instagram could totally change the way you think about food, like it did for New Yorker Liana Garibayan, the owner and operator of an online natural products store, who's now a vegan.
"Instagram and Facebook are great sources for learning about healthy and vegan alternatives, recipes, fitness, and the reality of animal cruelty," says Garibayan, who's a fan of @vegancommunity on Instagram.
After overhauling her diet, Garibayan decided to start her own online store, selling organic, allergen-free and vegan products — and social media happens to play a role in her business. "My Instagram page is a big focal point on my website to promote a healthier lifestyle," she says.
Nobody's Perfect: Follow, Don't Compete With Your Favorite Instagrammers
Of course, Instagram can have its downsides when it comes to your health — aside from the obvious of giving you a major case of tech neck. "People might see images and feel frustrated that they don't look like that or eat healthy and it can lead to someone sabotaging their efforts," says Alpert. Adds Greenberg, "People may find support for disordered thinking and behavior or may use the pictures to beat themselves up for not being healthy enough."
That's why Greg Ux, a certified strength and conditioning coach and trainer at Barry's Boot Camp in Boston, doesn't follow accounts that boast cleanses or super-fit folks. "None of that is real life," he says. "I find my inspiration from real people living real lives."
Use Hashtags to Find Exactly What You Need and Filter Out What You Don't
Ux, who follows a mostly vegan diet, says that he's had luck searching specific hashtags like #vegan, #veganathlete and #veganrecipes. "I'm able to find more than just beautiful pictures," he says. "I'm also able to find inspiration for my own meals and shopping lists — and it's free!"
Tibbs has found that posting Instagram and Snapchat stories is a great way for her to combat the notion that everything you see on social media is so-perfect-it-must-be-fake. "I can document how I made a meal and when the pan explodes and there's sauce everywhere," she says. "It allows people to see that I'm not perfect."
Now excuse us while we get back to our phones — we're trying to find a new take on avocado toast.