Last night, John Legend stepped into a part that he's been preparing for his whole life — as Jesus in "Jesus Christ Superstar Live!" on NBC. We caught up with Legend on the red carpet a few weeks ago to talk about the role of a lifetime, how he balances work and family life and why his childhood shaped the way he works today.
This is such an iconic show and role — any trepidation playing Jesus Christ?
It's a challenge, one that I'm not taking lightly and I've been spending a lot of time just learning the material. You really just want to get to the point where you have it so in your spirit and your system that it feels like you wrote it yourself and it feels natural.
Jesus — that's a pretty big title. Any bragging rights with Chrissy [John's wife] at home?
No, that's not going to fly.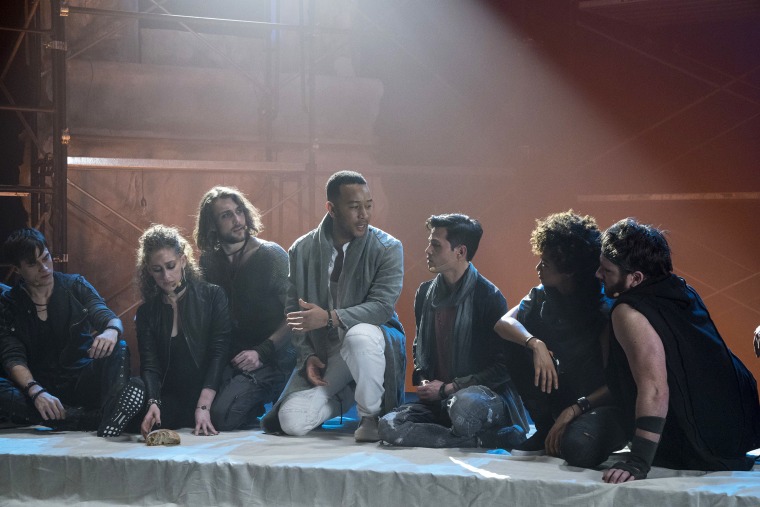 What made you want to take this on? How did you get to yes?
I had to want to do it and I felt like this was a great role to do and a great challenge for me. I started with the desire to do it and to do it well and then just made sure logistically we could physically and mentally pull it off. We decided we could do it and here we are.
You have a small child and another one on the way, does fatherhood play a part in deciding what you are going to do next?
Of course. It makes you think about every decision you make. We have to think about where it requires us to be, especially when Luna starts going to school. It will affect some of the choices we make as well. And both of us will make some sacrifices because of that and re-prioritize. We're still going to work, we're still going to take on some of these challenges and some of these really exciting opportunities. But when you have a child — and more than one child — you just have to keep that in mind and shift your priorities when you need to.
Preparation is what got me here.
What do you want kids who look up to you to know about success?
When you're a kid, you have all this opportunity to learn and to grow and to practice whatever skill you are focusing on. And the reason why I'm here is because of all those years of practice when I was a kid. Me performing at church and at school when I was 7, 8, 9, 10 years old. Me practicing the piano when I started at age 4 — all these things, all this preparation is what got me here. And so I think for anybody who wants to be doing something that they love in their adult life, they have to realize that it comes through the work and effort you put in now.
Was this something you were taught?
I think my parents taught me and encouraged me. We had a piano at the house and they encouraged me to take piano lessons at a very young age and they took me to church every week and I would sit with my mom while she was directing the choir. So all of these things became a part of who I was and it wouldn't have happened that way if my parents didn't encourage me and put me in those positions.
Does any part of this make you nervous?
I don't think I'll be that nervous when we get to that point because I think we will have rehearsed so much leading up to it and I'll feel really comfortable and prepared, but who knows?
Want more tips like these? NBC News BETTER is obsessed with finding easier, healthier and smarter ways to live. Sign up for our newsletter.