Names: Bill and Elena Rodriguez
Ages: Bill, 57; Elena, 48
Residence: Roseau, Minnesota
Jobs: Bill works as a design lead for Polaris Industries; Elena works for Marvin Windows and Doors
Family status: Married with two adult children and four grandchildren under age 8
Elena's peak weight: 237 pounds, a "tight" size 16. "The seams of my pants were screaming," she says.
Elena's current weight: 150 pounds, size 6
Elena's height: 5 feet 6 inches
Bill's peak weight: 223 pounds
Bill's current weight: 180 pounds (he got down to 172 but Elena felt he was too skinny)
Bill's height: 5 feet 10 inches
When Elena and Bill Rodriguez committed to losing weight together, they wanted to try something new. Elena had struggled with her weight for almost 30 years, beginning with her first pregnancy, when bedrest and a battle with depression sent her weight shooting up from 120 to more than 200 pounds. She gained and lost weight over the years, ultimately peaking at 237 pounds.
For Bill, a creeping sedentary lifestyle coupled with poor eating habits drove his weight gain. "We're empty nesters. Once the kids got out of the house we started eating out more. Not that we were eating badly, but we shouldn't have had such big portions," he says. "As you get older your system starts slowing down, and with that your weight starts going up. It's such a gradual thing you don't really notice it. Then you see a picture of yourself and think, 'Wow, my face really filled in.'"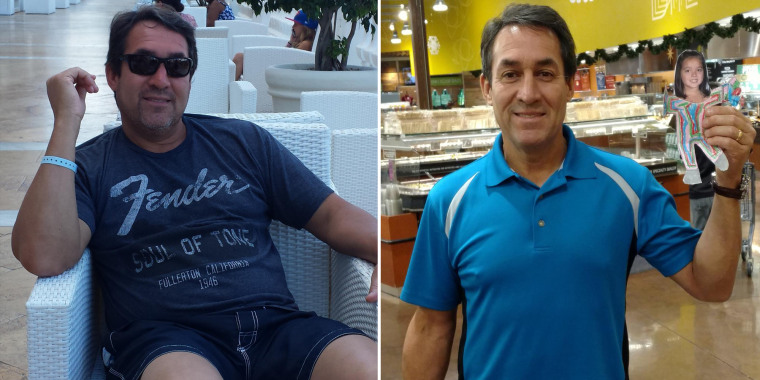 When Bill spotted a coworker who had lost a lot of weight, he asked how he did it. It turned out he had joined the Profile by Sanford program.
Elena was dubious at first. "I thought, 'Oh, it's just another weight-loss plan. I've tried them all.' If there was a diet I tried it," she says. "I'm 48 and my goal was to lose weight by the age of 40. That never happened — I had let myself down. Everything else had failed. I was at the last straw. I felt like if this doesn't work, nothing will," she says.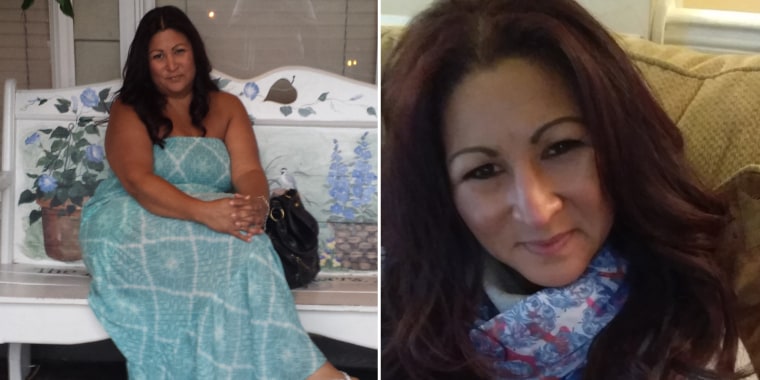 In April 2017 they decided to give it a shot, together. The plan cost them each $150 for a year. For Elena, the price motivated her to stick with it. She committed to following the plan without cheating — that way, she figured, if she didn't lose weight she could ask for her money back.
A HARD LOOK AT FOOD CHOICES
Bill and Elena changed their diets in the first three to four months on Profile, and stuck with those changes. Fatty, fried, and junk foods were out, replaced by Profile's shakes, bars, and soups, lots of raw and steamed vegetables, and tons of water.
"They give you a shopping list of items to go look for to make your meals. It really just teaches you to eat better," Bill says. The couple cooked together and encouraged each other. While Profile supports a range of food choices, Bill and Elena eventually moved to a vegetarian, then vegan, diet. "We looked into different reasons we gain weight, and even foods that are considered to be good foods drive weight gain," Bill says.
CONNECTING WITH SUPPORT
For Elena, what made the difference this time was accountability. First, they committed to losing weight as a couple. "I think the fact that we did it together was a key factor, and that the things we changed really fit well with us," Bill says. Elena notes that trying to lose weight together with Bill brought out her competitive side.
Second, the plan includes a smart scale that measures and records weight, body fat, hydration, muscle and bone.
And third, the plan includes coaching. "I felt pretty high-class having a coach," Elena says. Profile's coaches connect with members regularly in person or via Skype or phone to talk about how they're doing. "If you're really craving something, or if you were starving or felt a specific way, they'll say, 'Well, try eating this or doing this.' You can make these simple little adjustments to fill that void you're feeling," Bill says.
Elena worked with a few coaches, and says that while they were all great, she clicked with Ashleigh Ackley. "It felt like she knew me. She knew my story, my struggles, my anxieties. I felt like I could tell her everything and she always had a solution. She would say, 'Try this and see if this works,' and if I wasn't ready to do something that was OK. It was like I had a teammate who wasn't going to let me fail. She built me up and that's much of the reason this is still working. She really ingrained in me opportunities and options. She showed me how to rely on things that worked. A lot of the weight situation is really emotional for me, and she kept building me up, pumping into my head that it's OK and it's going to work," she says.
Ackley calls coaching the backbone of the program. "Everyone is different, but there are always outside temptations and challenges," she says. "We guide members. We don't tell them what to do. We help them have success."
Most coaching sessions start with a review of the previous week — looking back at what went well and what was challenging. They then look forward to the upcoming week to spot challenges. For example, there might be travel planned, or sports events with tempting concessions, or weeknights at home fighting a snacking habit.
Ackley recalls helping Elena plan for a work event. They talked about Elena's goals — did she want to indulge there, or make healthier choices from what was available, or bring her own foods? What foods will they have, and what are their serving sizes? Planning ahead of time helps people enjoy the events in their lives without sabotaging their weight-loss goals.
SEEING HEALTH IMPROVEMENTS
Bill and Elena want to be around to watch their four grandchildren grow up. Elena's father was only 66 when he passed away after a stroke, and he had had high blood pressure and diabetes. "I have grandchildren now. I don't want to be old and miserable. I want to enjoy my life. I don't want to put my kids through loss, and I don't want to enhance the possibility of dying," she says.
Their weight loss has led to improvements in their health. While they both battled high blood pressure, they have healthy levels now, and Elena no longer needs medication to control hers. She's also seen improvement in vitiligo, a skin condition that causes loss of pigment. They expect that their healthier diets will reduce their likelihood of developing diabetes.
Their weight loss has brought a financial benefit as well. They get a discount on their health insurance if they meet certain criteria for body mass index, blood pressure and other health markers. "Not only are we healthier, now we qualify for that discount," Bill says.
A BOOST IN ACTIVITY
In the past, Elena and Bill walked a local 5K event. This year, they ran it together for the first time. Bill has added strength training to his routine. "Given my age, I have to start working on building more muscle. When you're building muscle, you tend to burn fat more efficiently," he says. "With a sedentary lifestyle you get that muscle atrophy."
Outside of workouts, their grandchildren keep them active, biking alongside them while they run. Bill has even joined them skateboarding. "That's something I wouldn't have considered doing, as heavy as I was," he says. They also paddleboard most weekends when the weather is good.
MAINTAINING SUCCESS
Elena and Bill met their weight-loss goals and also learned how to cope with temporary setbacks. For example, Elena tends to gain a few pounds when she travels. And when they remodeled their house they couldn't cook at home. "Ashley taught me that this is OK, and this is what we need to do to get back on track," Elena says.
Elena says, "I feel better from the ground up. Even our sex life is better. Profile has redefined who I am — my body and my spirit."
Bill and Elena's Typical Day
Breakfast: A nectarine and an apple with a protein shake, or oatmeal with Stevia and maybe a banana
Lunch: Salad with salsa for dressing, pasta, or stir-fried or steamed vegetables, with quinoa, edamame, almonds or beans for protein
Dinner: Bean soup with avocado or a vegan pizza
Snacks: Dairy-free yogurt with a piece of fruit, chopped veggies, sometimes homemade popcorn
"70 percent of what we eat is vegetable-driven," Bill says. "In the morning, we plan out our meals for the day and cut up all kinds of vegetables — cucumbers, carrots, radishes, snap peas—sometimes 10 different vegetables."
MORE WEIGHT-LOSS SUCCESS STORIES
Want more tips like these? NBC News BETTER is obsessed with finding easier, healthier and smarter ways to live. Sign up for our newsletter and follow us on Facebook, Twitter and Instagram.