Despite chronic pain in her right leg, U.S. Air Force Master Sergeant Kim Kaminski lost 40 pounds. All it took, she says, was switching her diet to six small meals a day and a big change in attitude.
A softball injury and car accident in 2014 left the airwoman with such severe damage in her right leg that the nerve had to be removed.
Kaminski, now a security forces supervisor at Al Dhafra Air Base in the United Arab Emirates, says the injury was frustrating and painful.
"I was in an enormous amount of pain," Kaminski tells NBC News BETTER.
Once an avid runner who played softball, basketball and soccer, Kaminski says, "I couldn't do any of that." Doctors told her she would never be the athlete she once was.
"After that, I was really depressed," she says. Kaminski, who lived in New Jersey at the time, said she relied on her family, friends and coworkers to help her move around.
Stuck on the sofa all day long and feeling "down in the dumps," Kaminski recalled how she would eat "whatever I wanted."
"Whatever I was craving, I would eat," Kaminski says, "which probably wasn't the best thing when you weren't moving around." Slowly, she began gaining weight.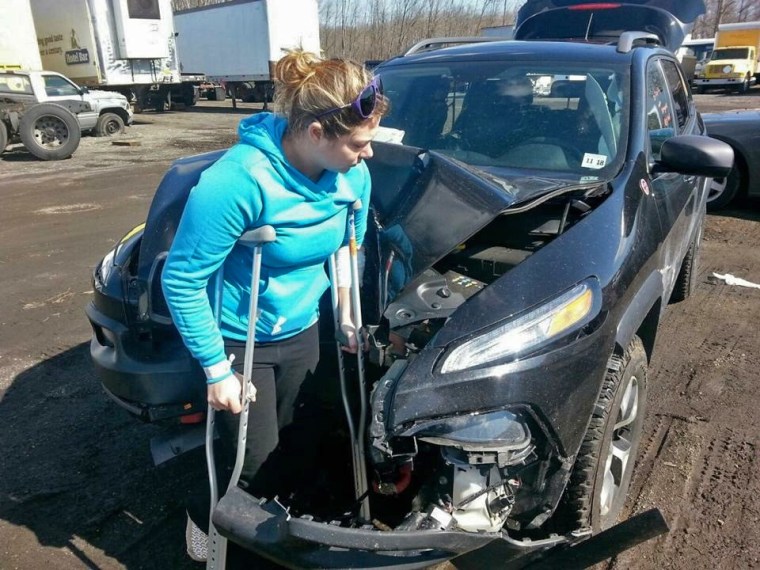 After her injury healed, she got a civilian job with a local sheriff's department in 2015, but got into another car accident that fractured bones in her face and right ankle.
"And then after that I was like 'This is enough — I really need to start getting myself back to where I was,'" Kaminski said. "And I really started pressing hard."
Six Small Meals a Day
Kaminski said she used to eat two or three big meals a day. After meeting with a nutritionist, she switched to consuming smaller, healthier meals six times a day.
"I would normally just eat like three big meals a day," she said, "or a lot of times I would miss breakfast, honestly, because I was never a morning person."
Kaminski ate breakfast, lunch and dinner — plus three snacks that consisted of all the macro nutrients she needed (protein, carbs and fats), which she tracked through an app on her phone:
Breakfast: Egg whites with potatoes, turkey bacon, [or] pre-made breakfast muffins with turkey bacon, egg whites, and vegetables
Snack: Fruit smoothie with protein powder
Snack: Hard boiled eggs (whites only)
Lunch: A healthy fat like an avocado with chicken or turkey or lean bison or beef
Snack: Almonds and a protein shake
Dinner: Lean protein like salmon, poultry, or lean beef with vegetables
Whereas her former diet of two to three big meals would leave her feeling hungry, she says, consuming smaller meals throughout the day curbed her hunger and helped regulate her metabolism.
"You're always eating something," she says, "so your body is always working."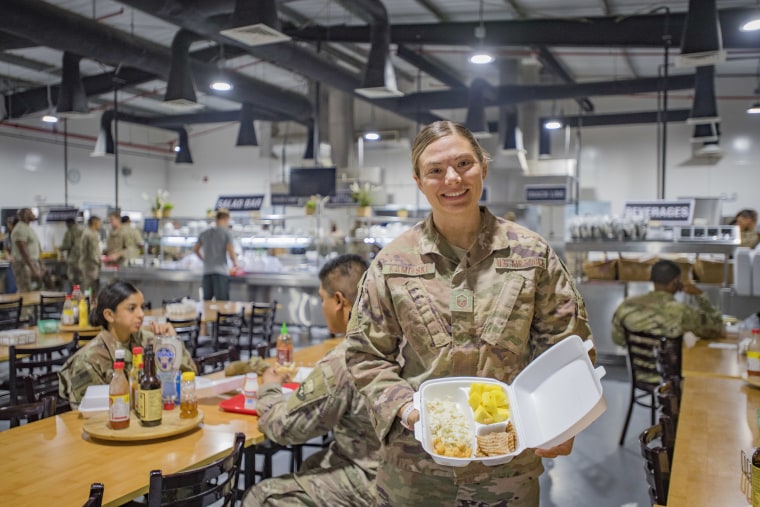 Start in small steps
Kaminski says she lost a total of 40 pounds since 2015.
"But it's a slow process," she acknowledged. "You can't do everything at once because, if you do, then your body is going to crash."
Before you completely change your diet or dive into an intense exercise regimen, she recommends easing your way into a slow and steady routine. For example, begin with slowly eliminating the most unhealthy foods from your diet, like soda, she says.
After her injuries healed, the sergeant eased her way into a five day-a-week 30 minute, nonstop cardio routine. Once her body adjusted to the cardio, she says, she slowly introduced weight lifting into her routine. Then she gradually began power lifting, she says.
"Space things out and take it one thing at a time," Kaminski advises.
When things get hard, remember where you used to be
In June, the sergeant proudly completed the military's 25K Ruck March, a march that required her to carry 25 lbs on their back across a grueling 15 mile stretch. She describes it as her biggest accomplishment.
While the she still deals with chronic leg pain, she says she feels "awesome," but acknowledges that some days are a lot harder than others.
"Some days I don't want to work out, but then I look back and I think about how miserable I used to be sitting on the couch and not be able to do anything," Kaminski recalls, "and it wasn't easy to get up and be like 'Alright, this is it.'"
MORE WEIGHT-LOSS SUCCESS STORIES (AND TIPS TO BORROW)
Want more tips like these? NBC News BETTER is obsessed with finding easier, healthier and smarter ways to live. Sign up for our newsletter and follow us on Facebook, Twitter and Instagram.