With the school season back in full swing, it's time to start thinking about fueling young minds with healthy snacks. You can always count on fruits and veggies as smart bets, but between sports practice, piano lessons and other after school activities, a packable, non-perishable snack is often needed. Before gearing up for your next grocery haul, here are some tips to keep in mind:
Look for whole food ingredients. The healthiest snacks contain predominantly whole food ingredients, such as fruits, vegetables, whole grains (like oats, whole wheat, or sorghum), beans (such as chickpeas or lentils), nuts or seeds, eggs, and others.
Limit or avoid foods made with artificial sweeteners, preservatives, and flavors. Though the FDA deems these safe in amounts normally consumed, they're often a sign that a product is overly processed, and these ingredients don't bring benefits to growing bodies.
Keep an eye on added sugars. Even seemingly healthy snacks, like granola bars and yogurts, may contain excessive amounts of added sugars. Food labels list sugar in grams; a teaspoon is about four grams. For the most part, you want to be in the range of a teaspoon or less. One more pointer: Some products designed for kids are smaller in size than a comparable product on a nearby shelf. I spotted one popular granola bar brand with a kid's bar that listed 5 grams of added sugar — not too bad until I recognized that the bar was only 23 grams in weight. The same flavor of the adult-size bar was also 5 grams of sugar, but it's about 50% larger. So proportionally, the adult-size bar packs in less added sugar, and the size is suitable for children and adults.
If you want to skip the label reading or need some snack inspiration, here are some of the healthiest snacks to toss in your child's backpack. You can find most of these in your larger grocery chains and superstores like Target and Walmart — or you can buy in bulk from retailers like Amazon.
BETTER editors, writers and experts take care to recommend items we really like and hope you'll enjoy! Just so you know, BETTER does have affiliate relationships. So, while every product is independently selected, if you buy something through our links, we may get a small share of the revenue.
RXBAR Kids
$5.50 for 5,Target, or $16.72 for 10 bars, Amazon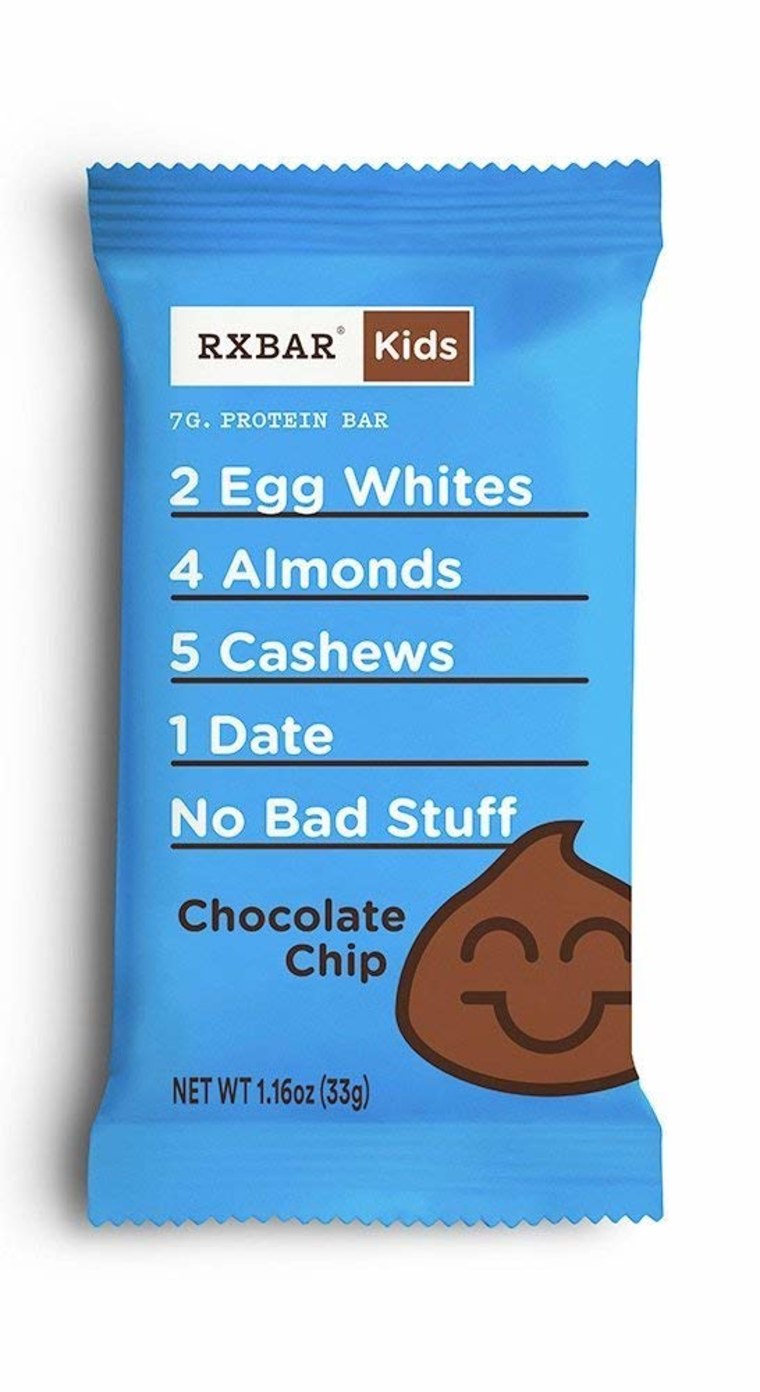 You can feel good about packing this clean ingredient bar for your kids. With no added sugar and ingredients like almonds, dates, egg whites, and chocolate, it's the bar you'd make at home — if you had the time. Instead, score them at the store and tide over hungry tummies with 7 grams of protein and 3 grams of fiber. Select from several fruity and chocolatey flavors, including a perennial favorite, chocolate chip.
Made Good Granola Minis
$18.94 for pack of 20, Amazon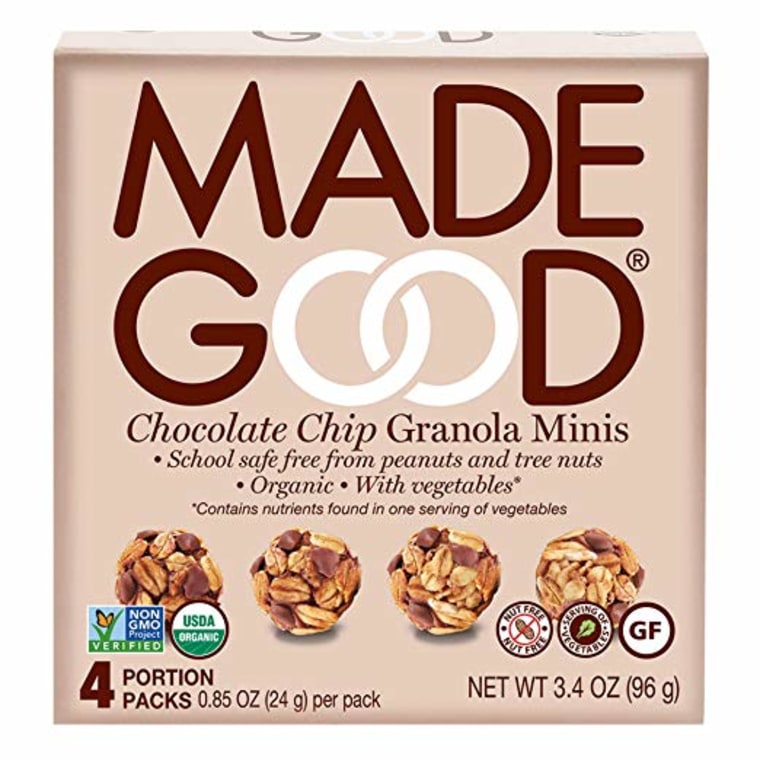 Certified vegan, nut free, and gluten free, these wholesome bites are perfect for kids with allergies or food sensitivities—as well as those who just like tasty nibbles. Since the bites are suitable for so many kids, they're a great choice when you're the classroom's or team's designated snack parent. Available in five flavors kids (and adults!) crave.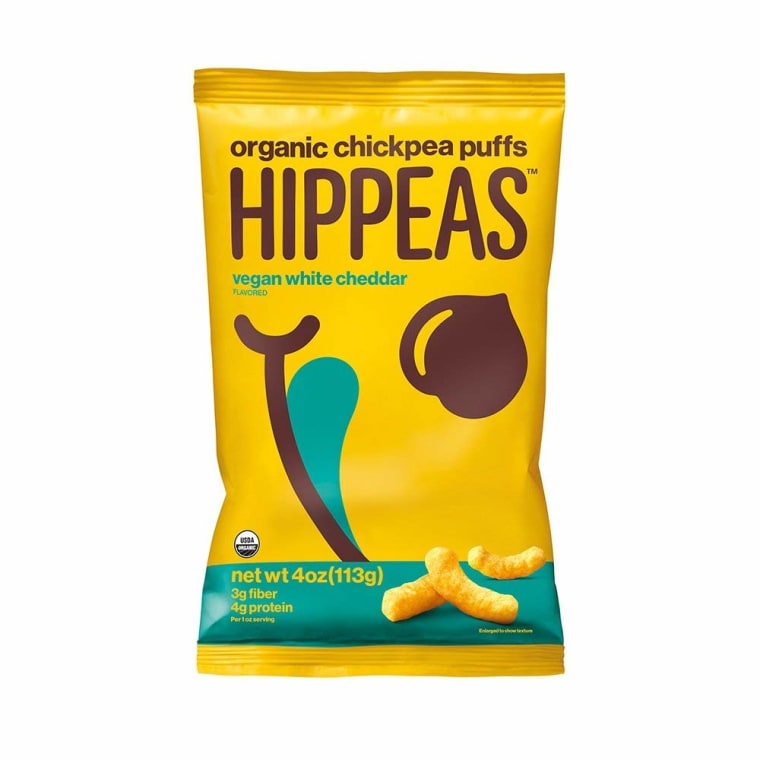 Hippeas Organic Chickpea Puffs
$2.99 per bag, Target or $18.99 for 6 bags, Amazon
When your kids demand cheddar puffs and you demand good ingredients, this will become your go-to healthy snack. These white cheddar puffs happen to be soy free, nut free, dairy free, and gluten free, but you'll be stashing them in your child's school bag because they're also decidedly delicious! Though they taste like popular cheese puffs, they're made mostly of chickpea flour (instead of the more common refined corn flour), which brings benefits like 3 grams of fiber and 4 grams of protein. Hippeas' 1.5 ounce snack packs are available in three varieties: Vegan White Cheddar, Bohemiam Barbecue, and Siracha Sunshine (for kids who like bold flavors).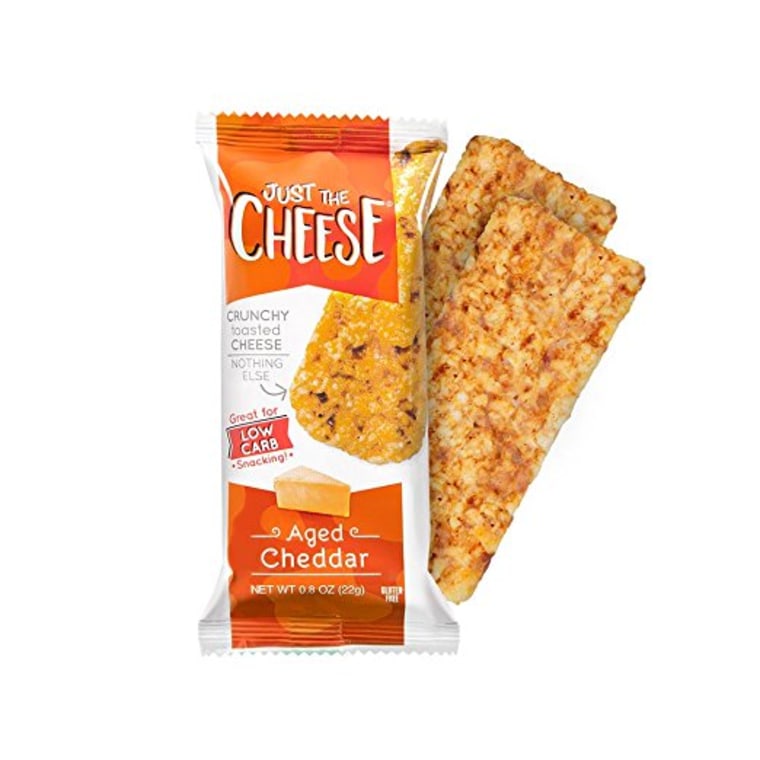 Just the Cheese
$23.89 for 12 two-bar packs, Amazon
As the label implies, this simple snack contains just one ingredient: Cheese. But the crunchy baked bars and bites don't require refrigeration so they're perfect for toting to school and activities. It's a great snack for active kids who need to refuel after a game or meet. Choose from five kinds of bites and three kinds of bars.
Rhythm Superfood Carrot Sticks
$22.79 for a pack of four, Amazon
These crispy dried (not fried) carrot sticks pack 11 grams of fiber in a bag. I wouldn't call them a replacement for baby carrots, but they're certainly a worthwhile alternative. The 29 grams of carbohydrates are the perfect brain fuel for an afternoon of homework. Available in three kid-friendly flavors.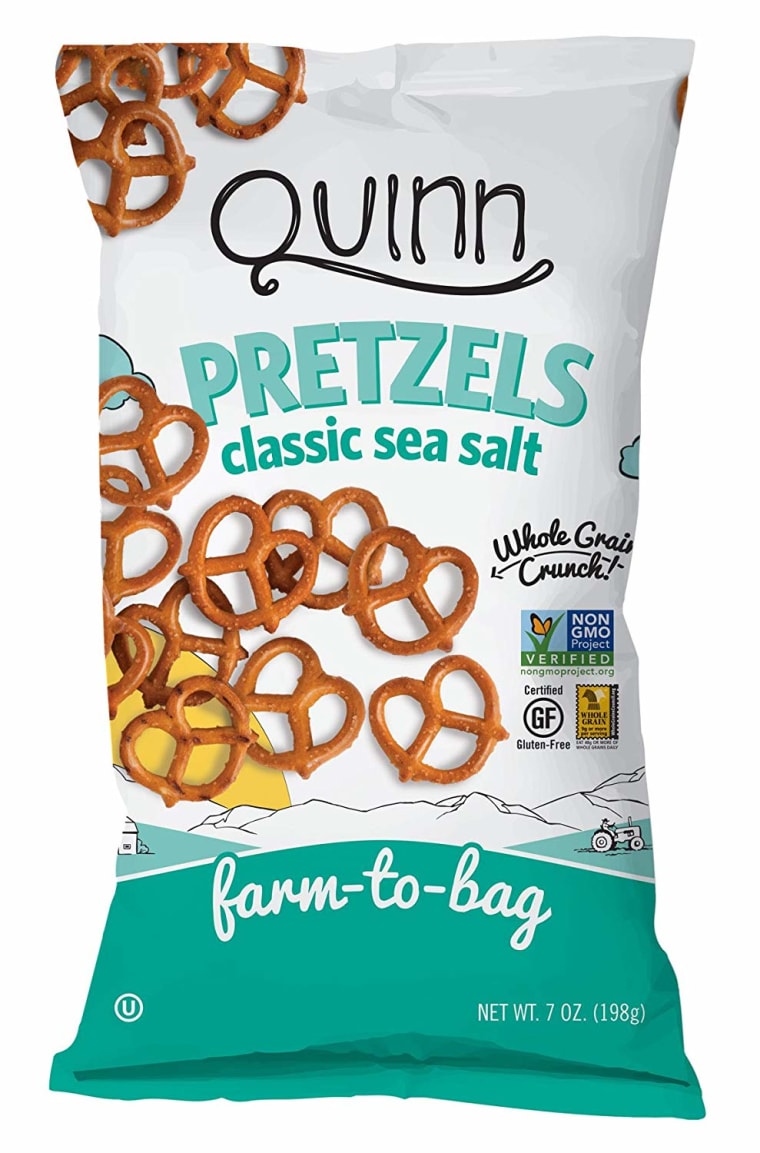 Quinn Pretzels
$13.29 for three 7-ounce bags, Amazon
Gluten free, whole grain pretzels aren't easy to come by so I was pleased to find these, which are made with whole grain sorghum and brown rice flours. Though parents will appreciate the nourishing, organic ingredients, kids will love their authentic pretzel taste and crunch. Since these come in multi-serve packages, you'll want to have a re-usable re-sealable snack bag, such as those from Stasher Bags, to pack up your pretzels.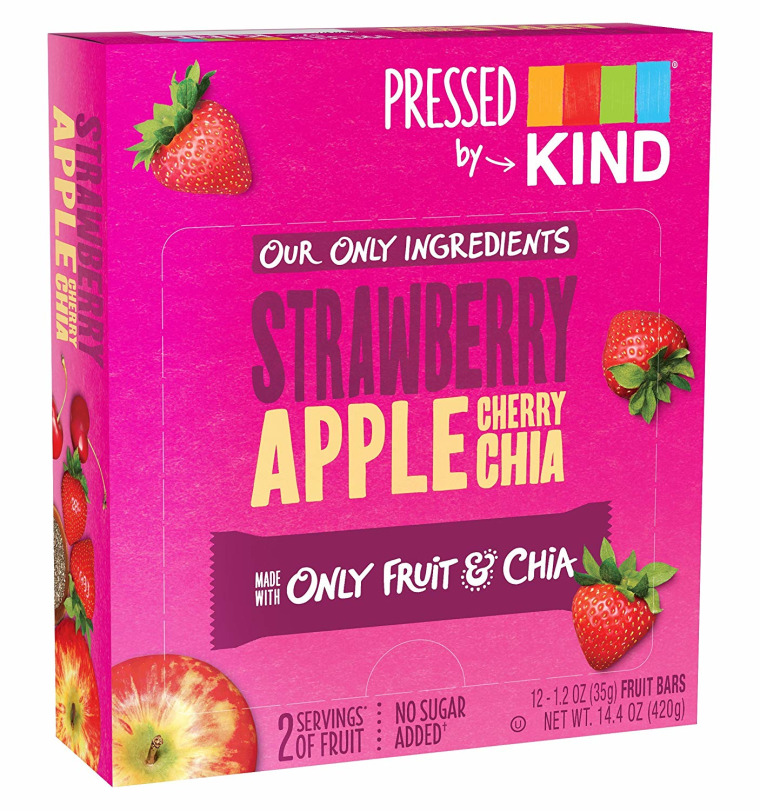 Pressed by KIND
$14.22 for 12, Amazon
If your child is a fan of fruit leathers and roll ups, this would be a better way to go. Unlike ordinary fruity snacks, it's made with real fruit (such as cherries and apples) and no added sweeteners. The carbs in these bars make them a good choice before an active afternoon or during a study break. Choose from five fun flavors.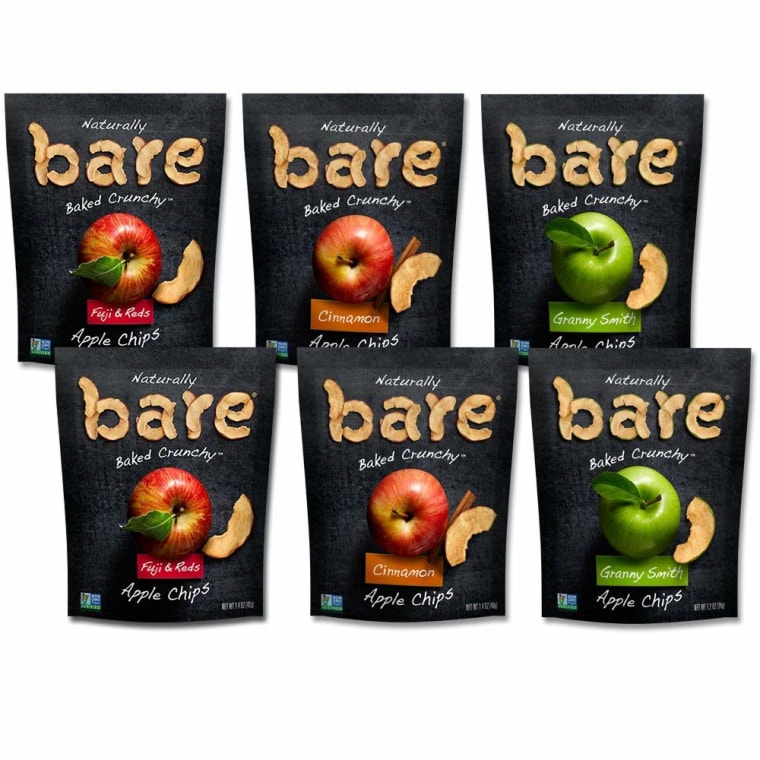 Bare Apple and Banana Chips
7.49 for a pack of seven .53 ounce bags, Target or $22.79 for six 2.7 ounce bags, Amazon
Though there are several brands offering freeze-dried fruit, Bare fruit chips stand out because their apple and banana snacks are crunchier than the competition. Both the apples and the bananas are available in cinnamon as well as unflavored, and both fruits supply a good source of fiber—a nutrient most kids fall short on.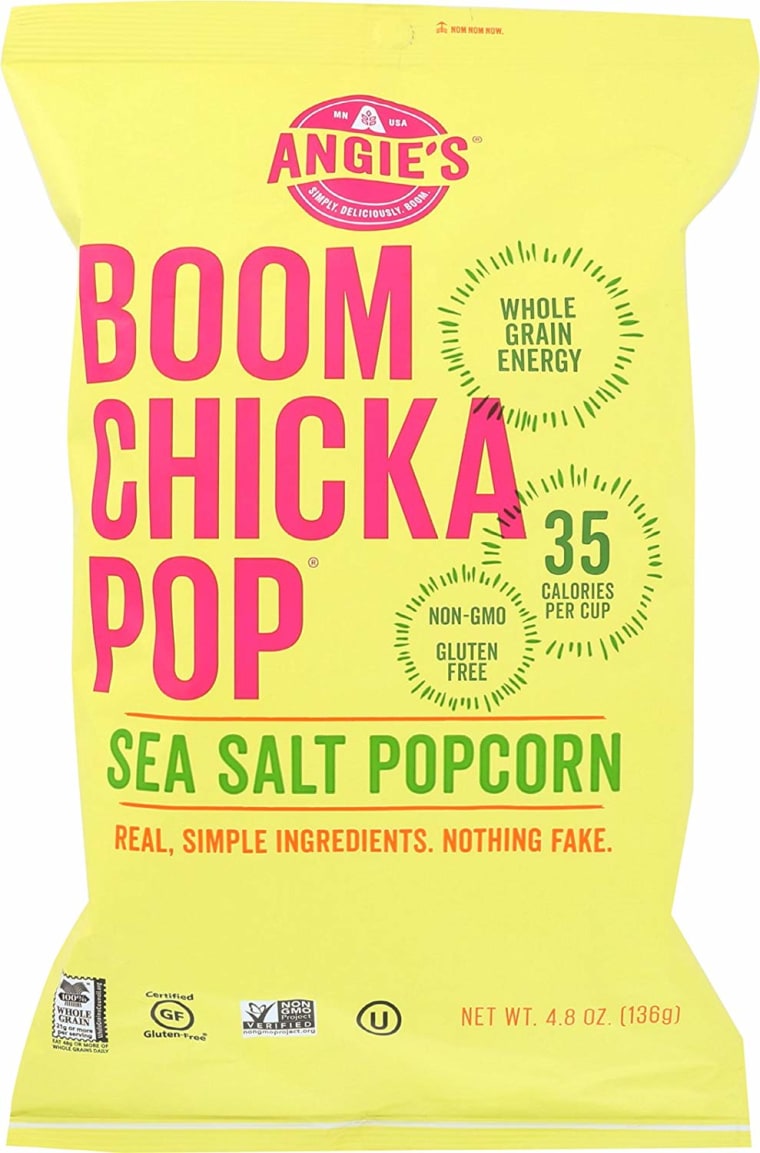 Angie's Boom Chicka Pop Sea Salt Popcorn
$2.78 per bag, Walmart.com, $25.90 for a case of four, Amazon
Crunchy snacks, like potato chips, are often lacking in nutrients, but 100% whole grain popcorn is an exception. One study found that this snack standby has 15 times more protective plant compounds than whole grain tortilla chips. Note that popcorn is only as healthful as the toppings added to it, with some packaged flavored varieties containing too much sugar to be considered good for you. This one skips the added sugar and adds a touch of salt, and it comes in bags perfectly portioned for school-aged kids over five.
More Back-to-School Tips
Want more tips like these? NBC News BETTER is obsessed with finding easier, healthier and smarter ways to live. Sign up for our newsletter and follow us on Facebook, Twitter and Instagram.