Until he suddenly got sick with a life-threatening bacterial infection, Sam, our lovable chihuahua-terrier mix, was as healthy as a horse (excuse the expression). Luckily, the emergency veterinarians at the local animal hospital knew what to do and saved Sam's life.
My wife and I knew the bill for five days of round-the-clock care was going to be expensive, but we didn't have to worry about that because Sam had health insurance. The total bill came to $10,000, which we had to pay before taking Sam home. Within a week, we had a check for $9,000 from the insurance company.
Just like the human members of the family, our pets can get sick or injured. And when they do, the vet bills can be staggering, even prohibitive. And yet, most pet parents in the U.S. don't have coverage.
Dr. Jason Nicholas, a practicing veterinarian in Portland, Ore. who runs the website PreventiveVet.com, says it's not uncommon for people to skip treatment, or in the worst-case situations, have their pet euthanized because of financial limitations.
"And it breaks your heart, especially when it's a treatable condition, and it's because of the money that they can't do it," Nicholas told NBC News BETTER. "There are definitely cases where people who can afford $50 a month for insurance, can't afford $8,000 in the moment."
IS PET INSURANCE A SMART PURCHASE?
Checkbook.org, an independent, non-profit consumer organization that rates products and services, took a deep dive into pet insurance and found that it "has improved over the last 15 years." Most policies now cover hereditary and congenital problems, chronic problems and even alternative medicine.
But from a purely financial standpoint, Checkbook concluded that "pet insurance is not worth it for many people, especially those who aren't willing to bear large vet bills should their pets suffer serious injuries or major diseases."
Checkbook gathered premium quotes from nine pet insurance plans for "Woof," a medium-size male mixed-breed dog and found that even the best insurance plans cost more in premiums than they paid out over Woof's 13-year life. If Woof suffered costly health problems, his owners typically came out ahead financially.
If Woof only needed moderate care, total out-of-pocket medical expenses without insurance would be about $9,006, Checkbook estimated. Total insurance premiums during that time would range from $11,397 to $23,651, depending on which company was chosen.
If Woof needed a lot of care, total medical expenses without insurance would be $30,210, Checkbook estimated. Total premiums would range between $14,342 and $20,674.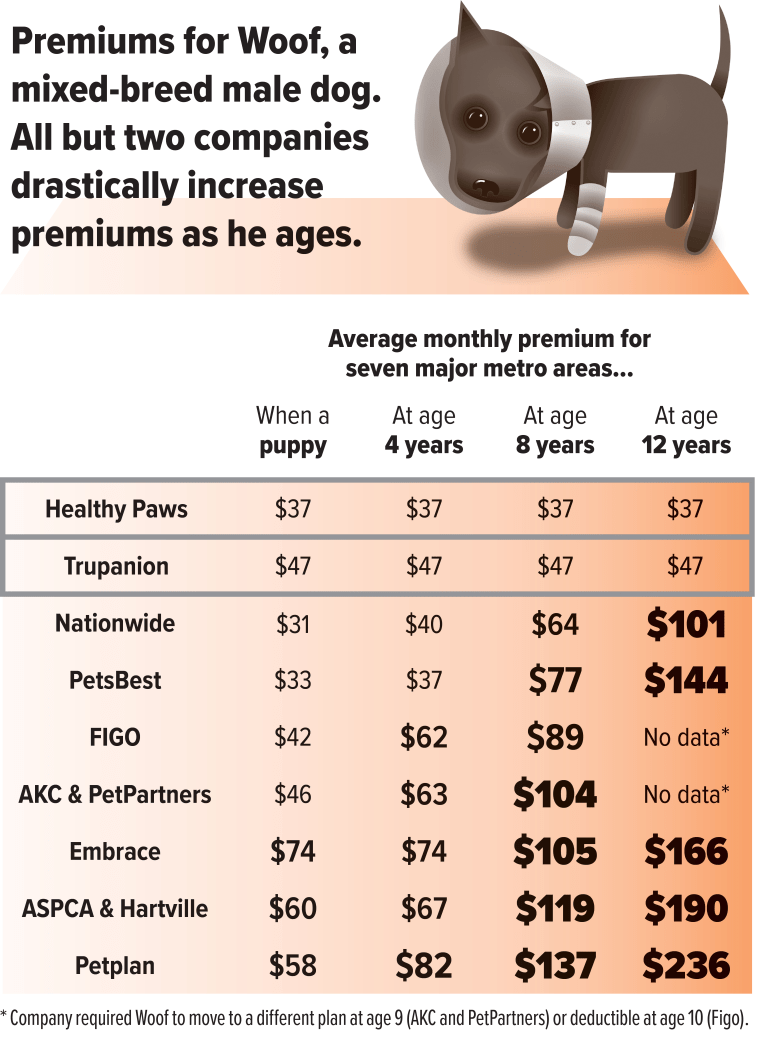 Checkbook's top-rated pet insurance companies
Checkbook found "a fundamental flaw" in most, but not all plans — price hikes based on age.
"Pet insurers often market their policies as affordable, and many are when animals are young," said Kevin Brasler, Checkbook's executive editor. "What most companies don't disclose is that their premiums rise drastically when pets get older, eventually rendering them unaffordable."
As an example, coverage for a mixed-breed dog living in the San Francisco area from a well-known insurance company would be just $44 per month for a puppy. But by age 8 it's $106 and at age 12 it's $191 per month. Premiums for pure breeds often cost a lot more, sometimes twice as much as for a mixed-breed animal.
What most companies don't disclose is that their premiums rise drastically when pets get older, eventually rendering them unaffordable.
"The premiums on most policies skyrocket as the pets get older. Rates double by the time a puppy or kitten reaches 4- or 5-years-old and might actually need expensive veterinary care," Brasler told NBC News BETTER. "Most pet owners will understandably drop coverage once they have to pay more than $200 a month for it."
PICKS OF THE LITTER INSURANCE PLANS
A record number of pets in North America, more than 2 million, were covered by insurance last year, up nearly 17 percent, according to the North American Pet Health Insurance Association.
Checkbook found that two companies stood out from the pack. Healthy Paws and Trupanion offered the lowest lifetime premium costs. This is due, in large part, because they don't boost premiums as pets age.
Based on its extensive research, Checkbook concludes: "If you're going to buy pet insurance, Healthy Paws and Trupanion are two good places to start looking."
Other shopping tips:
Make sure you understand what's not covered: Pre-existing conditions are never covered. Some conditions that are covered may be considered pre-existing if they develop up to a year after you enroll. Most plans don't cover the diagnostic exam, just the prescribed treatment.
Enroll when young: Coverage is typically available when a puppy or kitten is six to eight weeks old. By insuring your pet at a young age, you can avoid claim rejections for pre-existing conditions.
Skip coverage for wellness, preventive and elective care: Buy insurance to protect against unexpected, large financial risks. Annual checkups don't fit that need.
"When we added wellness coverage to our hypothetical pets, we found that for most policies the increased premiums were higher than the benefits we'd receive; in other words, a waste of money," Brasler said.
THE BOTTOM LINE
Whether to buy pet insurance is more than a financial decision; it's also an emotional one.
I buy insurance to make sure my pets will receive the best medical coverage possible, should they get sick or injured. And as any vet will tell you, there's no way to know if your pet is going to have moderate medical problems or serious and expensive ones.
Buster, our 10-year old cat, hasn't had any medical problems, thankfully. So right now, we're losing money on his $600 a year insurance coverage. And that's OK. We buy insurance — auto, home, health — to cover the catastrophic. We don't want to use it.
And keep in mind: Our pets are living longer these days and the risk of cancer goes up as they get older. Cancer treatment for a dog can easily top $13,000, according to PetCareRX.com, if it involves surgery and chemo or radiation.
"Ideally your pets get through life without any major ailments or injuries, but you never know," Dr. Nicholas said. "Things happen — accidents and illness — to every pet. And a lot of those things can be really expensive. With insurance, if the worst happens, you're covered, and you don't have to worry about the financial implications of your decisions."
MORE ON PETS & HEALTH
Want more tips like these? NBC News BETTER is obsessed with finding easier, healthier and smarter ways to live. Sign up for our newsletter and follow us on Facebook, Twitter and Instagram.