The spring is in the air and with it comes an itch to update your home. The problem? You have the desire to scratch it — with the Pinterest boards and paint chips to prove it — but you're not sure how to make it all happen. If you're reading this and nodding your head in agreement, you're not alone. According to a Houzz survey, only 2 percent of 1700 respondents polled felt that they had achieved the design vision for their home.
To free us from this design paralysis, we tapped HGTV's Property Brothers, Drew and Jonathan Scott, the trailblazing twins who just added a custom framing line with Michaels to their ever-expanding home decor empire, Scott Living.
The first thing the brothers want you to know is this paralysis is completely normal— renovating and decorating is stressful. The pair joke that they're actually licensed therapists, not just contractors. "It's like when you're on a plane. Some people are just weird when you're on a plane — it's the same during a renovation. It stresses them out," says Drew.
With spring cleaning season in full effect, Drew and Jonathan sat down with us to talk about the big and small upgrades we can make today to transform the spaces we live in — without overspending or stressing out.
If you have a new suit and it's not tailored properly, it won't look as good. It's the same with your space.
Smaller upgrades can make a big impact
If a big renovation is more a Pinterest dream than a financial reality, the Property Brothers have some good news. "If you have a new suit and it's not tailored properly, it won't look as good. It's the same with your space — making those little adjustments can make it look a thousand times better," Jonathan says. And Drew agrees: "You don't need to rip open walls to transform a space. One of the big things that count is furniture design and painting — things you can do yourself — that alone can transform the space." Drew says to think of it like you're painting on a canvas — go with a neutral color and then pop in your textures and tones with furniture and your decor like pillows, plants and artwork.
"Whenever anyone puts decor or artwork on the walls, it's always personal. You want people to come into your home and see something that reflects your personality," Drew says. Spend some time going through your personal photos and frame them to create a gallery wall.
Beyond photos, here's a trick Jonathan says he uses on Property Brothers all the time: Take wallpaper or wrapping paper in a cool pattern and frame it. Drew adds: "The thing is there's no rule. If something means something to you and you love the look of it, you're going to feel happier having it in your space."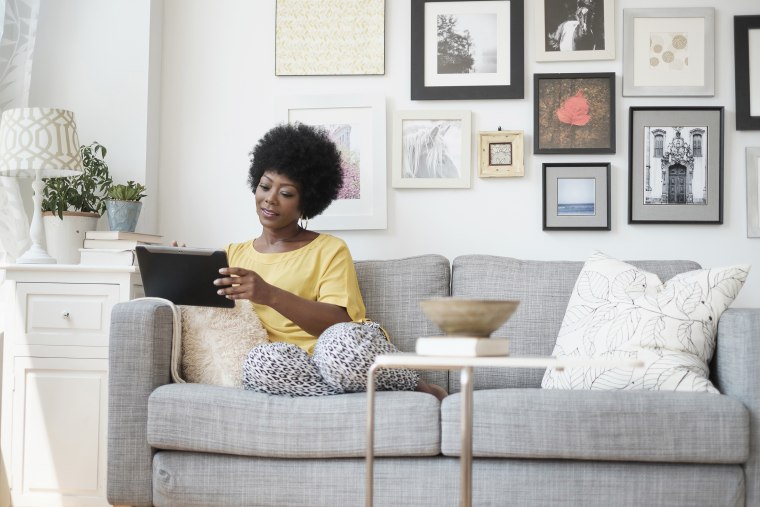 If you're tackling a big upgrade, learn from (and lean on) the pros
Here's where the those Pinterest boards come in handy: What you don't see on their shows, the brothers say, is that Jonathan creates full inspiration boards for each room to get agreement on the overall look, feel and scope of any renovation. This is an important step if you want to get buy-in from your spouse or family.
The next step is budget. You'll need to have a buffer in case something comes up. Believe it or not, most of the homeowners on the Property Brothers' shows don't have the necessary funds to undertake the kind of renovations they envision, but they do have Drew and Jonathan's 20-plus years of experience renovating homes. "They usually have half of what they should have to renovate, but we're great at stretching budgets," Jonathan says.
How do they stretch those dollars? Using a kitchen as an example, they say "the quality of pre-fabricated cabinets is way better than it ever was in the past. And if somebody doesn't have the budget to a custom kitchen, we actually will do prefab and finish it with details like molding to make it look custom." And by saving that money on the cabinets, they can invest in a better quality stone for the counter tops or appliances.
Another tip from the twins? If you're renovating and want your hard-earned money to go the distance, stay away from obvious trends. "Try not to go too bold on the more expensive items like counter tops because the more bold you go, the quicker they'll go out of style," says Drew. And lean on your general contractor for advice and guidance, they say. He or she will have experience to help you prioritize upgrades and finishes and help you stay on budget and within your timeline.
The one thing in every home that's overlooked
Kitchens, living rooms and bathrooms are the sexy rooms when it comes to buying and selling, but that's where people make a big mistake, Drew explains. What's missing? Closets and storage. "You need to have full organization in every closet. In fact, you can never have too much storage," Drew says. There are a lot of clever things you can do to create more storage, he explains. If you're buying new furniture pieces, choose your sofa or coffee tables with internal storage — or if you're doing a kitchen renovation, consider a big island that offers more drawer space. When you're designing a room, always ask yourself where everything — from clothes to dishes to cookware — is going before making any big decisions. Some of these are small purchases like baskets and bins for mundane things like toys, shoes and the mail.
In the end, it's about waking up happier
Whether you're spending your tax refund on some new paint and pillows or you're ready to finally splurge on your dream kitchen, the goal is to feel your best in the most important space you have. Drew and Jonathan say that's what they try to do on the show — it's all about making homes inviting and relaxing. "It's so important for people to have a space that they love, and that you wake up happy every morning in your house. A big part of that is what you have for your furniture, your art, your decor. If you're not stressing in your home, it will help you live many, many more years because you're happier where you live," Drew explains.
I couldn't agree more. Now what's my Pinterest login again?
Spring Cleaning Guide
Want more tips like these? NBC News BETTER is obsessed with finding easier, healthier and smarter ways to live. Sign up for our newsletter and follow us on Facebook, Twitter and Instagram.