Ruth Bader Ginsburg, aka, the Notorious RBG, is nothing if not perseverant, and no matter where your politics lie, there's no arguing that this associate Supreme Court Justice of the U.S has overcome great obstacles (personal loss, poverty, sexism and anti-Semitism to name a few) to make historic strides for women's rights and gender equality.
While most people would be retired by her age, the 85-year-old feminist pioneer is committed to spending at least another five years on the bench.
How does she do it? In part by maintaining a challenging fitness regimen. If you've tuned into CNN Film's "RBG" documentary featuring the two-time cancer survivor in her "super diva" sweatshirt working out with her longtime personal trainer Bryant Johnson, or checked out Johnson's new book, "The RBG Workout: How She Stays Strong…And You Can, Too", then you know these exercises aren't for the faint of motivation.
Plank poses, squats and push-ups and are integral to the justice's twice-a-week workout.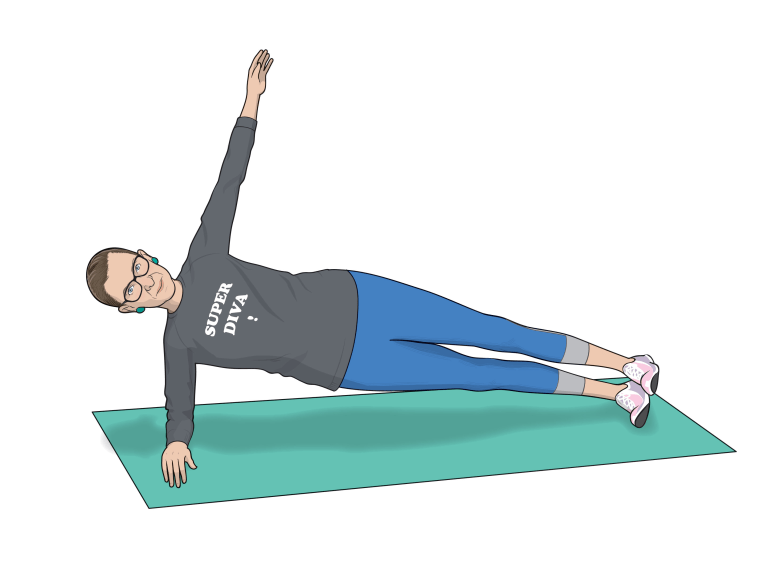 Regaining strength after chemotherapy
Though Ginsburg looks like she's been kicking gym butt all her life in that CNN promo, she wasn't always in such killer shape. In fact, when she first consulted with Johnson in 1999, after finishing chemotherapy for colon cancer, she was far from feeling her best.
"She was very [drained] after the chemotherapy, and she and her husband felt she had to start focusing on her strength," Johnson, who also serves as an expert on The Vitamin Shoppe Wellness Council and has been a member of the U.S army for over 30 years, tells NBC News BETTER. "I was recommended to her by another judge I'd been training after she reached out to him. I talked with [Ginsburg] briefly, gave her a questionnaire to fill out, and then cleared it with her doctor based on her responses. I planned out exercises we could do, which were also approved by her doctor."
As we age we lose bone density and balance
Johnson considered RBG's age (she was then in her sixties) when developing her signature regimen, incorporating exercises that have strong benefits for seniors.
"Your body is like a car, and as you get older, if you don't take care of it, it won't run as well as it could," says Johnson. "You begin to lose balance, something that the body is always looking for in its need for homeostasis. You also lose bone density and osteoporosis sets in. The plank is a simple exercise to build back balance that will also help your posture. So many older adults are slumped over; doing planks helps that."
Before you can do any exercise you have to show up both mentally and physically, which she always does.
Dan DeFigio a personal trainer and the director of Basics and Beyond Fitness, Nutrition, and Rehabilitation, who has a 25-year track record working with seniors, notes strength training and balance work as the two most crucial types of exercise for seniors.
"Weight training not only helps seniors to build muscle, lose fat, and improve day-to-day function, but it also makes a significant improvement to bone density," DeFigio says. "Bone strength is hugely important (hip fractures are the main cause for seniors to be admitted to nursing homes). Balance work is very important for fall prevention too. Basic strength exercise can also help with flexibility, cardiorespiratory function and ease arthritis pain."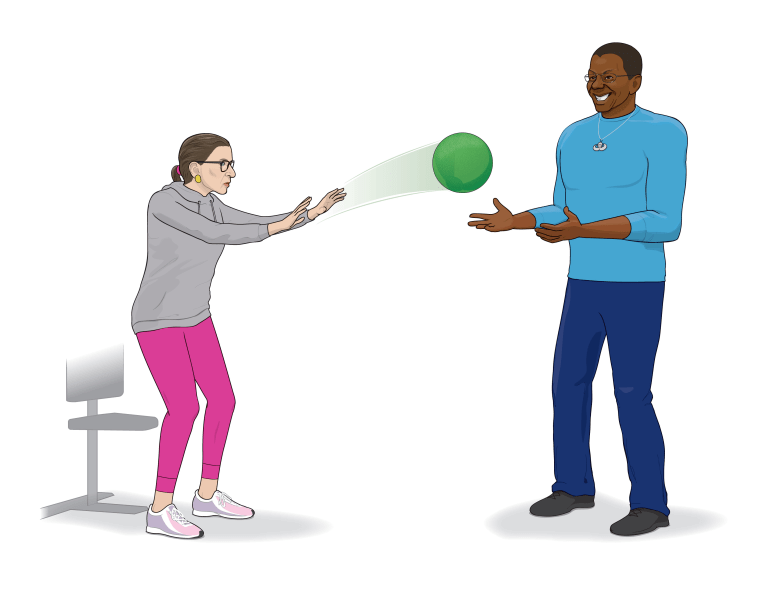 RBG won't do an exercise if the purpose isn't clear
Despite designing a workout targeted for senior health, and getting the medical clearance needed, Johnson's workout wasn't an immediate sell to RBG.
"When I showed it to her she looked at me like I was stuck on stupid and locked on dumb," Johnson recalls, chuckling. "I broke everything down simple as a shotgun so she would see why these exercises were beneficial."
This is a woman who doesn't waste her time, and she is still quick to put Johnson on the spot when introduced to a new exercise or add-on.
"With [Ginsburg], I always have to prove the method to my madness," says Johnson. "Take the 'multipurpose exercise' at the very end of the book. She needed to know why she had to do that. I said, 'Justice, if you can't do this one exercise, you would need a nurse 24/7.' She looked at me to defend my statement. I had her sit on the [exercise] bench, handed her a weight ball, and had her toss to me with both hands 10 times. I said, 'You're doing this because the moment you cannot [gather the strength] to get off a toilet you lose independence. We do it at the end of session because when you have to go to the bathroom it doesn't matter if you're tired."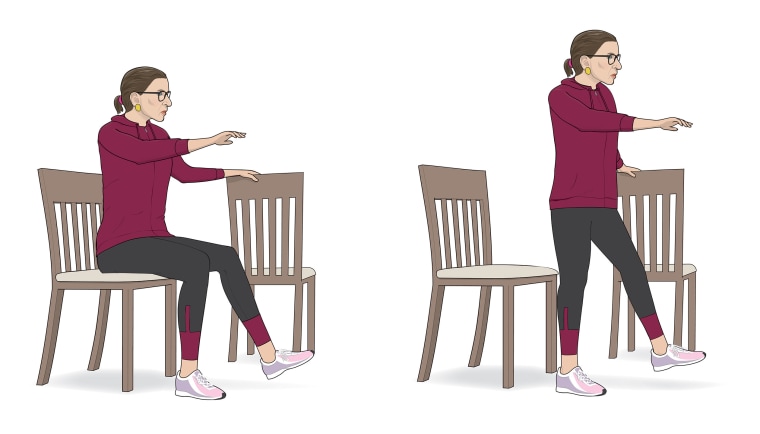 Even when she's been working all night RBG still shows up
After nearly 20 years of evolving to the workout in her name, RBG has mastered the plank and other difficult poses (not to mention weight-lifting and balance ball routines), but consistency and patience have been pivotal to her success. She didn't dive into crunches but instead built up to them slowly and safely.
"We started off doing crunches by bringing knees and elbows together like a clam and I'd try to push them apart," Johnson says. "Once we did that for a while I started having her do the planks. She doesn't like the planks too much. Also pistol squats, where she stands and lifts one leg [at a time] and I hold her arms. She doesn't care for them, but she doesn't fight me because she realizes how much this helps."
Ginsburg also realizes that some days she won't be up to the most vigorous version of her workout. That's okay. She does what she can — but she never bails.
"Before you can do any exercise you have to show up both mentally and physically, which she always does," says Johnson. "Sometimes she's been working all night and hasn't slept. So we adjust it a bit, maybe skip the stability ball and use the bench instead. But she always shows up."
The workouts are a great way for RBG to unplug from work
RBG shows up for her body's health, sure, but likely also for her peace of mind.
"The workouts help her because she is so focused on the law all the time," says Johnson. "But when she's with me she doesn't think about it. She turns off the brain and works on her body. This keeps her refreshed so she can go back to the law having had a break."
Before starting these exercises get a trainer and doctor's clearance
The RBG Workout is a great regimen, but those interested, particularly seniors or people recovering from a serious illness as RBG was when she began, are advised not to jump in without consulting their doctor and working with a personal trainer.
"In the beginning I always recommend someone to help and coach you," says Johnson. "Get clearance from your doctor, find a certified personal trainer and tell them what you want to gain. If you don't like what they're offering, get a different one. You have to trust that person, and they have to remember that it's never about them; it's about you. They have to say, 'How can I adjust my exercises to help the client and celebrate their victory?' If you hate something, it's okay not to do it, just find an alternative."
TRY THESE FITNESS ROUTINES
Want more tips like these? NBC News BETTER is obsessed with finding easier, healthier and smarter ways to live. Sign up for our newsletter and follow us on Facebook, Twitter and Instagram.