Bob Harper was at a New York City gym two months ago when he dropped to the ground during a workout. Nothing seemed immediately amiss to his friends, but "The Biggest Loser" trainer was having a heart attack.
"Not to be dramatic, but I was dead. I was on the ground dead," Harper said Tuesday in an exclusive interview on TODAY — 50 days after his sudden collapse.
The health scare left the 51-year-old unconscious for two days and hospitalized for more than a week. While he has shared some of his grueling recovery on his Instagram account, the details of that near-death experience has remained largely under wraps, said Harper, who admits to having bouts of depression.
"I had what they call a 'widowmaker'" — a type of heart disease, Harper told TODAY's Savannah Guthrie. "It was a 6 percent survival rate."
That blockage in a certain artery of the heart can be deadly. It's what killed actor James Gandolfini in 2013 at age 51 and Tim Russert, NBC News' Washington bureau chief, in 2008 at age 58.
Rosie O'Donnell suffered from the "widowmaker" in 2012 when she was 50, but survived.
Quick use of a defibrillator can save a life, doctors say.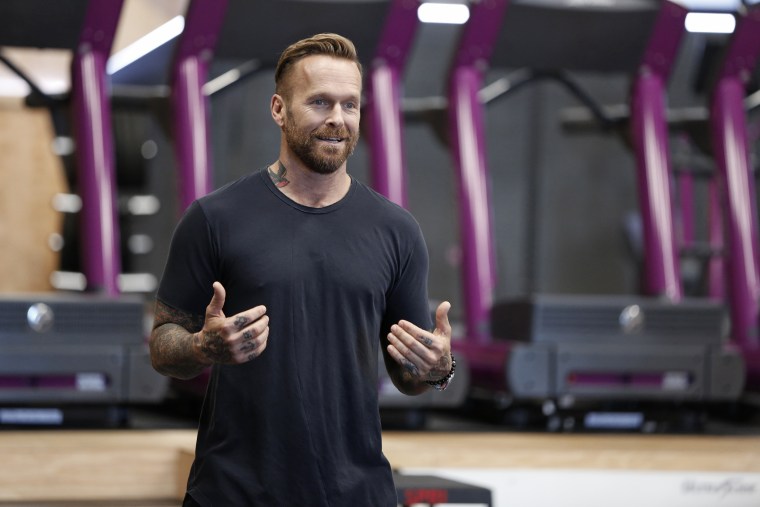 Harper said his survival is due to two doctors who happened to be at the gym when he toppled over and scrambled to his side. He credited them with performing CPR and twice using an automated external defibrillator, which the gym had on site.
He was in full cardiac arrest. "My heart stopped," said Harper, becoming one of 750,000 Americans who suffer from heart attacks every year, according to the American Heart Association.
Harper was rushed to the hospital in the nick of time. After waking up from his unconscious state, he said, he was left in a fog of confusion.
"I was like Dory from 'Finding Nemo' because I had this short-term memory: 'Wait, why am I here? What happened to me?' Ten minutes later, I was asking the same thing," Harper said.
Harper's heart attack shocked fans who have considered him the epitome of good exercise and healthy eating habits on NBC's "The Biggest Loser," where he became a household name as a personal trainer.
Before his heart attack, he said, he was experiencing dizzy spells, but brushed them aside.
His collapse revealed that he was not immune from the same health risks that run in his family. In 2008, he wrote about his mother dying from a heart attack.
"I learned a lot that genetics does play a part in this," Harper said Tuesday. "It's so important to know your health. ... Go to the doctor, get your cholesterol checked."
His experience also changed his frame of my mind: Now he focuses on the more important things in life — his family, friends and dog Karl.
"You really face your mortality. I'm really understanding what's important, what's important in life," Harper said. "I'm going to appreciate every single day I'm here."