If Travis Stork has learned anything, it's that sometimes you just have to leap.
Twenty-five years ago, the host of "The Doctors" didn't even know he wanted to be a doctor — let alone that he would end up on TV as "The Bachelor" and become one of television's best-known doctors.
"To say I had zero intention of ever being in front of a camera would be an overstatement," he says.
Stork was working as an actuarial consultant after college when he volunteered at a medical clinic and found his true calling for medicine. His calling to TV came later — he was discovered after an ER shift by producers who were auditioning potential bachelorettes nearby.
"I literally went to dinner and then a month later I was in Paris in a castle as the Bachelor," he says. "It happened so quickly that I think the lesson I learned in that is sometimes you just have to take chances in life. … If you want your life to be an adventure, it can be."
More than a decade later, and single again, Stork is in season 9 of hosting "The Doctors," with a new book out, "The Lose Your Belly Diet: Change Your Gut, Change Your Life." He reflected on his path with NBC News' BETTER. Here he is in his own words: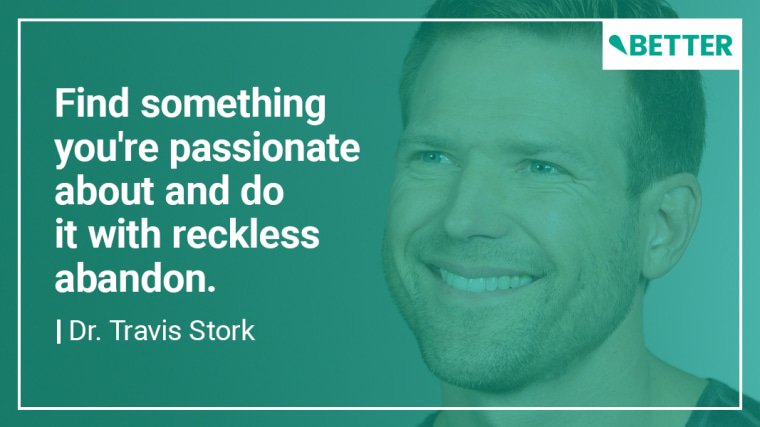 An Unlikely Sex Symbol
My nickname when I was growin' up was Stork the Dork. And I was really small and sickly. ... I grew a foot in I think less than a year. So I was the small little guy, smallest guy in the class, and then one day I grew like a beanstalk. And now I'm almost 6'4". ... I tell kids all the time, "Find something you're passionate about, do it with reckless abandon and don't worry about what the cool people are doing." Because the cool people, usually deep down, are incredibly insecure.
Finding His Passion
I volunteered at a medical clinic in D.C. and I realized that I was missing something: the interpersonal interaction, that connection that you have with other humans. And so a few years after college I went back and did all of my post-baccalaureate classes while I was working during the day. And next thing you know, I'm in medical school. So that journey alone was the one I'm the most proud of, because I had a career set out in front of me, working for a great consulting firm. … And I took a leap of faith.
On Being 'The Bachelor'
I wasn't necessarily comfortable doing it, to be completely frank. I'd never spent time in front of the camera. But I learned a lot about myself, which is it's one thing to take care of patients and get in your comfort zone. It's another to go outside that comfort zone. And so I think with that experience I learned how to get outside my own comfort zone.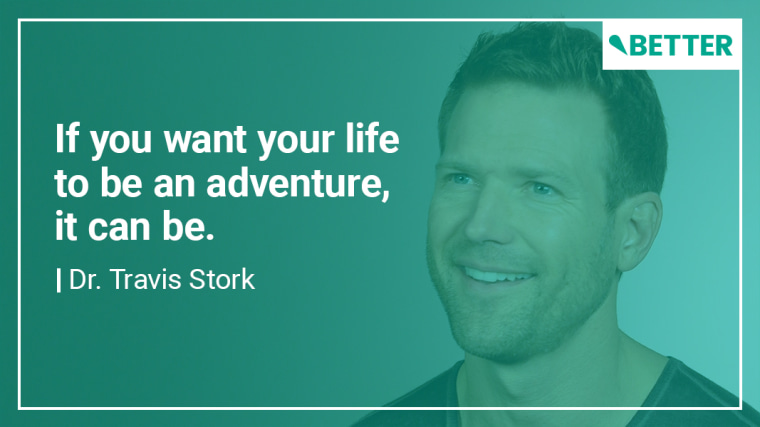 Coming Back to Earth
I didn't want to go back on TV after "The Bachelor." I, quite frankly, moved to the mountains of Colorado and just practiced emergency medicine in Denver in the mountains and was quite happy. … Not that the experience was bad, but I just wasn't used to losing my anonymity. And I'd struggled with that quite a bit, because you have people judging you that don't know you. … I mean there were years there where I didn't even really like to go have dinner, because everyone could call me the Bachelor. I was like, "No, no, no, no. That was a few weeks of my life. This is who I really am."
Embracing Himself - And an Audience
I think hosting "The Doctors" has allowed me to just be myself. ... I've gotten to the point where I'm so comfortable in my own skin now, turning 45 next month and this is now who I am. … I've learned you have to accept yourself and the things you're good at, bad at. And if you embrace and accept your authentic self, it's really hard to go wrong in life.
On Regrets
You know, looking back I'm a little disappointed that I didn't do more hot tub scenes on "The Bachelor." ... I'm just kidding. I'm kidding. … I don't really have any major regrets in life. I certainly regret, you know, a few things that you've done here and there. But honestly I try to live my life where if I don't do something to the best of my ability it's not because I didn't put forth my best effort. So a failure would be if I didn't try.
On Dealing With Chaos in the E.R. And Life
I learned very early on, just take one deep breath. Collect your thoughts. What do you want to do? Because it doesn't do you any good to frantically do something for five minutes when you could take a two- to three-second deep breath and do what you need to do in 15 seconds.
On His Mission
The great thing is that if it all ended tomorrow, I'd be completely satisfied. I feel really good about the evolution of our show and over the last five years or so... we're finally seeing culturally a shift. People are becoming aware of, "OK, the foods we eat. This may be leading to illness. OK, these common concepts that Dr. Travis talks about, food is medicine," these things are actually becoming fairly commonplace. And 10 years ago, people got sick, they went to the hospital, they would take medicines. Now people are a lot more proactive and preventative when it comes to healthcare. And I'd like to believe that our show played some role in that.