A doctor walks into a bar and orders … an MRI.
Science has repeatedly fortified the ancient adage that humor is good for what ails you. Recent studies showed laughter helps boost the immune system, bolster memory and burn calories.
One problem with research papers: no punch lines. But Lucille Ball's daughter is working to use her late mother's iconic wit to promote a growing interest in the therapeutic force of funny.
Lucie Arnaz has shifted the mission of the Lucille Ball Desi Arnaz Museum & Center for Comedy — helping evolve the Jamestown, New York, landmark from a fan shrine to a hub more resembling a comic farm with a focus on the healing arts. On Wednesday, the center opens its annual comedy festival with "laughter yoga" classes and a free show for veterans — many grappling with combat wounds.
"My mother and my father," Arnaz told NBC News, "they represent something way bigger than 'I Love Lucy.' They represent the healing power of laughter.
"Before she died (in 1989), my mother said, 'I don't want a damn statue. I don't believe in that stuff,'" Arnaz recalled. So, several years ago, she asked the center's leaders: "What are we really doing here? Let's talk about what the show is really about, why any of this matters." The collective answer, she said, boiled down to: "Well, it's funny."
"And funny can literally change your health — the endorphins and oxygen that run to your brain with a good belly laugh. So, I said, 'This (center) has to be about that.' All of the sudden, we had a purpose that meant something. Plus, it's the one thing my mother always wanted."
As a 9-year-old boy, Tony Jacobsen got a memorable taste of that passion in person.
Born with a genetic disorder that make his bones vulnerable to breaking, he met Ball as she visited patients at Children's Hospital Los Angeles in 1980. On that day, Jacobsen was waiting for surgery to mend a fractured leg.
"I was really excited because, growing up, my mom was a huge fan so she turned me into a huge fan. We would always watch Lucy re-runs," said Jacobsen, 43, of North Hollywood. He works as an actor, producer and DJ.
"I remember her being so nice and sweet and just very comforting, very interested in what was going on with me," Jacobsen said. While posing for a snapshot with the boy, Ball flashed her famous smile.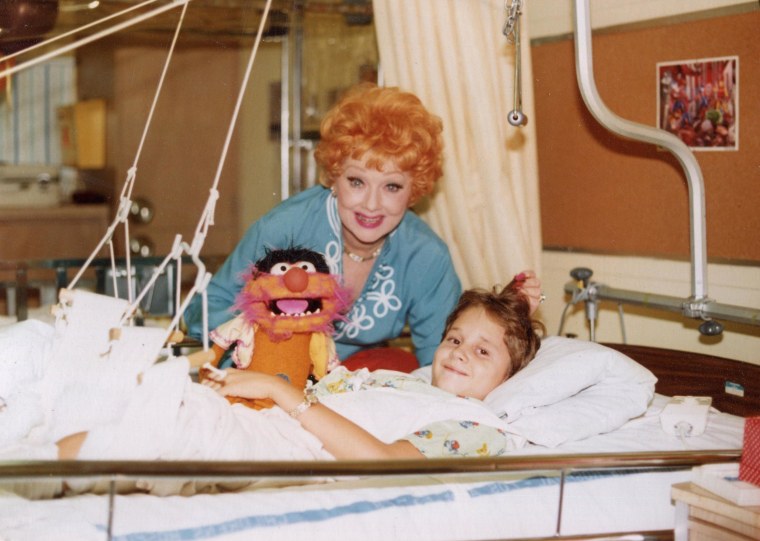 Her warm chat, he recalled, helped take his mind off his busted leg.
"I do remember her saying something like, 'Feel better soon,' and that made me feel so good at the time," Jacobsen said. "I was just so happy to have met her, and I do think that happiness brought on faster healing."
In modern medicine, some physicians and many nurses have embraced the notion that injecting humor, when possible and where appropriate, can be an effective antidote to patient fear and anxiety.
At Bronx-Lebanon (New York) Hospital, men and women wearing doctor's white coats, makeup and bright, plastic noses visit the children's pavilion each Friday. They're members of the Clown Care unit, part of Big Apple Circus.
"There's a real art to what they do," said Dr. Peter Sherman, chair of the hospital's pediatrics department. That art sometimes includes distracting a frightened child while an IV is inserted.
In one case, Sherman and staffers tried to calm a 4-year-old girl as she sobbed following a blood draw. Two clowns entered. One fake doctor paced the room, asking the girl if she had seen his missing colleague (another clown doctor), who was shadowing his every move, changing direction each time he did.
"The girl just broke into that hysterical, adorable little girl laughter," Sherman said. "It was an amazing transformation — to be able to turn off that part of the brain where she was melting down and switch to laughter. It was like a magic medicine.
"But it's not just a matter of: It's nice to make someone laugh," Sherman added. "Scientific evidence shows using humor decreases stress hormones that can suppress the immune system, raise your blood pressure, cause the heart to beat faster."
Some patients have discovered the power of humor, even in their saddest hours.
In 2010, Joy Huber, then 33, was diagnosed with stage-4 non-Hodgkin's lymphoma. She recalls her first instinct after the news: "Go home, curl up in bed, throw the covers over my head and just withdraw from society."
"But something in my head asked: Where does that get you?" said Huber, who lives in Topeka, Kansas. "No one gets that diagnosis and is happy. First, you need to get mad and angry, and go those emotions. But you can have cancer and still be happy."
She willed herself to find humor.
When her hair fell out during chemotherapy, she ordered numerous wigs in different colors and lengths. She then posted to Facebook pictures of herself in each wig and launched a contest, asking friends to "vote on your favorite look for the summer of 2010."
She gives laughter "75 percent" of the credit in the good health she has enjoyed since finishing treatments. She documents the journey in her book, "Cancer With Joy." In April, her oncologist told her she can visit him once every six months instead of once every four.
"You are confronting your eventual mortality. But with humor, you recognize you do have the power to face even something like cancer," she said. "With joy, you can really cure that fear."