The new Trump administration stunned and outraged journalists, pundits and plenty of ordinary Americans this past weekend with false assertions about how many people showed up for Friday's inauguration.
The claims were easily disproved and news outlets have spent hours showing precisely how.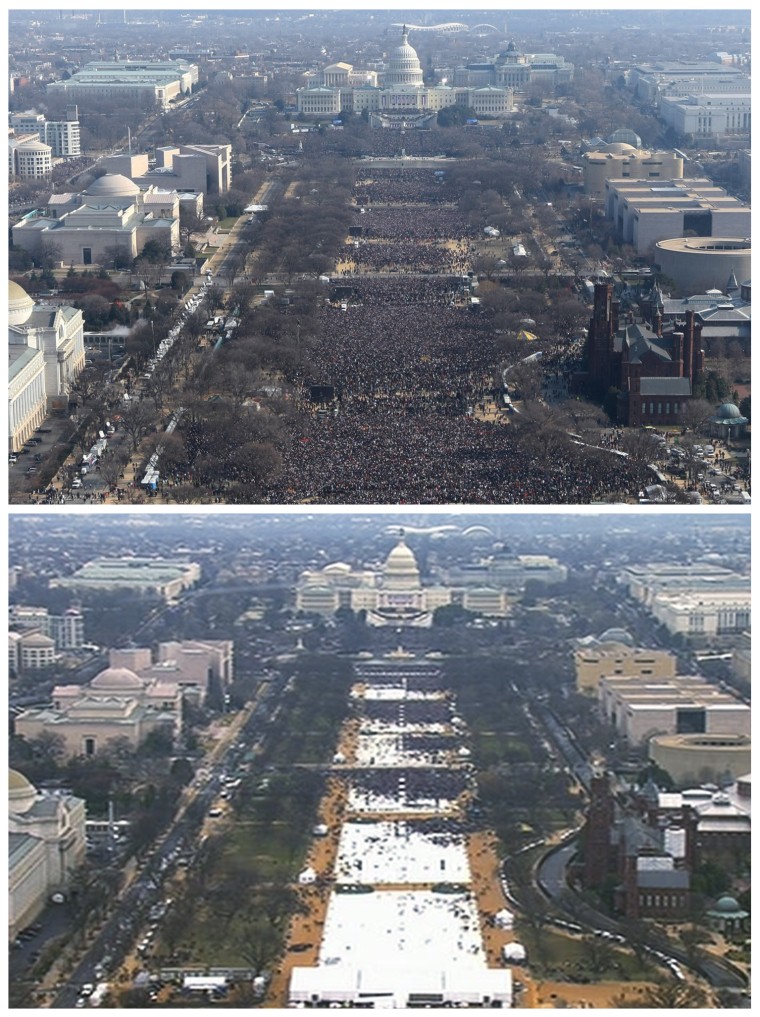 And while Trump's controversial campaign comments have spawned a new genre of of fact-checking columns, many of his supporters predicted he'd become somehow more presidential, and less likely to be provocative, once he took office.
So why even do it?
The behavior has all the signs of "gaslighting", says clinical psychologist Bryant Welch, who wrote a 2008 book entitled "State of Confusion: Political Manipulation and the Assault on the American Mind".
Gaslighting refers to a 1944 film in which a murdering husband manipulates and confuses his wife by dimming the gas lights in their home and then denying it's happening.
"The very state of confusion they are creating is a political weapon in and of itself," Welch told NBC News.
"If you make people confused, they are vulnerable. By definition they don't know what to do," added Welch, who has not personally examined any of the Trump team.
"This is a pretty systematic, sophisticated attempt to gaslight."
"There certainly is a general stereotype that politicians lie," said Robert Feldman, a University of Massachusetts psychologist and deputy chancellor who specializes in the psychology of lying.
But Feldman and Welch both said the statements Trump and his staff made on the very first days in office rise to a new level.
"It is lies about things that are so easily contradicted that it is amazing in terms of the degree of arrogance and the lack of respect that it shows for the American people," Feldman said.
The falsehoods about crowd size have two goals, Welch and other experts say: to inflate Trump's sense of his own popularity, and to discredit journalists.
Related: It Was Never Our Intention to Lie, White House Spokesman Says
"My general sense is they are trying to pick a fight with the media and to discredit the media as much as they can by sowing doubt about anything and everything that the media report," Feldman said.
"You come in and undercut their trust in the established sources of information," Welch said.
"It tells them to go ahead and hate this person who is delivering bad news. Then you begin to substitute your own news, your own version of reality," Welch added.
"If Donald Trump can undercut America's trust in all media, he then starts to own them and can start to literally implant his own version of reality."
Trump counselor Kellyanne Conway says the team is giving "alternative facts".
On Saturday, his first full day in office, Trump visited the CIA and immediately attacked the press. "As you know, I have a running war with the media," Trump said. "They are among the most dishonest human beings on Earth," he added.
"If Donald Trump can undercut America's trust in all media, he then starts to own them and can start to literally implant his own version of reality."
Then he disputed the estimates that a smaller crowd showed up to Friday's inauguration than to his predecessor Barack Obama's in 2009 and 2013. "It looked like a million, a million and a half people," Trump said.
In 2009, Washington, D.C. officials estimated that 1.8 million people turned out in person for Barack Obama's first inauguration. There's no official estimate for Friday's crowd but multiple images show many fewer and the media estimates that angered Trump put the attendance at around 250,000.
White House spokesman Sean Spicer contradicted the reports hours after Trump's CIA comments. "This was the largest audience to ever witness an inauguration, period, both in person and around the globe," Spicer said.
Spicer said Monday he got the numbers he used from an "outside agency" and said he meant to include people watching online and on television. "I think sometimes we can disagree with the facts. There are certain things that we may... we may not fully understand when we come out but our intention is never to lie to you," he told reporters.
Welch said the point is to confuse the average American.
"It doesn't have to be the case that people believe what the administration says. It just has to have the effect of confusing them. Then they gain more power over them," he said.
Related: How Inauguration Crowds Are Measured
The effect of deliberate and systematic lying can be to make some people give up trying to discern the truth, said Feldman.
"If you are a Trump supporter, you are going to believe whatever he says. That to me is an extraordinarily dangerous situation," Feldman said.
"There is a degree of fabrication that the Trump administration already engaging in that is simply breathtaking," he added. "I think the blatant lying is so egregious, it just leads the country down a path which is extremely dangerous."
"There is a degree of fabrication that the Trump administration already engaging in that is simply breathtaking."
And the targets are the very people whose job it is to call out the lies, Welch and Feldman agreed.
"Undermine the credibility of the free press and you are home free," Welch said.
Feldman urged the media to fight back.
"I think the press has a responsibility to all the time call out the lies," Feldman said.
Welch said there is a worrying unconscious dimension to Trump's willingness to distort the truth.
"My biggest fear with Donald Trump is that he will experience a significant public humiliation that he cannot run away from. And if that happens I worry about how he will respond," Welch said.
Feldman, too. "I find it enormously troubling to see what is happening right now — and frightening," he said.